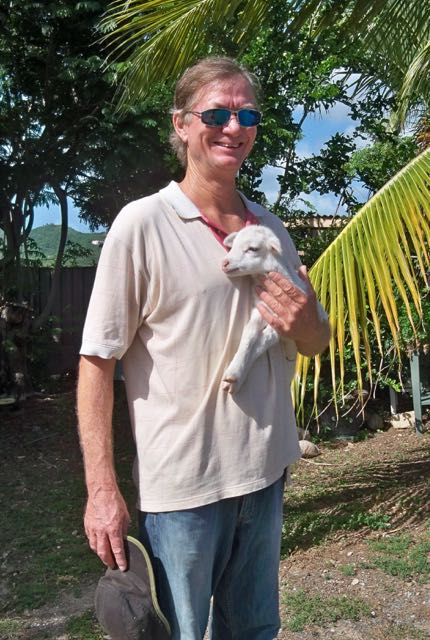 Back in 1817 James Nelthropp's ancestors sailed to St. Croix with a loan from Queen Louise and King Christian IX of Denmark to start a farming operation. Nelthropp suspects they started growing cotton on the land on the south shore in Estates Corn Hill and Granard where scraggly cotton plants still grow.
Nelthropp, 53, is the only farmer left in the family that for generations worked in agriculture on the original 600 acres.
Nelthropp said he found his love of farming while working with his father and mother, Henry and Babara Nelthropp, on the farm they began operating in 1968. They eventually raised close to a thousand head of beef and dairy cattle, including the locally bred Senepol. Nelthropp credits his great uncle Bromley Nelthropp with beginning the development of the Senepol breed.
"I found an interest in farming when I had the chore of bottle feeding calves when I was only 5 years old," Nelthropp said. "I loved helping my father feed the cows greens and watering them." He explained his father was his mentor and inspiration with a wealth of knowledge about all farm animals.
"The life of farming involves a great deal of hard work," Nelthropp said in a recent interview at the farm he said he was lucky to inherit. "My father was very dedicated to his work."
Nelthropp attended private and parochial schools beginning with St. Mary's Catholic School in Christiansted and graduating from the Academy of the West Indies in 1982.
He loves cooking, which he said he believes naturally goes along with raising food, so he studied culinary arts at Johnson & Wales University in Rhode Island.
He worked at Crickets restaurant in the historic landmark Faneuil Hall marketplace in Boston. From there he went to Rebecca's Place on Charles Street and the Park Plaza Hotel, both in Boston.
He returned to St. Croix in 1989 following Hurricane Hugo to help his father run the farm. He said his father's farmhands lost their homes and couldn't remain on St. Croix. Nelthropp and his father worked together on the farm called Corn Hill Dairy Farm until 2002. Henry Nelthropp passed away in 2006.
Jimmy Nelthropp said it was hard competing with people shipping milk in to St. Croix – so in 2010 he turned to raising the St. Croix hair sheep, which are easier to raise than cattle.
He said the hair sheep is a registered indigenous breed that has been on St. Croix for more than 200 years.
"They are disease and parasite resistant," Nelthropp said. "And they breed twice a year and have a lot of twins." He started with 24 ewes and one ram. He has more than 500 head right now and said he would like to grow the herd to a thousand. He is constantly clearing bush and putting in and repairing fencing, which is expensive, on 400 acres.
"But sheep are simpler to take care of than cows," Nelthropp said. "At least with sheep we can go on vacation." He is married to Barbara Camejo Nelthropp.
He said the most challenging thing about being a livestock farmer on St. Croix is the weather. He said the drought last year was tough but he was fortunate to have pastures planted with Barbados sour grass that is full of nutriments and maintains moisture.
Nelthropp was chosen as the 2015 Livestock Farmer of the Year by the Agriculture Fair Board and said he still has a few good ideas for future endeavors.
He wants to raise milk goats and make cheese. He also wants to house a couple interns and teach them what he knows about agriculture. Nelthropp, who has also been a caterer, said he would like to serve dinners and brunch on the farm for the public using fresh meat, local and exotic fruit and herbs he grows.
He enjoys sharing his love of farming giving tours of the farm to local youth groups like Jericho Kids, a program affiliated with Youth with a Mission.
"Farming is so rewarding," Nelthropp said. "It's rewarding to see the animals growing and healthy. And I get satisfaction providing fresh healthy products without chemicals." He explained farming stimulates the economy and is key to sustain life on St. Croix.