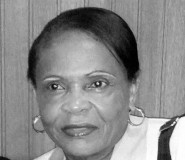 Marilyn Doretta Greenidge, also known as Marilyn Phillip, died on May 27. She was 63 years old.
She is survived by her mother, Elsie Davis; sons: Elsworth Carlton Phillip and Raphael Greenidge Jr.; daughters: Sharon Idona Phillip and Nini A. Greenidge-Jackson; brothers: Earl Phillip, Rafael Phillip and Scarvel Phillip; sisters: Velma Phillip and Sheila Phillip; grandchildren: Kaocia Candis Titre, Dondre Allison-Phillip, Jada Rasheem Richards, Amarah Priscilla-Phillip, Elinah Amani Phillip, Kehvon Nathanael Phillip-Monsanto, Giovanni Jerome Greenidge and Malachi Greenidge; great-grandchild: Amiya Jenelle Skye Davis; nieces: Edris Phillip, Nardia Phillip, Sharona Phillip and Naketta Phillip; nephews: Ras Kelley Phillip, Romeo Phillip, Riddel Phillip, Royden Phillip, Glencav Phillip, Naldo Phillip, Akeem Phillip and Leon Phillip; and special friends too numerous to mention.
A Farewell Service will be held on Friday, June 17, at First Pentecostal Church, Estate Carlton Frederiksted, St. Croix. The viewing will begin at 9 a.m. and the service at 10 a.m. Interment will follow at Kingshill Cemetery.
All arrangements are by James Memorial Funeral Home Inc.