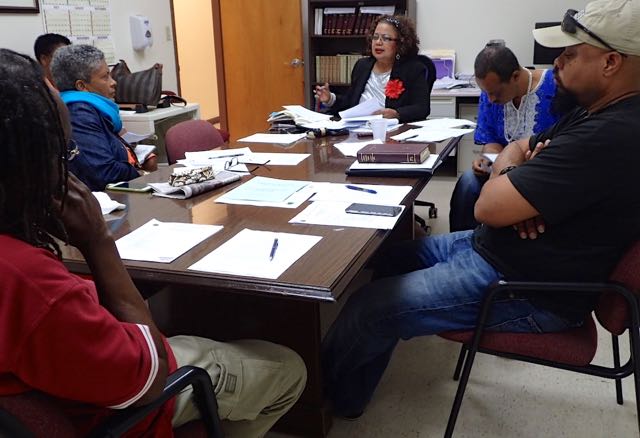 The St. Croix Elections Board discussed details for the upcoming primary and general elections at their meeting Wednesday and extended hours for residents who want to register to vote on St. Croix.
Board Chairwoman Lilliana Belardo de O'Neal announced the Elections office will be open this Saturday from noon to 3 p.m. and over the July 4 holiday to accommodate St. Croix residents.
The office in the Sunny Isle Annex also will register new voters, change names or addresses on July 2 and 3 from noon to 3 p.m. and on July 4 from 10 a.m. to noon.
On July 5 and 6, the office will be remain open two extra hours so prospective voters can register from 8 a.m. to 7 p.m. those days.
"Thirty days before (the election), it's closed, so that's why we're extending the hours," said Carolyn Fawkes, Elections supervisor, referring to the Aug. 6 primary election.
During her report to the board, Fawkes said court proceedings are ongoing to determine who is responsible for hosting elections for political party officers. In the past, the territory's elections boards have included the party candidates on primary election ballots, but this year are standing firm in maintaining that the law requires the political parties to hold their elections.
Fawkes listed some of the procedures being put in place to conduct voting on Aug. 6 and Nov. 8:
–
The sample ballot for the 2016 election will be finalized this week and ballots will be mailed to overseas voters by the June 21 deadline.
–
Training for elections officers to oversee voting will be held at the end of June or beginning of July, according to Fawkes.
–
Four trained technicians have been contracted and will be present during voting to help with any technical problems at the five voting sites.
–
On June Tuesday, the 2014 ballots will be removed and ballot boxes will be prepared for the 2016 election.
–
Several machines will be tested for early voting in the Elections Office and the remaining machines will be tested July 25 for the primary and general elections.
The board also discussed a visit to the Golden Grove Adult Correctional Facility on June 16 to demonstrate voting procedures and register inmates who are eligible to vote.
According to Belardo de O'Neal, Public Works Commissioner Gustav James confirmed busses will run from 5 a.m. until "late night" both elections days.
The board voted to amend a previous motion and consolidate, rather than close, the polling site at Pearl B. Larsen Elementary School.
The school was found to be unsuitable according to ADA regulations.
Those voters will cast their ballots at the Canegata Recreation Center.
Board members also discussed meeting with the V.I. Police Department to outline needs during the elections and Fleming Transport to arrange transportation of election equipment before and after voting.
Attending Wednesday's meeting were Belardo de O'Neal and board members Adelbert Bryan, Lisa Harris-Moorhead, Glenn Webster and Roland Moolenaar.
To register to vote in the Virgin Islands, citizens must provide a birth certificate, passport, naturalization papers or a military DD214, and a utility or phone bill with their physical address. More information can be found at vivote.gov.