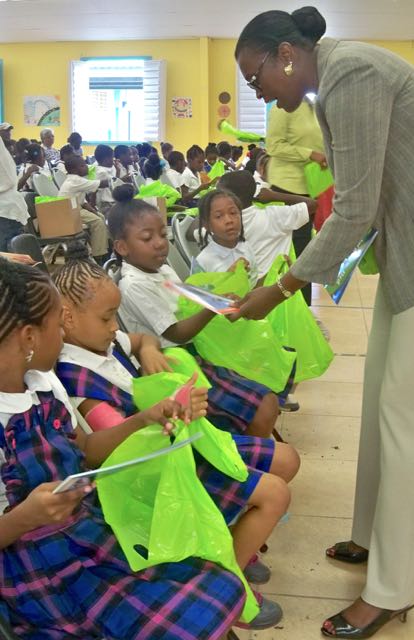 Eight years ago, then Gov. John deJongh Jr. launched the Governor's Summer Reading Challenge in the territory. Gov. Kenneth Mapp has continued the tradition, distributing almost 6,000 books to elementary school students in public and private schools for this year's challenge.
On Wednesday, Department of Education officials and administrators, program managers and teachers gave paperback books, written and illustrated by Caribbean writers, to students in kindergarten through sixth-grade at Eulalie Rivera Elementary School.
Every child in public school will get two books and private school children get one book to start the challenge to read five books during summer vacation.
The kickoff in the cafeteria at Rivera Elementary began with children chanting, "Books on bunk beds, books on chairs, books on the couch – books everywhere. I want more books about all kinds of stuff," the children shouted.
Denise Gomes, program manager for the Department of Education, said the books were chosen with topics familiar to the children so they can relate to and enjoy what they are reading.
Faith George, deputy superintendent, said the children were given books written for their level of literacy.
The plan is to encourage children to read at least five books during the summer to increase literacy. Students may read books from the local libraries and ebooks they have downloaded from the public library site. The challenge runs through Sept. 23.
Sixth-grader Layla Wright received "Caribella" by Phillis Gershator, a take on Cinderella with a Caribbean twist.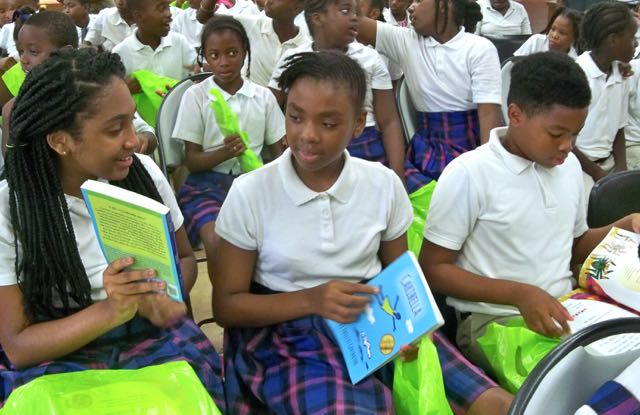 "I like the cover that is pretty and creative," Wright said. "And I like that this is another version of Cinderella." Wright said she enjoys reading and hopes to complete the challenge.
Aaron Bellsol, second-grade student, said he was happy and amazed to get the books. He added he doesn't like to read too much but he will try to complete the challenge.
Cherie Munchez, director of communications for the governor, received her education in local public schools and said she was taught the value of reading at Pearl B. Larsen Elementary.
"Education makes our community strong," Munchez said. She encouraged the children to read to their sisters, brothers and parents. "Families can bond through reading."
The children were given a chart to keep track of what they read. When they return to school in the fall they will turn in the chart to their teachers.
At the end of the challenge the governor will host a party with music, food, bouncers, prizes and certificates for the students who have completed the challenge.
Representatives from WTJX, PBS channel 12, also passed out the PBS Kids Super Summer Fun Book with educational games and activities, a bookmarker and a mini activity book.
The Governor's Summer Reading Challenge is a national initiative of governors from across the country.
The 2016 Reading Challenge books include: "Where Did the Baby Go?" by David and Phillis Gershator (K-2 grade); "We Are Pirates/Somos Piratas" by Adrian Guerra (K-1 grade); "Brown Pelicans" by Mario Picayo (2-4 grade); "Broo 'Nansi and the Tar Baby" collected and written by Dr. Lois Hassell-Habtes (4-6 grade); and "Caribella" by Phillis Gershator (5-6 grade).
To learn more about the challenge go to www.readfive.org.