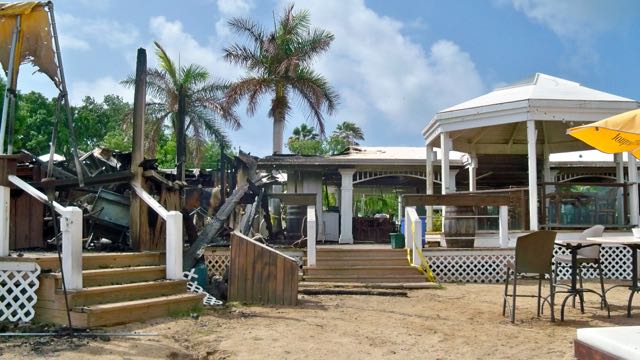 Before a devastating fire Wednesday, the beach at Chenay Bay Beach Resort on the northeast shore of St. Croix was bustling earlier this week. Girls in bikinis were sitting at the Shoreline bar, couples in the dining area were complimenting the chef on their meals and a waitress was efficiently servicing dinners with a smile.
By Wednesday that bar, the kitchen, and an edge of the dining area contained nothing but burnt black wood and fire damaged kitchen supplies and equipment. St. Croix Fire Services' arson investigation squad was picking through the rubble of the fire that had broken out around 3 a.m. to find evidence which would point to the cause of the blaze.
St. Croix Deputy Fire Chief Greg Williams told the Source on Thursday that the cause of the fire was still under investigation. St. Croix had seen a lot of lightning flashes that evening and there were reports of resort guests hearing a giant boom right before the fire. Williams said he could not confirm whether there was an explosion.
He said that the rain had passed by the time the three units (two from the Richmond Fire station and one from the Cotton Valley station) and around a dozen firefighters arrived shortly after 3 a.m.
"The entire kitchen area was engulfed in flames when we arrived," Williams said. He added that the firefighters were able to contain the blaze to the one building and no damage was done to the cottages. "At no time were any of the guests in danger," he said.
By Thursday, attention at the resort had turned to what guests at the resort, around four miles from Christiansted, were going to do without a restaurant or bar.
"Nobody is going to starve. We treat our guests really well," said Ian Smith, working at the front desk on Thursday. Next to where he was standing, on a table, were apples, oranges, croissants, Danish, juice, coffee and tea.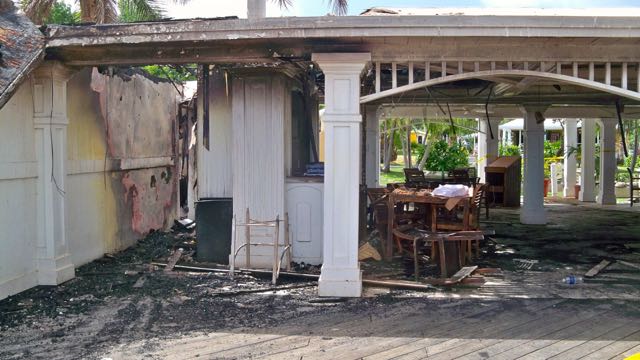 Peter Skrivanos, owner of the Pickled Greek, heard from a friend Wednesday about the fire. He called the resort to see how he could help. Guests at Chenay Bay Beach Resort on Thursday could order from Pickled Greek's menu and Skrivanos would deliver free. They could order a 6 p.m. or 8 p.m. delivery. Skrivanos had heard that the resort was having reservations canceled by people when they heard about the fire.
"I hope that they don't lose any more reservations. That is what it is all about," Skrivanos said. The Pickled Greek is located about three miles west of Chenay Bay Beach Resort on East End Road.
Restaurant fires are often fast burning when there is a grease buildup in the kitchen area.