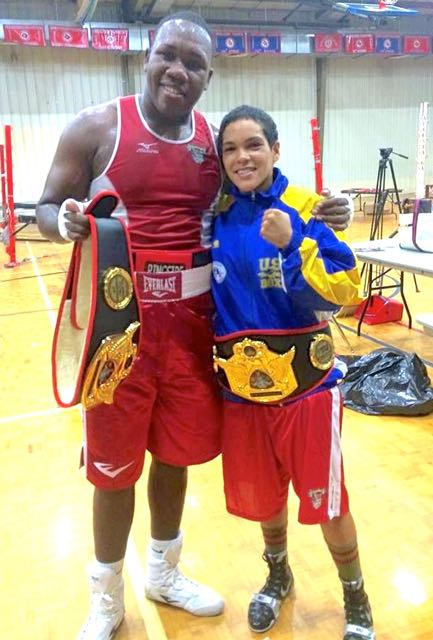 As far as dreams go, bringing home a gold medal from this year's Olympics in Rio de Janeiro, Brazil, is high up on the list for V.I. amateur boxer Clayton Laurent Jr.
"Words can't even express my feeling right now," the 25-year-old said during a recent interview from Texas, where he's working on his training routine for this summer's games.
"It's like, this is the best in the world and a lot of people from home and I feel myself that I'm one of the best in the world and that this is the right stepping stone to setting myself up to become a future heavyweight world champion," Laurent said. "I can't wait to experience this."
Laurent has been waiting for this milestone for the past eight years, ever since he traveled to his first set of Olympic qualifiers with stepbrothers John and Julius Jackson, who advanced to the summer games in 2008 after winning bouts in Trinidad and Guatemala. At the time, Laurent was 17, the youngest boxer in his tournament and had only been in the amateur ring for two years, but he still had his sights on the gold medal he needed in order to advance along with his brothers.
"I won the bronze and I needed to the win the gold," Laurent said. "There was another qualifier that year in Guatemala, the one that Julius qualified at, but that was happening the week of my graduation from high school, so my mom said no, you're not missing your graduation."
Four years later, Laurent took another shot at his goal by heading to a 2012 qualifier at the Pan American Games in Brazil, but this time, did not get the decision he needed from the hometown judges.
"I fought a fighter from Brazil in Brazil in the quarter finals of the games, getting ready to head into the semi-finals and secure a spot for the 2012 Olympics, but I was robbed of the chance," he said. "I knocked the guy two standing eight-counts in the first round, and I got him in the second round, and I still didn't get the decision. It was heartbreaking, but I lost that, and I had to come back home and go back to the drawing board."
Another four years later and Laurent said that, at 25, he's ready to follow in the footsteps of his brothers and trade in his amateur gloves for a shot a professional glory.
"I want to be a professional," Laurent said. "But some friends of mine said that I'm still young and that I should try one more time for the Olympics. You know what they say though, three strikes and you're out."
But this time, Laurent's stars lined up. At a qualifier earlier this year in Buenos Aires, the heavyweight puncher secured one of only three spots available in his weight class for the summer games.
"There was a double elimination for the third seat," Laurent said. "Trinidad and Tobago beat Argentina in the semi-finals and I lost to Cuba, so the finals for silver and gold were between Cuba and Trinidad and I was to fight Argentina for the third place spot. It was a great day, a great day. I defeated Argentina in the first round with a technical knockout to the body and was unable to continue after 1:50 seconds in to the round."
Laurent was back on St. Thomas for only a few weeks before heading to Texas to train at the Reyes Boxing Gym in Dallas-Fort Worth, and since then, has supplemented his training by boxing everyone in sight. Heading into the Olympics, Laurent said he knows he will be up against fighters he's faced before and some he has only seen, but what makes the competition even heavier is that for the first time, professional are now eligible to compete in men's boxing.
While the decision has been heavily opposed by the World Boxing Council due to safety concerns, Laurent said he understands that the possibility is still there.
"It's always a guessing game, you know, and because of all that, I haven't put too much stock in looking at the competition, but what I am doing is preparing myself the best I can by sparring different partners while I have the time," Laurent said. "I've been sparring with southpaws, guys that are taller than me, shorter than me, guys that are faster, that are better boxers, just looking at every different angle that someone can come at me. And I put myself up against them, see what my flaws are, what my weaknesses are. I take stock of them and I move forward."
At Reyes' gym, Laurent has also faced off against Ray Walker, a 2014-15 Texas state champion in the super heavyweight division, along with the state's 2016 Golden Gloves champion. A professional by the name of Samuel Clarkston from Arlington, Texas, an up-and-comer that Laurent said is being heavily watched, also rounds out the group.
"And now I'm just excited. I'm anxious just to meet the competition," Laurent said. "Not everyone can say they've been to the Olympics. They may have watched the Olympics but not everyone can say they are an Olympian. And thinking about I, I'm ready to make history again for the Virgin Islands. I'm now the third boxer from the territory to qualify for the Olympics in the sport of boxing, so it's exciting and, because I'm one of the top contenders in the Pan American region, I'm definitely making that push for the gold."
"I'm going down there to prove to the world that the Virgin Islands has great talent, we have great fighters, great boxing ability and I want to bring home the hardware to prove it."
Laurent expressed his appreciation during the interview for the efforts of the V.I. Olympic Committee, the USVI Amateur Boxing Federation, his family, friends and supporters that have continued to donate funds to support his training over the past few weeks.