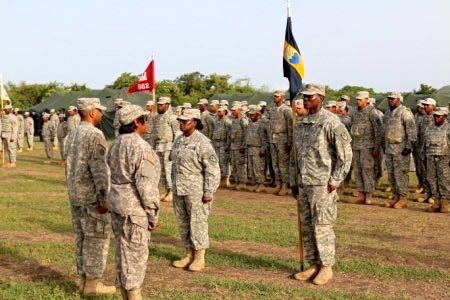 The V.I. National Guard 104th Troop Command took a pause Friday to welcome its new troop commander, Lt. Col. Mike Navarro, in an assumption of command ceremony during its annual field training exercise. V.I. Adj. Gen. Deborah Howell hosted the early morning ceremony as the sun rose over the hills east of the VING Estate Bethlehem military compound on St. Croix, where the exercise took place, according to a statement from the VING.
The 104th Troop Command guidon was ceremoniously passed from Howell to Navarro signifying his assumption of command.
"The significance of what you just witnessed is the trust and confidence I have in your commander," Howell said to the soldiers. "My charge to him is to take care of each and every one of you."
Navarro, the former Army National Guard branch chief of counterintelligence and human intelligence operations, came to the unit with intentions to prepare the soldiers for their call to duty.
"I expect to train them hard," Navarro said. "It's an honor to be chosen by Brig. Gen. Howell to command the 104th Troop Command and to carry out her charge to ensure the soldiers are trained and ready to enter the call to our nation and territory."
The ceremony concluded with a prayer from Chaplain Capt. Dion Christopher. He prayed for the success and protection of Navarro and the entire 104th Troop Command as training resumed for Operation Forward Guardian IV.
The VING also hosted an Oklahoma National Guard aviation team from late May until Saturday on St. Croix. The unit spent two weeks supporting VING with its aviation assets, two UH-72 Lakota helicopters. The VING has been without its own aircraft for two years and the training was vital to the expectation of receiving aircraft in the near future.
The soldiers from Oklahoma were able to load and transport their helicopters on a cargo plane along with the necessary maintenance assisted VING in training and evaluating its instructor pilots, as well as transporting supplies from nearby Puerto Rico.
Howell praised the visiting soldiers for their professionalism and thanked them for their service. She encouraged them to return to the territory as tourists and drove home the most important takeaway from the two weeks: the established relationship and display of teamwork between the soldiers, the two units, the two organizations and the two states.