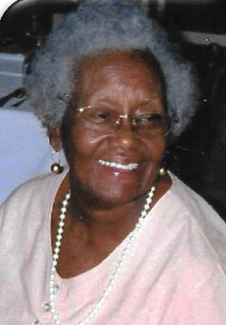 Idona Juanita Clarke Jackson died on Monday, May 23, at her home in Estate Whim, Frederiksted. She was 91 years old. She was born on April 17, 1925 at Estate Adventure, St. Croix, to Osford Llewellyn Clarke (Barbados) and Ethel Evangeline Challenger Clarke (St. Kitts). She is the fifth of the seven children born to her parents' union. Idona entered into the union of marriage with the late Wilford "Sandy" Jackson in 1949. The union produced six children: Sandra, Brenda, Wayne, Nina, Melville (deceased) and Magdalene.
Idona was a member of St. Paul's Episcopal Church, where she sang soprano in the choir and was a founding member of the Daughters of the King (DOK). She also was a member of the Crucian Community Choir. Until her retirement in April of 1989, she was a senior accountant with the Port Authority at the Henry E. Rohlsen Airport.
She is preceded in death by her husband, who passed in June 1995; her son (1976); her parents; four brothers; and four sisters.
She leaves to mourn her children: Sandra Jackson Carty (St. Thomas), Brenda Y. Jackson Ph. D. (St. Croix), Wayne A.C. Jackson Sr. (Florida), Nina J. Fabio (Maryland) and Magdalene J. Cooper (Maryland); sisters: Mildred Peterson (Texas) and Ethel Nanton (California); brothers: Beresford Clarke (New York), Orville Clarke Sr. (Florida) and Julius Jackson Jr.; daughter-in-law: Annette W. Jackson; son-in-law, Theodore Carty; grandchildren: Malcolm and Brandon Carty, Wayne Jr., Michael, and Sheena Jackson, Joel, Kirsten and Dwayne Fabio, and Ashley Jackson-Cooper; 14 great-grandchildren; and many, many nieces and nephews too numerous to mention. Other family members include: Ione C. Milligan, the Barnes, Challenger, Clarke, Powell (Calquohoun), Parris, Allen, Myers and Greenidge families.
Special thanks to Dr. Germaine Owen, Ana Marquez (sitter), and the Eucharistic Ministers of St. Paul's, especially Emelda Thomas. Thanks also to Tracy Saunders and her team from Continuum Care for the care and support in her closing days, as well as to the Reverend Fr. Alric Francis Sr. of St. Peter's Episcopal Church.
In lieu of flowers, donations may be made to St. Paul's Episcopal Church in her memory. Funeral services will be held at 10:30 a.m., Monday, June 13, at St. Paul's Episcopal Church. Interment will follow at Frederiksted Cemetery.
All arrangements are by James Memorial Funeral Home Inc.