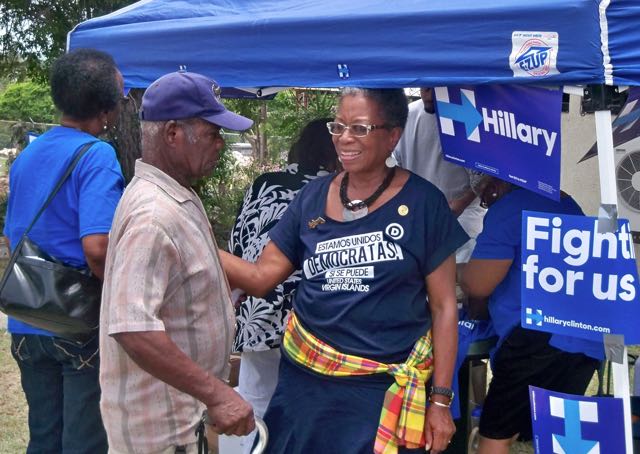 Virgin Island Democrats had their biggest turnout ever for a primary caucus with almost 1,500 people participating, according to Carol Burke, national committeewoman and caucus chairwoman. The vote went overwhelming to Hillary Clinton; she received 1,308 votes to Sen. Bernie Sanders' 190.
All seven pledged delegates from the Virgin Islands are now committed to vote for Clinton at this year's Democratic National Convention.
Delegates elected Saturday include: from St. Croix – Donna Christensen, Sonia Boyce and Robert Rios; from St. Thomas/St. John – Sen. Janette Millin Young, Pamela Eckstein, Clement "Cain" Magras and Edgar "Baker" Phillips. Carolyn Burke of St. Croix was selected as an alternate.
Carol Burke attributed the high participation this year to there being an opportunity to vote early.
Cecil Benjamin, state chairman of the Democratic Party for the Virgin Islands, said that an appearance by former President Bill Clinton on St. Croix last month energized local voters.
Sanders supporters nationwide have raised concerns that the Democratic Party establishment was biased against him. And the Virgin Islands Democratic caucus won't alleviate those concerns.
No St. Croix delegates were committed to Sanders. Voters at the caucus held at Gertrude's Restaurant were given different ballots. Those supporting Hillary Clinton were given a list of delegates for whom to vote; those who supported Sanders were given a sheet that had nothing but Sanders' name and a box by his name to check. In other words, if you wanted to personally vote for a local delegate you had to be voting for Hillary Clinton.
Voter Carlos Testitor said, "It was rigged in favor of Hillary." Testitor said that, as far as he understood it, a vote for Sanders on St. Croix was useless because it would not be transferred to any delegate.
Democratic voter John Farchette said he thought it was the Sanders' campaign that "dropped the ball." He said several potential delegates had contacted the Sanders' campaign people but had not gotten any response.
Testitor said that although he thought Clinton was the most qualified candidate, he liked Sanders's antiestablishment stance and wanted to vote for him. In the end, Testitor took a ballot that allowed him to vote for uncommitted delegates.
Benjamin said the caucus process was done as it has traditionally been done.
Patricia Oliver, one of the uncommitted delegates, was in front of the polling area trying to enlist support. She said she wanted to be a delegate to the Democratic Convention in Philadelphia and to determine then which candidate would support the issues important to the Virgin Islands.
Former Delegate to Congress Donna Christensen was also campaigning outside Gertrude's Restaurant. Christensen won a spot; Oliver did not.
Participants were also given the option to fill out a form to advocate party platform resolutions.
On the Republican side, two factions have proposed two different sets of delegates to the Republican Convention in Cleveland. Although both factions have used local courts to define their legitimacy, the final determination will probably not be made by the courts but by the Republican National Committee.