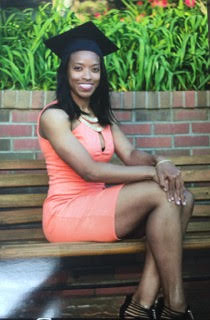 Stephanie Rhoden, 2012 valedictorian of Manor School, graduated on May 7 from Benedict College in South Carolina summa cum laude with a 3.98 grade point average.
Rhoden, a former track star at St. Croix Educational Complex (SCEC) from 2008-2012, received both track and academic scholarships to Benedict College. She graduated with a Bachelor's of Science in Computer Science.
As a member of SCEC track team under coach Devon Peters and his coaching team of Orville Armstrong, Eurman Fahie and Cosmo Laurent, Rhoden participated in many track events such as Poly Relays, Penn Relays, BVI Invitational Meet, V.I.Pace Runners/4-H Cross-Country Series, Veterans Day 5K V.I.Pace Runners and the St. Croix Agricultural Fair Track Meet.
She is not only known for her excellence in track, but also for her participation in MESA and SEA under the tutelage of Ann-Marie Gibbs. She was a member of the National Honors Society, a member of the National Society of High School Scholars and an Intel-ISEF Finalist (2010, California). Her art work has been posted at The Whim Museum and Henry E. Rohlsen Airport, and she placed second in an Agricultural Essay Competition in 2012.
Rhoden excelled in track at Benedict under the coaching of Frank Hyland and gained many awards such as: SIAC Track and Field First Team 400m winner, Broke School Record in 500m – 2013, 2014 SIAC Women's Track and Field All-Academic Award, SIAC 400m winner, Running Tiger Award, 2015 Running Tiger Award, 2015 SIAC Track and Field First Team – 400m, member of the 2015 Women's Cross Country runner-up, 2016 member of 4x400m Indoor and Outdoor record-holding team, finished 2nd in 400m, member of the 2016 Women's Track and Field runner-up. She also earned a Presidential Trophy for Academic Excellence for three consecutive years, 2014-2016.
Rhoden named Sheryl Carroll-Rhoden, a former special education teacher at SCEC, as the most influential person in her sports career. She also thanks the many influential persons she met during her high school and college years. Special thanks go out to coach Devon Peters; coach Frank Hyland of Benedict College, Columbia, S.C.; coaches Orville Armstrong, Eurman Fahie and Cosmo Laurent; Ann-Marie Gibbs; Genitta Richards, Kurt Vialet; Manor School staffs of 2011-2012; and the Trinity Wesleyan Holiness Church family.
Rhoden is a focused and hard-working young lady whose favorite quote is "The poorest of all men is not the man without a cent but the man without a dream" – Unknown. Next month, she will transfer her learning in computer science to her place of work where she did her internship.