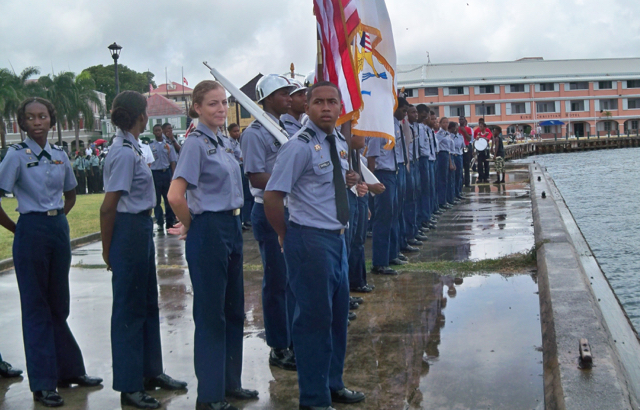 Memorial Day began under a gray sky and threatening dark clouds Monday, and by the time the ceremonies were over, the dedication of the participants had been tested by the rain.
The annual parade started at the Christiansted Cemetery for a service at the graveside of Pvt. Bromley Berkley. By the time the parade got to Christiansted harbor the participants were drenched from a downpour that didn't let up until more than half way through the ceremony at the bandstand.
Participants marching in the parade who got soaking wet were members of the American Legion members, National Guardsmen, Junior ROTC cadets, St.Croix Central High School band members, Boy Scouts, members of the V.I. Chapter Tuskegee Airmen Youth Aviation Club and Gov. Kenneth Mapp's entourage.
The parade ended on the waterfront, where Mapp tossed a red, white and blue floral wreath into the sea to the sound of a 21-gun salute and a prayer by American Legion Cmdr. Secundo Roman-Cruz.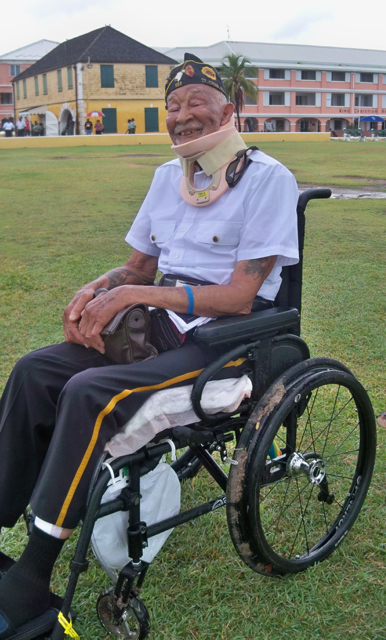 People on the National Park Service lawn at Fort Christiansvaern scurried to find shelter under the tamarind tree and at Customs House. Officials hustled to the shelter of the bandstand, where the honors ceremony continued.
Command Chief Warrant Officer Augustin Webster gave the keynote address.
Webster's voice cracked with emotion as he said that, for those who have lost loved ones in the line of duty, Memorial Day is a difficult day.
"The thought of loosing someone is sad," Webster said.
He said they were remembering those who made the ultimate sacrifice so we could enjoy quality lives. His focus was on mourning, celebrating, commemorating and honoring fallen heroes.
"Freedom isn't free," Webster said. "The cost is extremely high."
He encouraged people to remember to thank families of loved ones who died serving. He added people can clean graves, plant trees and say prayers in remembrance of the deceased.
Resa O'Reilly and students in Project Promise presented V.I. National Guard Adjutant General Deborah Howell with cards and letters they created for Virgin Islands soldiers who are deployed.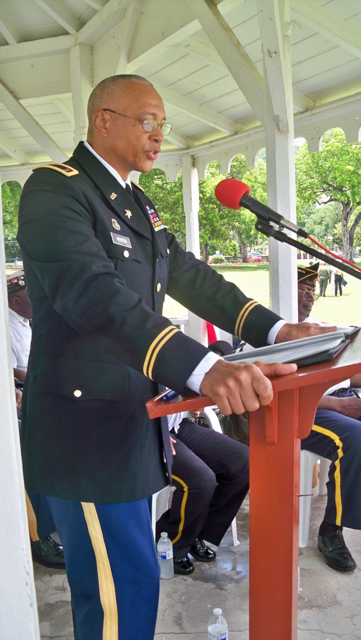 Otto Tranberg, who at 98 years old is the oldest Virgin Islands American Legion member, was on hand for the ceremony as he has been for numerous years. Tranberg was recently released from a hospital in Puerto Rico, and he took in the ceremony wearing a neck brace and his Legion uniform, watching quietly from his wheelchair.
Mapp, Sen. Neville James, Patrick Farrell, director of the office of veteran's affairs, and District Commander Charles David gave remarks.
Trevor Adams, who served 30 years in the Army, said he hasn't missed a Memorial Day ceremony since he enlisted in 1984. Adams, who lives in Texas, said he was home on St. Croix for a visit and had to attend in remembrance of friends he lost.
"I saw three combat tours of duty," Adams said. "I lost a lot friends and today I come to remember them."
The Memorial Day ceremony was hosted by the Myron G. Danielson American Legion Post 85 of Christiansted.
"While Memorial Day is intended to honor our fallen, we should not forget those who have pledged to make the same sacrifice if called upon – the young men and women still serving in the armed forces in more than 130 foreign lands," District Commander David said.