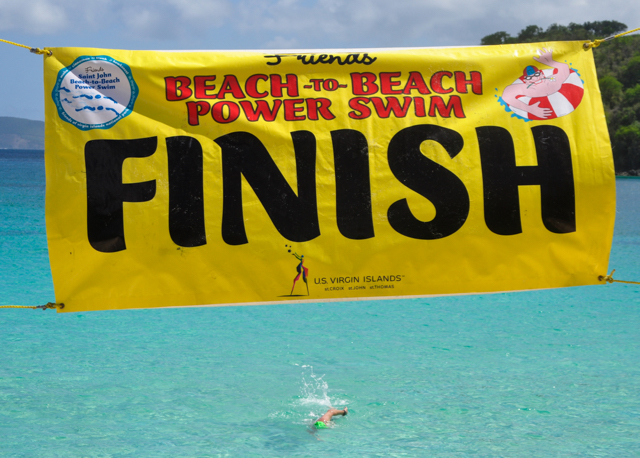 Teenaged members of the Virgin Island's National Swim Team took first place in both the overall men's and women's categories at the 13th annual Beach to Beach Power Swim on Sunday.
The swim, a fundraiser held each year by the Friends of the Virgin Islands National Park, draws hundreds of participants from around the Virgin Islands, the Caribbean and the United States. Swimmers can opt for the short course, one mile from Maho Beach to Cinnamon Beach, the intermediate course of slightly more than two miles from Maho to Trunk Beach, or the long course from Maho all the way to Hawksnest Beach, a distance of three and a half miles.
Swimmers can also choose to compete in the "unassisted" or "assisted" categories, meaning with or without fins or snorkels.
The fastest time clocked on the long course this year belonged to St. Croix's 13-year-old Natalia Kuipers, a member of the V.I. National Swim Team, who finished in one hour, 19 minutes and 12 seconds. Her time placed her at the head of the overall women's category, and her national teammate, 14-year-old Ky Odlum of St. Thomas, finished at the top of the overall men's category with a time of one hour, 23 minutes and 19 seconds.
John Vasbinder, coach for the V.I. National Swim Team, was beaming with pride at the event's award ceremony and barbecue at Oppenheimer Beach, but he said the spirit of the day was more about fun than competition.
"We just love to come over here," Vasbinder said. "It's a fun day, a chance for the national team to come together other than going on national swim meets. We have our swimmers from St. Croix with our swimmers from St. Thomas and St. John outside of a swim meet environment."
Many adults who took place in Sunday's swim also said the "race" was more about appreciating the beauty of St. John's North Shore and raising money for the Friends of the Park than competing with their fellow swimmers.
"I'm just thankful every year to swim our beautiful North Shore – really that's it," said St. John resident Christine Meyer, who clocked the fasted time on the long course among women of her age group. "I just feel blessed we can do it; it's so gorgeous."
Meyer, who has participated in the swim 11 times, reported that conditions in the waters off St. John were good for the event.
"At one point I felt like I was working against the current, and at another point it was pushing me along. So it kind of evens out," she said. "It was pretty much perfect."
Pedro Correa of Puerto Rico, a first time participant who finished the swim's long course with the fastest time of men in his age group, said he was impressed with how well organized the event was, especially the emphasis placed on swimmers' safety.
"There were some points where the course was a little challenging because of the currents – where it was a little choppy – but otherwise it was a very nice race, very enjoyable" said Correa, who plays water polo for the national team of Puerto Rico.
Helping swimmers along were scores of volunteers between Maho and Hawksnest in kayaks and boats and on paddle boards. Members of St. John Rescue and National Park Service personnel were present and ready along the route in case of emergency.
"We were out there to cheer people on and make sure they stay on course," said volunteer Kai Frett, who works for the V.I. Department of Tourism. But even for those tasked with guiding the swimmers, the day was "lots of fun in the sun," said Frett.
"I'm not the biggest swimmer, but I stuck it out. I made it. I feel good," said Nicholas Hopkins, an artist who designed the event's T-shirt logo this year. Hopkins said he recently moved to St. John, where he has family.
"I did the swim with a snorkel mainly because I just wanted to see what was going on, which was cool – lots of sea turtles, a bunch of stingrays, a couple nurse sharks," he said.
Those swimmers who did the intermediate and short courses expressed a similar sense of accomplishment as those who completed the long course.
"I usually do the long course but this year I didn't train," said St. John resident Antonette Badami. "I didn't have time to do any of the practice swims, Even though I signed up for Hawksnest I got out at Cinnamon. I'm just glad to come out to participate and that I made it there."
Full results from the Beach to Beach Power Swim can be found online at http://friendsvinp.org/race-results.
Sponsors for Sunday's swim included St. John Insurance, the V.I. Department of Tourism, The Parrot Club, Mongoose Junction, Topa, United Healthcare, Angel Electric, The Reke Corporation, Theodore Tunick and Company, St. John Hardware, Freebird, V.I. Ecotours, Merchants Commercial Bank, Big Blue Powerboat and Excursions, PK Love City, High Tide, St. John Accommodations Council, Cruz Bay Watersports, VITAL Freediving, Mermaid Swim, Alfredo's Landscaping, Rotary Club of St. John, V.I. Orthopaedics and Sports Medicine, Windspree Vacation Homes, PGU Insurance, Gallows Point Resort, Skinny Legs, St. John Brewers, NBC USVI, Arawak Expeditions, 104.3 The Buzz, De Signs, and Jonathan Eichner Design.