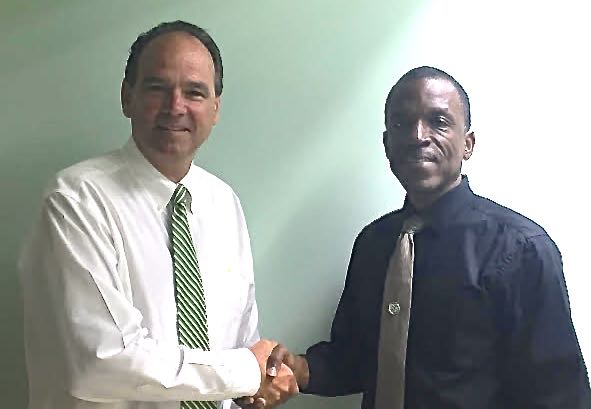 The financial assistance provided for the 2015 territorywide drought and continuing education for farmers were leading topics during Tuesday's meeting between the U.S. Department of Agriculture's Farm Service Agency and the V.I. Department of Agriculture.
The meeting marked the first time Rick Dantzler, state executive director for the FSA, who oversees Florida and the Virgin Islands, and V.I. Agriculture Commissioner Carlos Robles have met in person, though the two worked closely in 2015 to gather the necessary data to officially declare the territory a drought disaster area, a condition of receiving financial assistance.
Robles said that going forward the Virgin Islands will be included in the United States Drought Monitor, an online monitoring tool that keeps track of a number of factors to determine whether or not a place is in a state of drought. Until recently the Virgin Islands did not have data collection systems in place to gather the environmental metrics for the monitoring system.
For the first time in more than 10 years, the United States Geological Survey will return to the territory to collect groundwater and rainwater data, Robles said, which are key drought monitoring components.
"Not being on the Drought Monitor really put handcuffs on the Virgin Islands," Robles said.
Since the USDA designated the territory a disaster area, local livestock farmers have received $262,000 in assistance to help pay for their losses. Farmers were eligible for aid under two of the 2014 Farm Bill's programs.
The Livestock Forage Disaster Program gave assistance for grazing losses, since many livestock farmers had to buy feed during the drought. The Livestock Indemnity Program provided money for livestock fatalities that were caused by the drought, as a number of animals starved to death.
Robles explained that livestock health was a "barometer" of the drought, since animal deaths indicate that the water situation is extremely dire. Losing a key breeding animal can devastate a livestock operation for years to come.
"The disaster relief from the drought was critical," said Dantzler, explaining that he believes the funding has been put to good use.
Since the drought lifted, Robles said, farming operations have started to bounce back.
"We are much better than we were this time last year," said Robles, noting that the island is green again and he's seen ranchers out cutting grass along the roads to bring to their animals.
Dantzler said the objective of his trip is "to better understand what we're spending money on and how well it's being spent," adding that he's impressed by what he's seen so far.
During his time on St. Croix this week, Dantzler is visiting a number of ranchers and farmers. As of Tuesday, he'd already visited a 200-acre sheep ranch, a 40-acre organic farm and a small two-acre farm.
He was particularly impressed by St. Croix's agricultural diversity – on the small farm he went to there were around 70 different foods growing on a couple acres.
Robles and Dantzler also discussed how their departments could encourage farmers to partake in continuing education in order to stay current with production techniques. Robles said farming sciences are always evolving for both organic and conventional agriculture.
"The department is going to be strongly encouraging that farmers each year take at least three continuing education classes in their area of production," said Robles.
Robles said farmers could take classes at the USDA's office, the University of the Virgin Islands or at regional conferences. There is currently no federal funding available for classes, but the UVI Cooperative Extensive Service offers classes free of charge and there are a number of other free options through other agencies that could help them stay current, he said.
Farmers who receive loans from the FSA for startup operations could use some of that money for training as well.
Dantzler explained that the FSA provides loans for farm ownership, operation, equipment and training. As a condition of lending money, the FSA requires that borrowers go through a training that teaches them how make a business plan, do basic accounting and keep production reports. That way they understand how to manage a farm.
Going forward, Dantzler and Robles said their departments could collaborate to ensure that there's overlap between continuing education classes and borrower training.
"All these things would make us more confident in the loans we're making, but also make the borrowers more successful with their farm operation," Dantzler said.
According to official government reports that Dantzler shared, the USDA has invested more than $535 million in the Virgin Islands between Fiscal Years 2009 and 2014: $165 million for conservation and land management; $78.3 million to support affordable housing, to create jobs and to support economic opportunity; $15.6 million to research for improving food, agriculture and natural resources systems; $14 million to infrastructure development, including electricity, broadband and telecommunications, waste, wastewater and construction of community facilities; and $1.8 million to fund programs that support farming and ranching, which comes from the FSA.