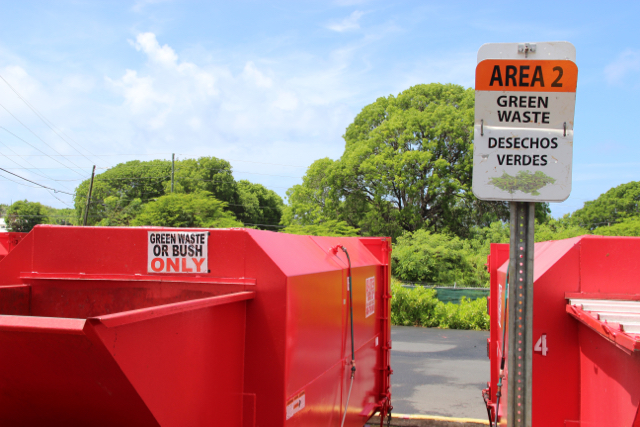 Compostables represent around two-thirds of the territory's waste stream, but large-scale composting has yet to be implemented in the Virgin Islands despite the potential wide-ranging economic and environmental benefits some researchers see.
While some people compost in their backyards and on farms, the territory doesn't have the systems and legislation in place to support composting operations beyond small projects like the remediation of the red mud site on St. Croix.
"It sets the stage to resolve the entire solid-waste problem," Gary Ray, an ecologist and an Island Green Living Association board member, said. Ray is a longtime advocate of municipal-scale composting in the territory.
Poor soil quality and erosion are major issues on all three islands, and Ray said composting could also provide much needed topsoil for farmlands and landscaping.
And compost's uses are plenty: Farming (if the grade is high enough), gardening landscaping, and maintaining grass at ballparks and along roadsides are just some of its applications.
"To compost at the municipal scale goes a country mile towards resolving our solid-waste management dilemma, and opens the door to make marginal St. Croix soils arable of agriculture, adds much cheap compost to landscaping, and fixes carbon in the soil that we were dead set on putting in the atmosphere in recent years with ill conceived incineration and waste-to-energy wackiness," Ray said.
Building a waste-to-energy plant has been a leading consideration for the Virgin Islands Waste Management Authority for how to deal with the territory's garbage. In 2010, the Legislature voted against the government's $440 million deal with Alpine Energy Group to produce power from trash.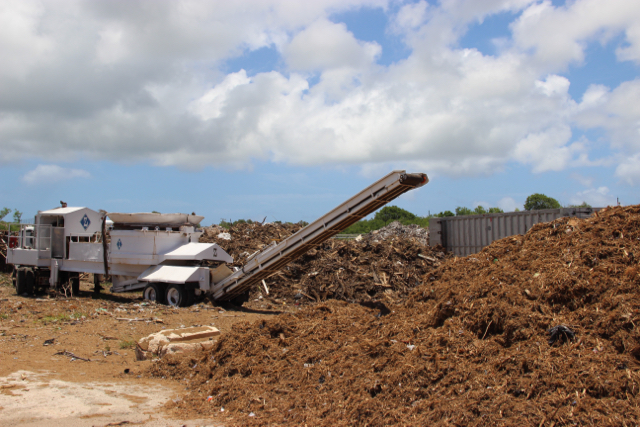 For some, a waste-to-energy plant makes sense since it solves the territory's garbage and power issues in the same measure. But others contend that the territory doesn't produce enough trash to make it economically viable and that burning organics – which is where the bulk of generated energy comes from – isn't the highest and best use for compostables.
According to Kysha Wallace, VIWMA's acting communications manager, "There is no discussion on building a [waste-to-energy] facility in the territory at this time."
But the waste-to-energy option is still discussed quite seriously by some in the waste industry and government alike.
Wallace also said that Governor Kenneth Mapp has submitted proposed legislation to advance composting as a part of a plan to improve solid waste handling and disposal in the territory.
"Legislation will provide structure to allow this program to progress and develop into a viable component of waste processing," Wallace said.
"A successful composting program requires investment in capital infrastructure and equipment, land space for the composting facilities, education of the public, and a dependable market to utilize the compost," he said.
Composting could immensely help the territory's garbage crisis, since it would reduce the amount of garbage going into the ground. Both landfills on St. Croix and St. Thomas are quickly filling, with industry experts giving them a few years maximum of available space.
Due to long-standing Environmental Protection Agency consent decrees, the landfills will be closed and capped in the foreseeable future, depending on how quickly the V.I. government acts. Composting could divert waste and extend the lifetime of the landfills.
Around 2011 and 2012 the V.I. Composting Committee, a group of engineers, farmers, ecologists, native plant specialists and other working professionals in the Virgin Islands, drafted a preliminary plan for starting large-scale composting in the territory.
"We're talking about land, equipment to grind brush, move and turn the compost, water and a concrete slab – that's all you need to create a high quality product," said Susan Parten, a professional civil-environmental engineer who helped draft the committee's composting plan and is a current board member of the Island Green Living Association.
Parten said the committee met with VIWMA for about eight to ten months, but their work stalled when the necessary few acres for composting wasn't made available. Based on labor and equipment purchase costs, her group estimated that high quality composted product could be created for $30 to $40 a ton.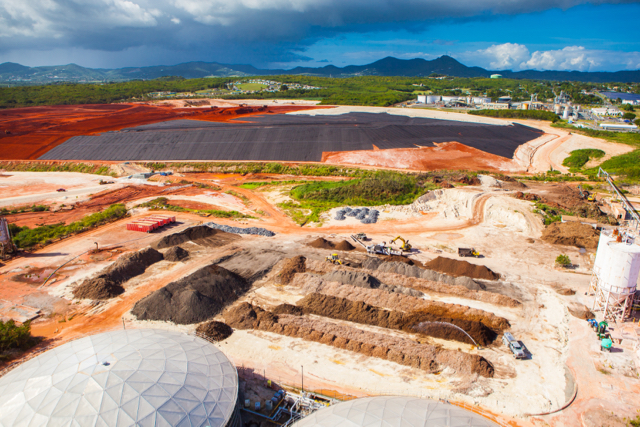 Alpine Energy Group would've needed to charge at least around $133 per ton of waste they'd have received under their agreement with VIWMA to make their operation feasible, in addition to selling recyclable materials to recoup costs, Parten added.
"The best way to kill composting here is to decline to make land available," Parten said, noting how expensive land is across the territory. "What we need is education and key government people on board."
Parten explained that some people have suggested composting near the Bovoni landfill on St. Thomas, since there is available land there. But compostables could fuel more landfill fires, and there also needs to be a water supply available to composting operations. So it's wiser to locate them at or near wastewater treatment plants where treated reuse water can be used.
"I think people here know directly how important and viable composting is. Most of them intuitively know it's the right thing to do," Parten said. "These operations only have issues like dust or odors if they are poorly run, so if they are properly managed people have no reason to be afraid of them."
While territory-wide composting doesn't exist yet, there are some smaller efforts. Sanitas Partners, the operator of VIWMA's St. Croix Transfer Station, started producing compost for the remediation of the St. Croix Renaissance Red Mud Site in the fall of 2014. The compost cover material was created with the island's diverted green waste.
To make the compost for the cleanup project, Sanitas employed a windrow composting process, which uses outdoor composting piles that are limited in height and aerated by being turned over, typically with a machine. The 120-acre contaminated site is now covered with layers of caliche stone, compost and topsoil.
It's a small example, but the success of making compost for the remediation project is indicative of the viability of large-scale composting in the territory.
At the Peter's Rest convenience center on St. Croix, residents can drop their green waste off in a marked bin. Sanitas then shreds the greens at its composting facility near the St. Croix landfill. Shredding speeds the rate of decomposition to between 45 to 120 days, depending on the grade of the product, instead of taking two years.
Timothy Hodge, president of Sanitas, said that VIWMA's board members renewed his company's ongoing contract to collect green waste for compost on St. Croix. Since the remediation project is now complete, Sanitas is looking for ways to use the compost, with ideas including farming, landscaping, and carbon farming, in which compost is sprinkled on fields to capture carbon to help slow the planet's warming.
"Compost is part of the future of solid-waste management in the territory and the Virgin Islands can be a flagship of integrated solid-waste management in the Caribbean," Hodge said.
An integrated solid-waste management program is a comprehensive waste prevention, recycling, composting, and disposal program. Currently, the majority of the territory's garbage all goes into landfills except for the green-waste composting operation and aluminum can recycling at the transfer station on St. Croix.
St. Croix is only composting green waste now, but Hodge said with a little more planning they could also compost food waste, which has to be handled carefully to prevent pathogens from growing.
Although there's frustration that composting has yet to catch on, many remain optimistic that the government will realize its full potential and start backing it.
"Our problems are all home-grown and unnecessary. This is not that technical. It takes a level of public will and leadership we have lacked for some time," Ray said. "Yet I am optimistic that with the correct choice in a replacement WMA executive director, we can catch up with everywhere else in the U.S."