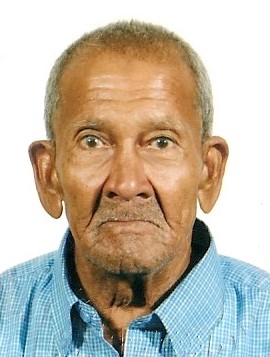 Joseph James, also known as "Apa" or "Mr. Richardson," died at his home on April 21 after his battle with lupus and leukemia.
He was preceded in death by his brothers: Jones James and Egnasious James; and grandchild, Shern James.
He leaves to cherish his memory his sons: Francis James, Steven James, Moses James, Richard James, Macellinus James, Abel James and Joshua James; daughters: Joyceline Noelien, Marie Joseph, Elizabeth Theodule and Marian Sargusingh; and grandchildren: Billy Noelien, Nelven Noelien, Gina James, Timothy James, Sherliner Noelien, Vanessa James-Marfo, Gideon James, Lydia Noelien, Surria James, Kermisha Sargusingh, Claudia-Theodule, Cristiana Noelien, Anton James, Jason James, Steve James, Robbie James, Nicholas James and Mikey James.
He is also survived by great-grandchildren: Nelisha Noelien, Shayna Noelien, Nelven Noelien Jr., Billy Noelien Jr., Nelicia Noelien, Nathaniel Marfo, Sanaya Sealey, Jolie Henry, Kani James, Kayden Vidal, Sarai Marfo, Jamison Henry, Eden Gillings and Ryan Gillings; sisters-in-law: Marie James and Virginia Henry; daughter-in law, Bernadette James; sons-in-law: William Noelien, Claude Theodule, Anthony Sargusingh and Antoine Joseph; nieces and nephews: Agnes Edmunds, Agatha, Elizabeth John, Elishus James, George James, Michael James, Isaac James, Jeremiah James, Paul James, Julius James, Benjamin James, Neil James and Ezra James; as well as other relatives and friends too numerous to mention.
A viewing will be held from 3-5 p.m. on Friday, May 13, at Divine Funeral Services Chapel.
A second viewing will be held at 10 a.m. followed by a funeral service at 11 a.m. on Sunday, May 15, at Central Seventh-day Adventist, 17-A Plessen. Interment will be at Kingshill Cemetery.
Arrangements are entrusted to Divine Funeral Services and Crematory. We own and operate our own crematory. Let us offer you a Dignified Funeral, affordable by all. Tel: 773-0003/fax: 773-3003.