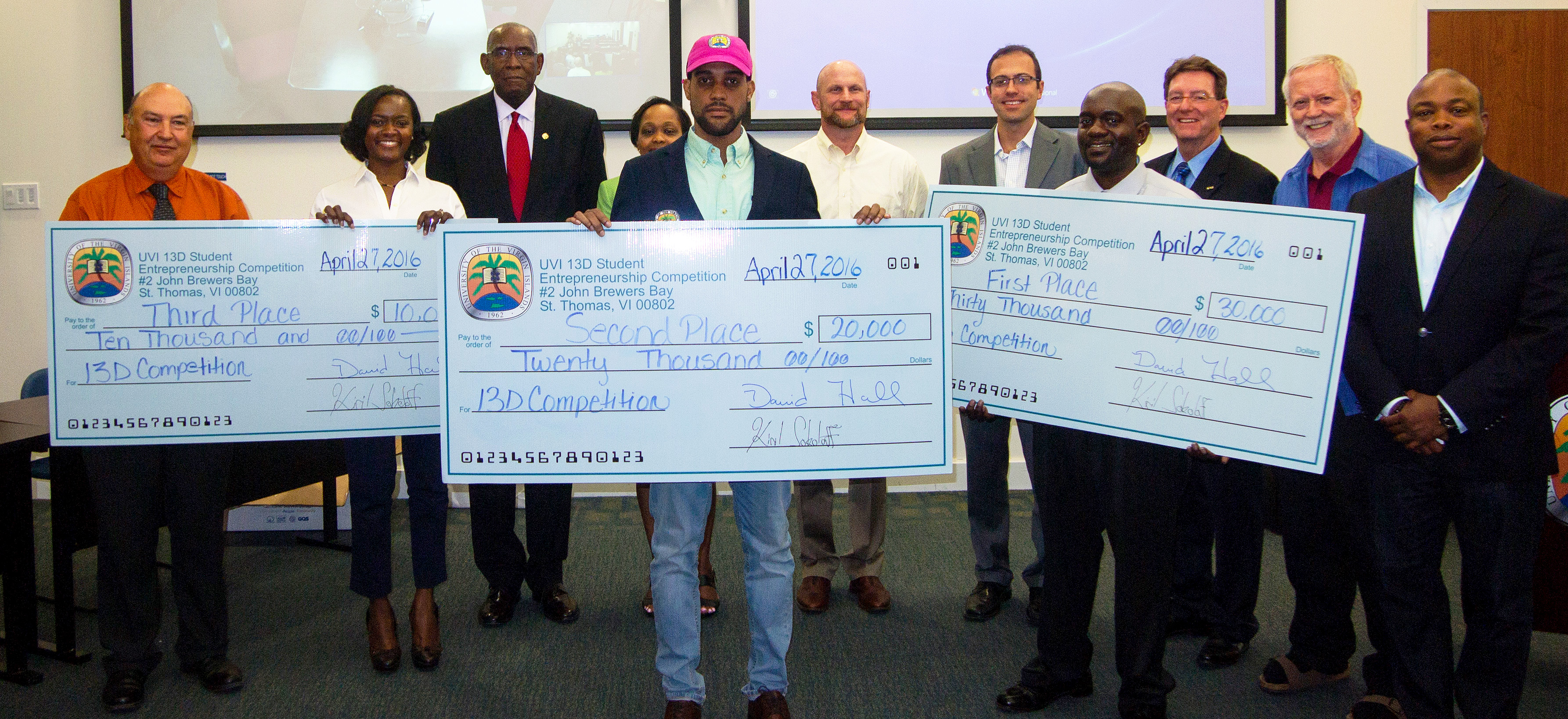 Three University of the Virgin Islands student entrepreneurs won $60,000 at the 4th Annual 13D Entrepreneurship Competition on April 27 on the St. Thomas Campus. The 13D Competition, sponsored by 13D Research and Innovative, is designed to eliminate the obstacle of financing for UVI student entrepreneurs who have great ideas for potentially profitable businesses but no access to start-up capital.
Lloyd Maynard, a graduate student in business administration, was awarded the $30,000 first place prize for Veggie Shack, a food truck featuring tasty vegan dishes. This truck will be open for extended hours, and will provide patrons with healthy food alternatives into the evening hours. The mobile truck is planning to be located primarily near Mandela Circle.
Cody Richardson, an undergraduate student who is majoring in business administration, was awarded the $20,000 second prize for MIST (Made in St. Thomas) Prints. His concept is to recreate the screen-printing business in the territory by providing high-quality prints with no minimum orders. The firm will initially focus on individuals and small businesses that want to place low-volume orders. A low-energy production process will allow MIST to offer high quality products and services with competitive pricing.
Nashona Ruan, who will graduate from UVI this month with a Bachelor of Arts in Business, was awarded the $10,000 third place prize for TendRHands, an in-home senior care service. This business will assist and support families who are looking after aging relatives by providing care that ranges from feeding and grooming to house maintenance and food preparation. TendRHands was inspired by a woman named Wendy Ramos, who cared for her aging grandmother without obligation.
"Last fall, 63 teams started with interesting ideas and began the rigorous journey from customer discovery to business model development to business execution," said Dr. Timothy Faley, the Kiril Sokoloff Distinguished Professor of Entrepreneurship at UVI. "Six teams made it to the finals last Wednesday. All six competitors had viable businesses that they could profitably execute but needed seed money to launch. The judges awarded the competition prize monies to the best of the best."
Entrepreneurs who made it to the final round of the 13D Competition included Maya "Maya Da Traina" Freeman with her one-minute personal training videos on YouTube; Lucia Smith with Caribbean Sweet Treats, which creates custom, made-to-order elegant cakes and other treats; and Maxwell Peerman Daniels with his VITRAN APP for tracking buses and local advertising on your cell phone.
The student entrepreneurship competitions were made possible by a $5 million gift to UVI from investment strategist and entrepreneur Kiril Sokoloff, the founder of 13D Research on St. Thomas. The gift supports 13D Student Entrepreneurship Competitions, a Distinguished Professor of Entrepreneurship Endowed Chair and the Entrepreneurial Speaker Series at UVI. The 13D Competition is also sponsored by Innovative, which has made a significant long-term commitment of $50,000 a year to support the entrepreneurship effort.