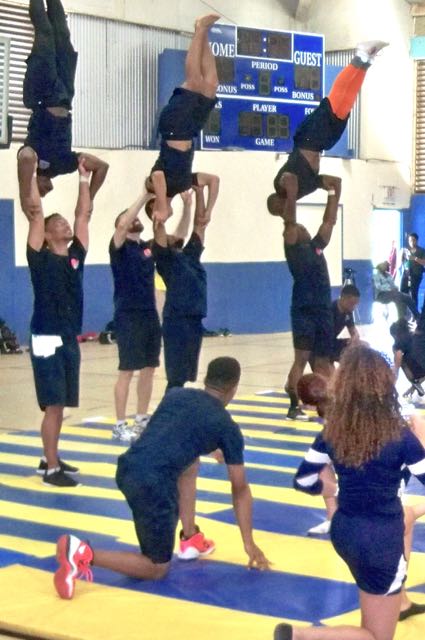 The V.I. Police Department brought a live gymnastics demonstration to St. Croix schools this week with the message that positive choices can bring a healthy life.
The Acro Airs Gymnastics team from Washington, D.C., visited a half dozen St. Croix schools the last couple days displaying a wide array of gymnastic skills. The gymnasts did flips, double flips, tossing and human catching each other and creating human pyramids.
Judging from the looks on students' faces Friday and their cheers of approval as they watched the performance at Arthur Richards Junior High School, the message was being received.
Several of the gymnasts from Washington Adventist University spoke to get the message home. Their words pointed to healthy eating habits and how individual cooperating with other individuals made individual goals achievable. They said, "We could not be doing this on the mat if we did not stay away from alcohol and drugs."
VIPD detective D. Peter said that the program was designed so students would see that "we don't just come to the schools to stop fights; we come to the schools because we care about them."
Peter, who had been on the gymnastic team when he attended Washington Adventist, told students, "You don't have to go YRC to learn a lesson." This was after an 18-year-old who was part of My Brother's Workshop told students what he had been learning. He said he spent two years and eight months in the Youth Rehabilitation Center.
Pastor John Smith, the organizer of My Brother's Workshop, also had words for students. He said the biggest challenge he sees with youth today is, "They have to face adult situations and make adult decisions when they are still young."
Gymnast Tyreik Smith said he was pleased with the reception the schools had given the group. "It was really wild in a good way."
The first performance was at the St. Croix Central High school on Wednesday. Other schools taking advantage of the program sponsored by the V.I. Police Department were Free Will Baptist School, Pearl B. Larsen Elementary School, Eulalie Rivera Elementary School, Juanita Gardine Elementary School, Good Hope Country Day School, John H. Woodson Jr. High School and Claude O. Markoe Elementary.
The VIPD will host a community outreach program at the Central High School gymnasium at 7:30 p.m. Saturday. Besides the gymnasts from Washington, the show will include Rising Stars Steel Pan Band, St. Croix Martial Arts and a basketball game between Central and Complex varsity teams.
Adult admission is $3 and children get in for a $1 at the door. All monies collected at the door will be donated to the Queen Louise and the Herbert Grigg Home.
A short video of the gymnasts on St. Croix can be seen online.