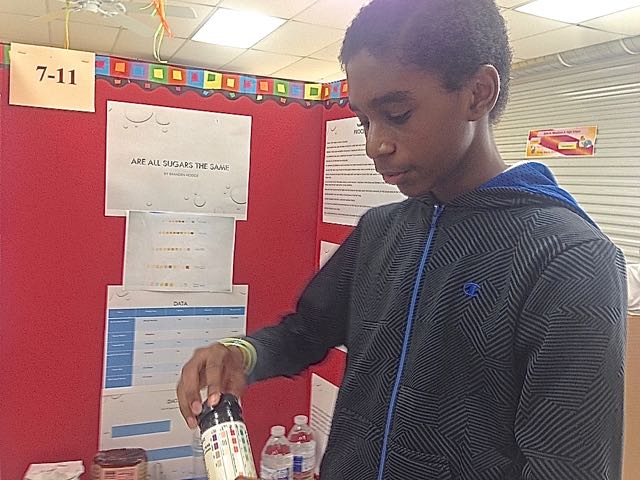 Thirty seventh and eighth grade students at John Woodson Jr. High School displayed a wide variety of handcrafted projects Friday for the school's Science, Technology, Engineering and Mathematics Fair.
According to Anne-Louise Wilkins, Woodson's science department chairwoman, students were directed to identify a problem and, using scientific methods and measurable objectives, come to a conclusion.
"Hopefully, they learn a whole lot of science," she said.
Eight educators, business people and scientists judged the projects. Medals and ribbons were awarded to first- through fifth-place winners in each grade and the top three students in each class receive trophies. The winners will compete in the district STEM Fair on May 20 at Sunshine Mall.
The projects ran a broad spectrum of interests. One student built a solar phone charger and another studied cleaning up oil spills with magnetic material. There was a project that outlined how roof color affects the interior temperature of a house and another project, called "Smoking Kills," tested the nicotine in cigarette smoke using a paper napkin filter.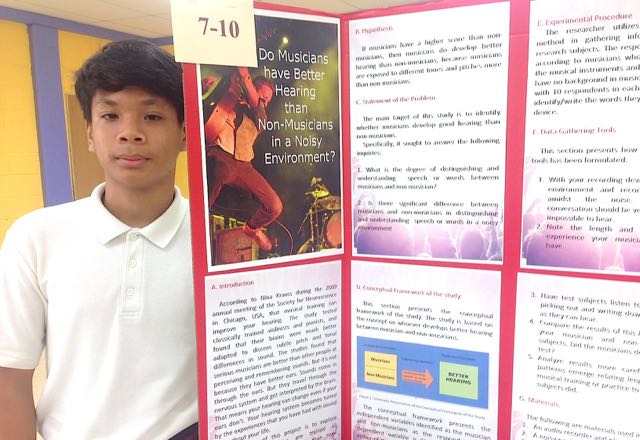 Seventh-grader Marck Sinco's music teacher told him that the more he practiced playing instruments, the more he would develop his hearing, so he tested several people to see if it was true. He recorded his voice over background noise as a hearing test and gave the test to several musicians and his mother. He said the musicians tested had better hearing than his mother, who is not a musician.
Jose Ramos, eighth grade, tried to test for iron in cereals. He discovered that those he tested didn't contain the amounts of iron – at least by his methods – advertised on the cereal boxes. He broke down the cereal in plastic water bottles and used magnets to pull out tiny pellets of iron. Fruit Loops, which he said advertises 25 percent iron, was found to contain no iron and Ramos found almost none in Kix that he said claims it contains 45 percent iron.
Another seventh-grader, Branden Hodge, concluded there is no connection between refined and natural sugar, and Mark Eugene, also in seventh grade, grew bigger and better tasting tomatoes with natural fertilizer than a chemical product.
In the past, Wilkins said, there were enough business sponsors for the school fairs and to host the district STEM Fair, but last year, the event was almost canceled due to the lack of sponsorship. She said she hopes corporate individuals and government officials will step up to help with funding this year.
Woodson Principal Rodney Moorhead said the STEM Fair is important to students because it enhances their creativity and promotes teamwork.
"It's great because it gives students an opportunity to see how school subjects are interconnected. It's (science) not just an isolated subject," he said.