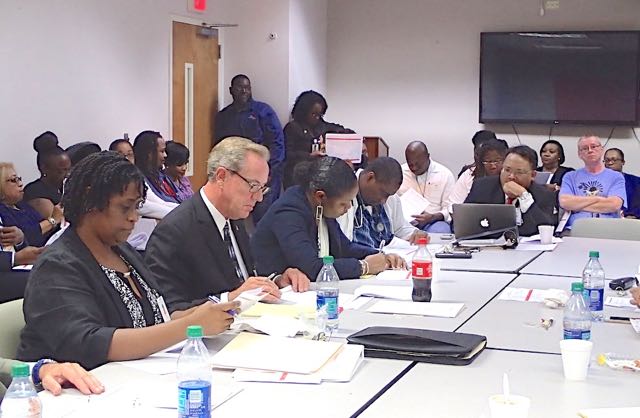 Dozens of employees crowded into the meeting of the Gov. Juan F. Luis Hospital board Thursday with questions about rumors of layoffs and the chief executive officer's dismissal.
After a two and a half hour executive session, the few employees who remained outside the conference room learned from Board President Troy de Chabert-Schuster that Ken Okolo's position indeed is in jeopardy.
"We've determined Dr. Ken Okolo remains on administrative leave, with pay, until further notice and attorney Richard Evangelista will be administrator in charge of the hospital, effective immediately, until further notice," de Chabert-Schuster said.
No explanations were given as to the reason for the action and de Chabert-Schuster would not give any idea how long the leave might last.
"Maybe days," he said and shrugged his shoulders.
The territorial board recommended the action to review Okolo's contract and its terms, de Chabert-Schuster said. The JFL board is not satisfied it has reviewed the contract thoroughly or answered all of their questions and therefore can't determine a time frame for a final decision, he said.
Evangelista, currently the hospital's chief counsel, is neither acting nor interim chief executive officer, but will manage the health care center's operations, de Chabert-Schuster said.
Okolo was hired in January 2015 as chief operating officer and named acting CEO in November after Dr. Kendall Griffith resigned to return to private practice. The board awarded Okolo the full title of CEO in February.
De Chabert-Schuster said recent information that Okolo's doctorate degree from Century University, an unaccredited college, was not a factor in taking action against Okolo and wouldn't say if the board was considering a salary reduction or termination.
Before the executive session, several hospital employees were allowed to ask questions and, when Jean Moraine asked about Okolo's status and Annette Joquin said she liked him, most of the employees applauded in agreement.
"We like Dr. Okolo. We still want him. Let him finish what he was doing," said Joquin, a registered nurse who works in the emergency room.
Joquin also spoke in response to a board report on possible abuse of donated and family leave by staff. Evangelista, on behalf of board member Joyce Heyliger, had reported that some employees may be using more than 180 days of leave, the maximum amount allowed to be donated or accrued and then used.
Joquin said staff is overworked and they take leave because "they need it and deserve it."
Another hospital employee, John Dempsey, wanted to know if rumors were true that the hospital and government financial constraints were going to force layoffs and, if so, would the same number of employees would be released from the St. Croix and St. Thomas hospitals.
Juel Molloy, representing Gov. Kenneth Mapp, said she couldn't confirm if there will be layoffs or salary cuts, but that the governor's finance team will be addressing serious financial issues.
"There is no way, short of a miracle, that the government is going to be able to help the hospitals," she said.
De Chabert-Schuster said they hope to avoid layoffs by attracting more insured and paying patients, by improving hospital services. However, he pointed out that JFL has 600 employees and similar hospitals are run with 300.
"If the quality goes down, if the confidence goes down, everybody's job is at stake," he said. "When the quality goes up, everybody has job security."
Other discussions during Thursday's meeting included:
– Philip Arcidi, board treasurer, and Tim Lessing, chief financial officer, reported gross patient charges of $13.3 million in March, almost $2 million higher than budgeted and $5.2 million in patient revenue versus $4.9 budgeted. After government allotments, the hospital gained $452,000 instead of a predicted $747, 000 loss. Arcidi is still waiting for a response from Medicaid/Medicare regarding an increase in rebate amounts from the 1996 level to 2013 rates;
– vendors have been selected to upgrade the medical staff computer system;
– two physicians and a certified nurse midwife were granted first time medical staff privileges, and four received reappointments;
– and an application for Joint Commission accreditation was submitted and accepted in April. Lessing said a survey or inspection is possible in November.