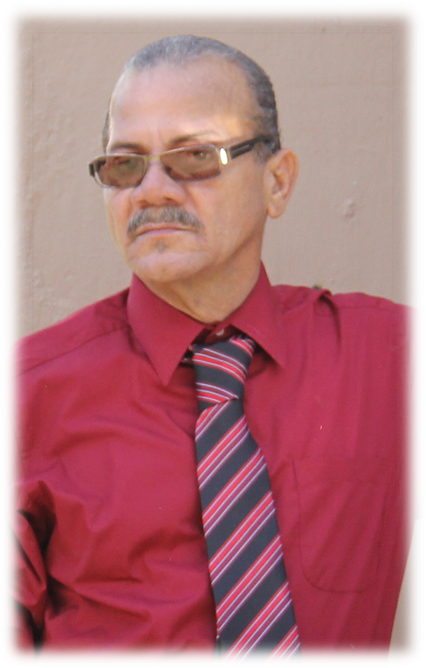 Nelson Rivera, also known as "Tio," of Estate Williams Delight, transitioned into eternal life to be with his mother, Milta Camacho, and brother, Renaldo "Papo" Rivera, on April 15. He was 55 years old.
He is survived by his father, Carlos Rivera Sr.; daughter, Taishma Rivera; son, Nelson Rivera Jr.; grandchildren: Tatiana Hernandez, Sophia Hernandez and Alexis Hernandez, Nelejea Rivera, Jinel Rivera, Lyonel Rivera and Zinelya Rivera; sisters: Nancy Paulino, Elizabeth Erarte, Diana Rivera, Erica Rivera and Celia John Lewis; adopted sister, Joanna Samuel; brother, Carlos Rivera; nieces and nephews: Jessica Garcia, Ramon "Eddie" Castillo, Rufina Paulino, Michelle Paulino, Rufino Paulino, Elsie Erarte, Domingo "Macho" Erarte Jr., Anthony "Tony" Erarte, Elizabeth "Lizbeth" Erarte, Erickson "Tatito-Eric" Erarte, Artemah Woods, Nazare Woods, Bianca Joseph, John Joseph Jr., Shantel John Lewis, Nicole Odlum, Gideon Laurent, Carlos Rivera III, Michael "Mickey" Rivera, Bunny Rivera, Giselle Rivera, Marvin Rivera, Omar C. Rivera, Omyra C. Rivera, Luis Renaldo Rivera, Ricardo Rivera, Yanira Rivera and Jasmin Rivera;
He is also survived by great nieces and great nephews: Orion Liburd, Shanecia Mustafa, A'Naysia Thompson, Akeem "Aj" Thompson Jr., Samaya Spencer, Liliana Paulino, Oliver G. Tejada, Tomas Corcino, Raynaldo Corcino, Kaylee Corcino, Di'Moniq Erarte, De'Janiq Erarte, Domnigo "Mingo" Erarte III, Mariabell Erarte, Anthony Erarte, Tahnyris Erarte, Damien Isaiah, Gabriel Erarte, Patrick Pryce, Amar Pryce, Alyssa Pryce, Elizabeth Kidd Rivera, Carlos Rivera IV, King Carlos Rivera, Yahsiim Carlos Rivera, Kahlid Carlos Rivera, Jahmicheal Rivera, Jahkel Rivera, Kamiya Rivera, Jahnize Rivera, Jahniya Rivera, Dante Bannis, Nova Bannis and Masiah Rivera; Giselle – one child, Omyra – one child, Omar – one child, Riquan Rivera, Navani Rivera and Amelia Rivera, Odele Rivera, Armani O. John, A'Nyah G. John, Asiel M. Williams, Psalmmija S. Williams, Ajare Joseph, Ta'sha Bannis, Davie Bannis, Amarah Bannis and Da'vien Bannis.
Other survivors include special aunts: Margarita Gautier-Brannigan; aunts: Miguelina Gautier-Parrilla and Felicidad Faye Camacho; uncles: Julio Gautier, Angel L. Gautier, George Gautier, Eddie Gautier, Miguel A. Camacho, Fernando Camacho, Gilberto Camacho Jr., Jorge Camacho and Frank Camacho; and cousins: Maria Gautier-Hennemann, Ivy L. Gautier, Yakara Gautier, Alba Gautier, Magnolia Gautier, Vanessa Gautier, Aisa Camille Gautier, Janitzi Gautier, Rachel Gautier, Efrain Camacho, Gilbelto Camacho, Julio Camacho, Jeffrey Centeno, Duane Brannigan, Fernando Camacho Jr., Miguel Gautier, George Gautier Jr., Michael Gautier, Daniel Gautier, Gerome Gautier, Omar Gautier, Aramis Gautier, Michael, Frankie, Chavorn, Khalid, Kishawn, Shandra and Naeema Camacho, Mark Roebuck, Miguel and Eric Hennemann, Jahzeel James, Jaydon Lopez, Maleeyah, Jhalia, Khalia and Aleeyah Camacho, Netanya Brannigan and Tatiana Gautier.
Additional mourners include great aunts: Joaquina de Leon and Guillermina Gautier-Figueroa; uncles-in-law: Jose Parrilla, Sherman "Butch" Brannigan and Stanley Jacobs; aunts-in-law: Jenny Gautier and Mireya Gautier; special friends and close relatives: Alicia "Chucky" Hansen, Terre Walcott, Eduardo, Aida Christopher, the Camacho family, the Rivera family and the Gautier family; as well as other relatives and friends too numerous to mention.
A viewing will take place at 9 a.m. followed by a funeral service at 10 a.m. on Friday, May 6, at St. Joseph Catholic Church. Interment will take place at Frederiksted Cemetery.
All arrangements are by James Memorial Funeral Home Inc.