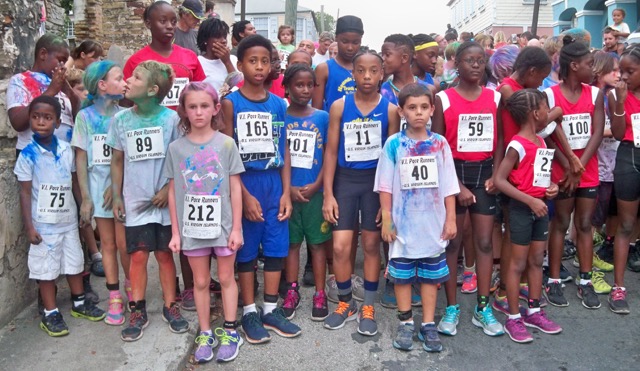 The Captain Morgan Ironman 70.3 St. Croix Race doesn't start until Sunday at 6:30 a.m. but the activities kicked in Friday at the Fort Christiansvaern lawn as athletes prepared for the big race.
The V.I. Police Department closed off part of the harbor so the triathletes could practice the swim route. Other athletes were on their own throughout the islands bicycling and running on the roads.
Tom Guthrie, who has been coordinating the race for more than 25 years and who was overseeing the swimming activity, said registration is "pretty much up to what we had last year."
Last year's field had 303 competitors. About 40 swimmers were practicing Friday. The harbor was also closed off for practice swimmers for a period on Thursday.
The area really got buzzing a little after 6 p.m. Friday as more than 200 entrants were crossing the finishing line for the 13 and under children's race. The number of entrants, mostly local children, in the race was "about average," according to long-time coordinator Wallace Williams.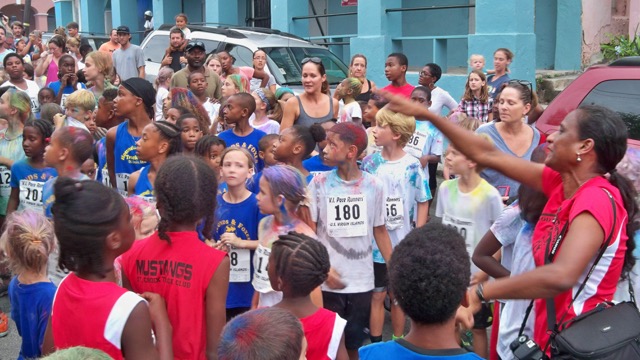 Finishing first was Makari Matthews, 12, from the Mustangs Track Club. Finishing second was Paige Combie, 13, of the Fox and Hounds Track Club.
After the children's race, the streets of Christiansted turned from athletics to partying. Hundreds of people came to town to enjoy music and street concessions as they celebrated the annual triathlon Jump Up.
The winners of the Sunday race are expected to cross the finish line between 10:30 and 11 a.m. The men's overall winner last year was Matt Chrabot from Colorado, who finished the course in 4 hours, 9 minutes and 57 seconds, five seconds faster than Australian Richie Cunningham.
Under a ruling by the Ironman Organization that took effect last year, the St. Croix Half Ironman race is no longer a qualifier for the Ironman Championship in Hawaii. However, it is still a qualifier for world championship 70.3 in Australia.