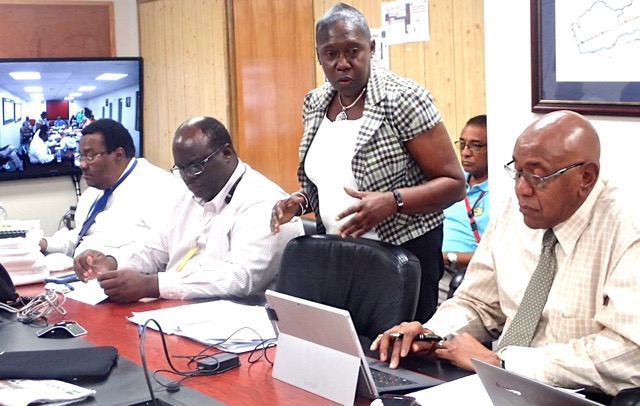 The V.I. Water and Power Authority governing board approved a policy to allow employee testing for drug, alcohol and unauthorized substances, as well as approving several expenditures at a board meeting Tuesday on St. Croix.
The drug screening policy will go into effect in six weeks after final review by union representatives and all employees will be required to sign a consent form agreeing to random urine tests, according to Denise Nibbs, WAPA human resources director.
Until now, only new employees were given drug tests and the agency was not authorized to test staff again at any time.
Staff who work in safety and security sensitive positions and who drive company vehicles are likely to be tested most frequently under the new policy.
"If they refuse to sign the consent, it will be the same as a positive test," Nibbs said.
Employees who receive promotions, have had accidents or have been off the job for 75 days or more will be likely candidates for drug tests.
According to Nibbs, an outside company will administer the policy and conduct screenings. A positive test will not mean automatic suspension or termination unless the employee refuses treatment, she clarified.
Nibbs said meetings with labor unions have been ongoing since last May to help craft the policy.
The board approved the policy unanimously and board member Elizabeth Armstrong suggested WAPA's contractors be required to disclose drug screening policies as well.
Acting Chief Executive Officer Julio Rhymer told the board he has discussed an action plan to help with the authority's financial problems that include a downgrading by Moody's bond credit rating service. Gov. Kenneth Mapp and the V.I. Legislature have agreed to pay $4.5 million owed for streetlights and $8.1 million to cover the utility bills of the Gov. Juan Luis Hospital and Schneider Regional Medical Center, according to Rhymer. He also said he discovered a $13 million credit line is available to WAPA from the USDA's Rural Utilities Service.
"The immediate solution is making sure the government makes the hospitals do what they are supposed to do," Rhymer said.
The RUS loan, along with a potable water tax and a surcharge for street lighting, are parts of the intermediate and long-term solutions, he added.
The board approved a contract with Dowdy Recruiting LLC to search for a new executive director but did not discuss the amount of the contract.
Members also voted to suspend the Alva C. McFarlane Scholarship program for a year to "refresh and do some workplace planning," Nibbs said.
The $100,000 scholarship has been in place for more than 20 years and currently funds six college students from St. Croix and seven from St. Thomas/St. John. Funding will continue for those students, but no new scholarship grants will be awarded this year. After graduation, graduates work for the authority two years for every year of schooling provided by WAPA.
Other action items included:
– a change order for redesign services, network management training and additional work to expand WAPA's fiber optic coverage of the territory by including St. John and St. Croix. The increase cost is approximately $893,000 and will extend the ABB Inc. contract about a year, according to Niel Vanterpool, automation and operations manager;
– a change order was approved for an additional $62,135 to buy additional Versa collectors and programming cable to improve the data flow from meters and the overall performance of the Advanced Metering Infrastructure program;
– two-year security contracts were approved for $673,298 to Comprehensive Security Concepts Inc. on St. Thomas/St. John and to Intelligent Security for $550,863 on St. Croix. Neither company has increased its rates from previous years, security manager Justin Callwood said;
– a contract with V.I. Paving, Inc. to install a six-inch water line on Company Street in Christiansted for almost $300,000 was granted. The rehabilitation project is funded by the EPA
– on St. Thomas, a change order was approved to replace "some of the oldest and most corroded" water lines for the Contant midtown waterline rehabilitation, also funded by the EPA. The cost increase is estimated to be almost $400,000 increasing the price to $1.4 million, according to Noel Hodge, director of water distribution.
Board members in attendance were Gerald Groner, chair, Noel Loftus, Marvin Pickering, Juanita Young, Cheryl Boynes- Jackson and Armstrong.