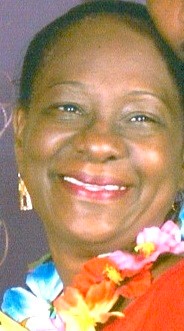 Sheryl A. Muckle-Williams of Estate Ruby died on Saturday, April 16, at the age of 64.
She is survived by her mother, Myrtle "Althie" Michael; husband, Basil A. Williams Sr.; children: Jose Carrillo III and Basil A. Williams Jr.; grandchildren: Jahsie Walcott, Nikolai Carrillo and Sydeajah Carrillo; uncles: Gustave Lawrence Sr., Orsil A. Samuel and Ernest Muckle; brothers: Alberto, Kenneth and Melville Lawrence; sisters-in-law: Paulette O'Reilly and Sandra Oliver-Harrigan; brothers-in-law: Carl Mulrain, Lauriel Oliver, Ivan Oliver, Theodore Oliver, Carl A. Williams Jr., Leroy A. Williams, Theodore Williams, Russell Newton and Arthur Mayo; nephews: Youhan Lawrence, Anthony Mulrain, Alberto "Tico" Lawrence, Martin Isidore, Cleavon "Bobo" Simon, Alberto Lawrence Jr., Renaldo Philbert Sr., Dorien Steadman and Dwayne Steadman; and aunts: Winifred Lawrence, Elaine Samuel and MaryAnn Pickard.
She is also survived by sisters: Floris, Lenour, Valerie and Cecilia Lawrence, Gloria Lawrence-Mulrain, Sharon Newton, Bernadette Muckle, Annettealisha Muckle-Mayo and Jannette Muckle; nieces: Naima Williams-Cotten, Michelle Lawrence, Crystal Lynch, Althea Gidharry-Dubique, Genelle Herbert, Natasha Lawrence, Regina Hamilton and Cecilia and Carlean Mulrain, Tamekka Newton-Plante and Tameisha Newton; and great nieces and nephews: Lanaya, Nylahn and Naivon Cotten, De'Shayne Joseph, Rehanna Griffiths, Roan "RJ" Griffiths Jr., Mason Creighton, Jahnya Dubique, Geanah Dubique and Anwahe "AJ" Dubique Jr., Tacoya Mulrain, Ralph Christian III, Renaldo Philbert Jr., Raeshon, Raequhon and D'Myah Philbert, Deja, J'nyla and J'nyra Plante, Maurish Young, Brendon Muckle, Sidique Collins and Alexis Muckle.
Other survivors include special friends: Violet Connor, Janice Tutein, Lisa Magras, Alice Wise, Carmen Fernandez, Lorraine Todman-James, Dasil Thomas-Williams, Melba Lang and Nathaniel Powell; other families: the DeChabert, Schuster, Brady, Muckle, Bough, James, Highfield, Martin, Ford, Brunstoff, Pickard, Jackson, Howell, Bastian, Watts, Garcia, Thompson and Stanley families; as well as other relatives and friends too numerous to mention.
The family requests that those in attendance wear shades of blue.
The funeral service will take place at 10 a.m. on Monday April, at St. Luke A.M.E. Church. Interment will follow at Kingshill Cemetery.
All arrangements are by James Memorial Funeral Home Inc.