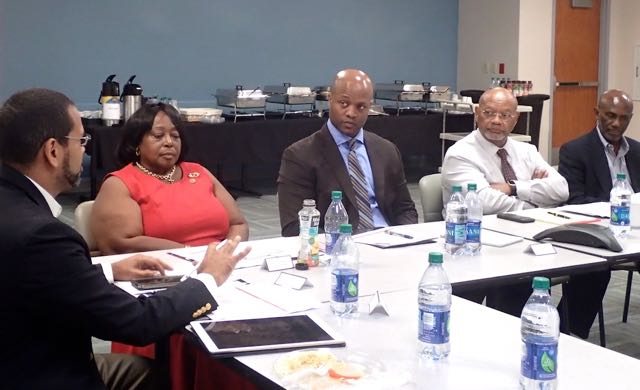 Funding, or the lack thereof, seemed to be on everyone's minds Wednesday at the territorial hospital board meeting on St. Croix, but after a lengthy executive session, the V.I. Government Hospital and Health Facilities Corp. ended the meeting abruptly without much discussion and no solutions so board members from other islands could catch flights back to St. Thomas.
The reported year-to-date financial information was similar for the Gov. Juan Luis Hospital and the Schneider Regional Medical Center with both reporting gross revenue of around $60 million. Net revenues (minus charges not covered by insurance or Medicare/Medicaid and bad debt adjustments) are around $22 million for SRMC) and $24 million for JFL.
"The write-off is 70 percent? That's not sustainable," said Valdamier Collens, board member and Finance commissioner, during the financial report given by Scott Nothnagel, Schneider Hospital's chief financial officer.
Expenses for five months through February were $37 million at Schneider and $32 million at JFL. Salaries, benefits and professional fees cost $27 million at the St. Thomas hospital and almost $23 million at the medical center on St. Croix. The health care facilities paid about the same for utilities – almost $2 million.
Nothnagel reported an expected total loss of $5.5 million for Fiscal Year 2016, after taking into consideration the V.I. Government appropriation of around $20 million annually.
"We need immediate funding from the government to give us breathing room," he said, pointing out that Medicare only refunds the hospital about $82 for every $100 in patient charges.
Bernard Wheatley, Schneider's chief executive officer, said that the hospital lost $3 million last year.
Cornel Williams, territorial board treasurer, said they are "seriously delinquent with key vendors."
Nothnagel projected an operating loss of almost $37 million for FY16.
JFL Hospital is slightly better off this year-to-date with a bottom line gain of $307,000, taking into consideration its local government funding. However, it lost more than $4 million in 2014 and 2015.
Similar problems nag the health care facilities, including inadequate funding by the V.I. government.
The V.I. Code mandates hospital services be provided by SRMC and JFL to patients whether they can pay or not. However, local funding has been cut to around $20 million annually while uncompensated care is projected to be almost twice that this year – almost $37 million at Schneider.
Debt continues to grow also because Medicare/Medicaid payments for services to its clients are based on the Tax Equity and Fiscal Responsibility Act of 1982 (TEFRA) reimbursement rates from 1996.
"Basically, from the get-to, we are starting out with a deficit," Wheatley said.
Philip Arcidi, treasurer of the St. Croix board, has been working to have the TEFRA rate readjusted to the same 2013 prices used in other U.S. jurisdictions. He pointed out that utilities in 1996 were less than $1 million at JFL, but in 2013 escalated to almost $5 million. Medical supplies cost the hospital $659,000 in 1996 but were more than $3 million in 2013.
Arcidi left the board meeting for a conference call with a CMS deputy commissioner to discuss reports prepared in support of rebasing. He said JFL could earn as much as $10 million more each year for services to Medicare/Medicaid patients.
The deputy commissioner "had a very sympathetic ear on some of the hospital's issues," Arcidi said of the CMS representative after the meeting.
The territorial board did approve three resolutions:
– one allows members to attend meetings by videoconference or telephone
– the second will set aside $10,000 from the board's government allocation to pay a stipend for administrative services;
– they also agreed to permit JFL Chief Executive Officer Ken Okolo and Wheatley to collaborate on ways to improve the hospitals' operations and finances.
Troy de Chabert-Schuster, JFL board chairman, said the JFL board would like to apply for a $5 million line of credit to cover donations from grants to the foundation. More than $200,000 has been located in two inactive foundations that will be transferred after taxes and other paperwork have been processed. No action was taken.
Arcidi and de Chabert- Schuster gave reports on the St. Croix financials from March 2016.
Then the board quickly voted to accept all reports without reading and to adjourn the meeting.
Attending the meeting from St. Thomas were territorial chairman Nellon Bowry; Maria Tankenson-Hodge, Gretta Hart-Hyndman and Cornel Williams. From St. Croix were de Chabert-Schuster, Collens, Arcidi, territorial vice-chair Vera Falu and Joyce Heyliger.
During the hospital board's executive session, JFL's CEO spoke to the Source about recent questions over his doctorate degree. Last week, Okolo acknowledged the doctorate degree listed on his CV and resume is from an unaccredited college – Century University in Albuquerque, N.M.
Okolo told the Source he learned the college was not accredited "about a year ago," shortly before he was offered the position as the hospital's chief operations officer. Okolo said he notified the board at that time and said if it was a problem, "don't hire me."
Arcidi, St. Croix Board treasurer, said it was not a problem in hiring Okolo because a Ph.D. was not a requirement for the position. He said it is also possible that Century University lost accreditation after Okolo attended.
After attending Century University and being awarded Fellows of the American College of Healthcare Executives (FACHE) certification in June 1999, Okolo served as president of the Community Mental Health Center in Tennessee, as senior director of clinical affairs for Network Health at Cambridge Health Alliance in Massachusetts and division director of TennCare for the state of Tennessee.
"None of these jobs required a Ph.D. I did the course work. I did the dissertation," he said.