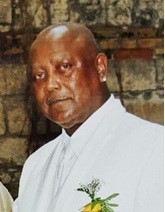 Delroy Lucien Sweeney, also known as DJ Hammer, was born on June 4, 1956, and died on April 16.
He is survived by his wife, Maria Sweeney; sons: Sheldon, Kwesi, D'Sean and Demetri Sweeney, and Asheem Lee; daughters: Minerva Delauney, D'andra, Denisha and Athaliah Sweeney; stepchildren: Shakima, Shakimo and Shakeem Gonzalez, and Nikel and Courtney John; brother and sisters: Vaughn Sweeney, Oraine Roper and Deseree Wynter; grandchildren: A'shyra Sweeney, Michonde' and Zion Delauney, Ah'Jahnai Sweeney, Nicholas Medford-Lee and Kwesi Sweeney Jr.; mother-in-law, Annette Henry; and son-in-law, Patrick Delauney.
He is also survived by his brother-in-law and sisters-in-law: Noel Wynter, Juliandrea Toomer, Ukima Miller, Delia and Louise Payne; nephews and nieces: Wesley Wynter, Melbourne Sweeney Jr. and Esteban Sweeney, Vernarine Sweeney, Janelle Jeffers, Hayzeline Titre, Cynthia Ortiz and Brithney Wynter; close cousins: Lexter and Isaac Porter, Theodine Amsterdam, Carl Monzac and Salome James; special friends: Theophilus and Jenifer Christopher, the Claxton family, Felix Ferdinand, Sandra Ritter, Eshban Saddler, Benneth Smith and Trevor Walwyn; as well as other relatives and friends too numerous to mention.
A viewing will take place at 9 a.m. followed by a funeral service at 10 a.m. on Wednesday, April 27, at Calvary Baptist Church, Upper Love. Interment will be at Kingshill Cemetery .
Arrangements are entrusted to Divine Funeral Services and Crematory. We own and operate our own crematory. Let us offer you a Dignified Funeral, affordable by all. Tel: 773-0003/fax: 773-3003.