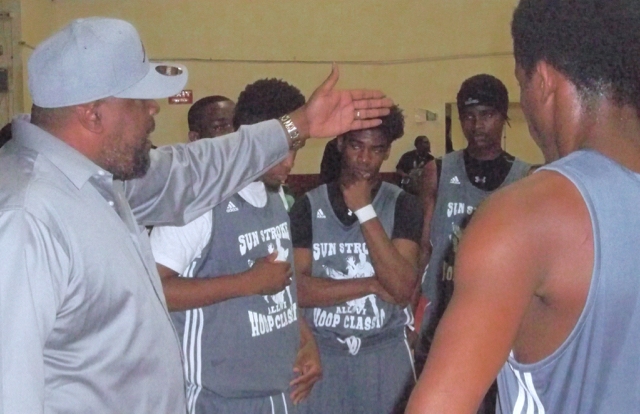 St. Croix boys and ladies both managed to win in the Sun Stroke All V.I. Hoop Classic Friday in the Central High School Gymnasium, but it was not easy.
The ladies first won their down-to-the-wire contest, holding off St. Thomas 61-59. The St. Croix ladies trailed 12-9 in the firs t quarter, but jumped to a 32-25 lead by half time. It looked like they were going to cruise to victory with a 49 to 40 lead at the end of the third period.
But St. Croix ran out of steam in the fourth quarter, Coach Donald Bough said, and the women from St. Thomas ladies turned up the heat, running a full-court press almost the whole final period. But St. Croix's Anisha George kept the Crucians on top, scoring 14 points for the game with 12 rebounds and five blocks. On the St. Thomas side, Ahlanee Cook scored a game-high 15 points.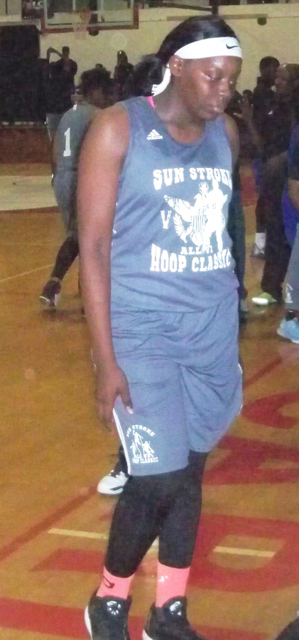 The St. Croix boys led all the way in their game, but St. Thomas made it close for a while. The very start of the game told the story of the contest. The St. Croix boys jumped out to a four to zero lead with two two-pointers, but St. Thomas jumped back with a three-point swish. The St. Thomas team did a lot of swishing, but they just could not keep up with the strong inside game of the St. Croix boys. St. Croix managed some exciting dunks and won, 72 to 67.
Leading scorer for St. Croix was Shakeem Alcindor and for the St. Thomas squad it was D'Moi Hodge.
Earl Baker, who coached the St. Croix boys, said, afterward, "We had a good group." He said the boys were familiar with him since he had coached at Good Hope and, "they responded well to my hard-nosed discipline."
Coach Bough said the girls on both teams played really well considering their season had ended over a month ago.
This was the 18th Sun Stroke All V.I. Hoop Classic. The St. Thomas boys had won the three most recent years; however St. Croix, with this latest victory, leads the series, 10-8. With the St. Croix ladies victory, St. Croix now has 8 wins to the 10 wins of St. Thomas.
The classic was started in 1999 under the guidance of Rashidi Clenance, president of Sun Stroke Promotions, who did the game announcing for this year's event. St. Croix native and NBA star Tim Duncan of the San Antonio Spurs became a sponsor of the event in 2005. When Duncan signed with Adidas, the shoe giant began providing jerseys and sneakers to Sun Stroke.