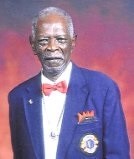 Richard H. Murray died on April 8.
He is survived by his wife, Theresa (Carmen) Murray; sons: Walter and Michael Murray; daughters: Brenda Murray and Martha Murray Joseph; daughter-in-law: Judith Murray; son-in-law, Duryan Joseph; grandchildren: Steven Murray, Richard W. Murray, Whitney Joseph, William Joseph and Ishmael Murray; great-grandson, Ishmael Murray Jr.; nieces and nephews: the Flanders, Berkel, Van Putten, Gibbs, Brown, Mars, Schmidt and Cornett families; and other relatives and friends too numerous to mention.
In lieu of flowers, donations are to be made to Special Olympics.
The viewing will be held at 10 a.m. and the funeral service at 11 a.m. on April 19 at Ebenezer Methodist Church, Estate Richmond, Christiansted. Interment will take place at St. Eustatius.
All arrangements are by James Memorial Funeral Home Inc.