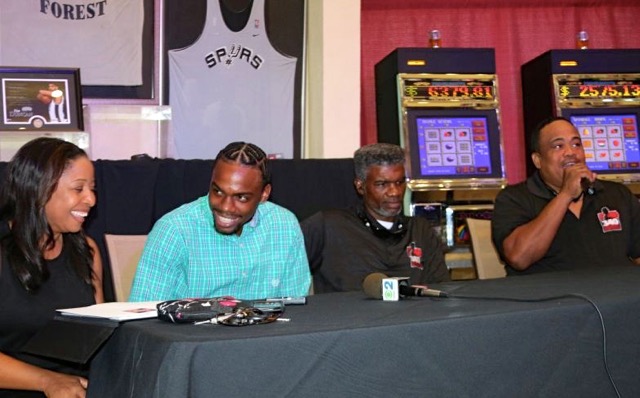 It was in 2014 that V.I. boxing champion John Jackson was preparing for the "fight of his life," a televised bout from Madison Square Garden that would have put him in contention for a super welterweight title belt that he had originally tried to claim two years before.
"When I looked back on that first fight, because I've been sitting at home recently looking at the footage and what happened, I thought, well, if I won, would I have been ready, because the next fight was a world title," Jackson said at a press conference on St. Thomas.
"And the answer is that I wasn't. I wasn't ready for all of that, but now the opportunity has come right back around and now, now I am. I'm ready and I'm focused."
That opportunity is a three fight title card that Jackson's managers at 340 Boxing described Wednesday as a meetup of the "best junior middleweights in the world," including Jackson, who will be vying for the World Boxing Council's world super welterweight title vacated by champ Floyd Mayweather upon his retirement.
It was revealed at the press conference that Mayweather – who shares an advisor with Jackson in Al Haymon – is co-promoting the event, which will be broadcast on Showtime Boxing from the Cosmopolitan at Las Vegas Hotel on May 21.
340 Boxing patriarch Julian Jackson said Wednesday that his son's inclusion on the fight card is a testament to his "talent and skill."
"I must say, and I recognized this today, it's amazing that John has lost two fights and yet in the rankings, he is still No. 2 and there are guys among him that have not lost at all," said Julian Jackson, a three time world boxing champion. "That says a lot about this young man and his talent. And we're going in there and we're going to make history."
John Jackson will be taking on 25-year-old Jermell Charlo (27-0-0, 12 KOs) for the belt, on a card that also features Charlo's twin brother, Jermall Charlo (23-0-0, 18 KOs), against Austin Trout (32-2, 17 KOs) for the International Boxing Federation's World super welterweight title.
Cuba's Erislandy Lara (22-2-2, 13 KOs) and Armenian fighter Vanes Martirosvan (32-2-1, 21 KOs) will also be battling it out for the vacant World Boxing Association's World super welterweight title and the International Boxing Organization's World super welterweight title.
Showtime Sports general manager Stephen Espinoza has said this is the consensus top six fighters in the world, 340 Boxing promoter Lesley Comissiong said Wednesday. "It's the best of the best and John has earned his spot as a part of it."
Comissiong added that with his 27-0 record, Charlo has also earned his spot, and should prove an even match for Jackson.
"He's going to be a tough opponent. He's earned the right to be there as well. But we are confident in John's talent and skill," she said. Jackson, meanwhile, said he is boning up on footage of his opponent and preparing for his "sneaky left pull."
"We'll be ready for that," Jackson said. "He's a good boxer. He doesn't like to get in the mix and that's his strong point."
Part of the camp's training regimen has been keeping Jackson on "laser sharp focus," including limiting contact with anyone outside his team.
"Leave John alone," 340 Boxing managing partner Jose "Tony" Rosario said as a general statement Wednesday.
"Don't talk to him. Don't call him. Don't look for him. Leave him alone. This is a big fight and in this match here, he cannot be thinking about anything else than the person in front of him. We have made mistakes in the past, but we are not going to this time because we are coming home with that belt."