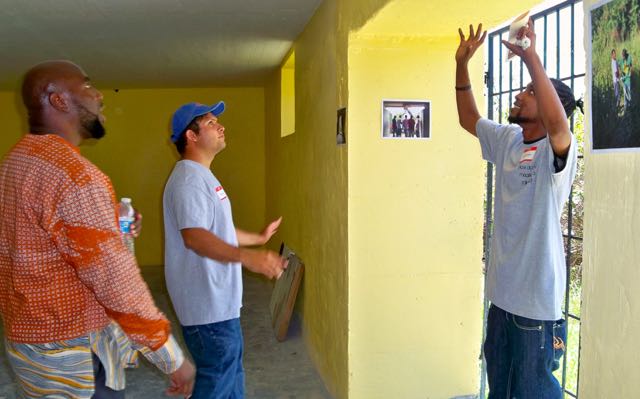 With pride in their voices, wide smiles and a spring in their step, young men who are part of My Brother's Workshop gave tours Wednesday of the facility they are rehabilitating.
The at-risk youth gave personal walking tours of the building that houses their workshop, telling guests about what they've refurbished and accomplished since January.
My Brother's Workshop is a charitable corporation organized to provide hope, faith and purpose to at-risk and high-risk young men. Scott Bradley founded My Brother's Workshop in 2009 as a mission of the St. Thomas Reformed Church.
Volunteers and professionals mentor, train and counsel men and women between the ages of 16 and 24. The young people get vocational, educational and social skills training.
The Rev. John E. Smith, director of the St. Croix workshop and a missionary of the North American Mission Board, said the program is 50 percent vocational training and the rest is emotional, spiritual and mental training.
The goal is to assist the youth through mentoring, training, education and job placement.
In January, eight participants started learning woodworking, plumbing, electrical work and construction under the direction of Gary McCracken.
They are working on a three-year agreement to renovate a Department of Human Services building, next to Herbert Grigg Home of the Aged, that is currently used for storage. The young men are learning how to safely operate saws and do electrical work, as well as painting and masonry.
Eliston Hughes beamed with pride showing reporters the work done in the restroom. They gutted it, put in a new ceiling, toilets and plumbing, and repaired wall tiles and stalls.
"I come to work even when I don't feel like working," Hughes said. "The people who run it are good and I don't want to let them down. I want to see and help the program grow and be a part of it."
Hughes said he really appreciates the program, and otherwise would be at home idle. "I'm glad to be trained and learning skills," he said.
Young men interested in finding out what the program offers also took the tour, as well as senators, judges and Rotarians.
The Rev. Carlos Perkins from St. Luke A.M.E. Church brought a young man from the Alternative School to the open house.
"I'm very excited about the program that is teaching tangible traits to more youth on St. Croix," Perkins said, adding that he's looking forward to partnering with Smith.
The organization gets referrals from the Youth Rehabilitation Center, the Juvenile Justice System, Public Defenders, the courts and concerned community members.
Smith said he faces the challenge of having enough funds to operate and to allow more young men to get in the program. He said he hopes the open house and St. Croix Chamber function in the evening at the workshop will generate donations.
Smith said almost 200 people from all parts of the community attended the open house and chamber reception.
"The best part is seeing the transformation in these guys' lives every day," Smith said. "They are moving to manhood, listening, learning and working as a team."
Chris Finch, chairman of My Brother's Workshop St. Croix steering committee and a board member, is working on grant funding. He said there is a fundraiser beginning at 6:30 p.m. at the Buccaneer on Saturday, hosted by the Order of St. John of Jerusalem (Knights of Malta.) He said all proceeds from the event go to My Brother's Workshop.
More information about MBW, including what is on their wish list, is available by calling 340-228-4246 or go to www.mybrothersworkshop.org.