Marion A. P. Maranda of Estate Mars Hill, Frederiksted, died on March 30. She was 75 years old.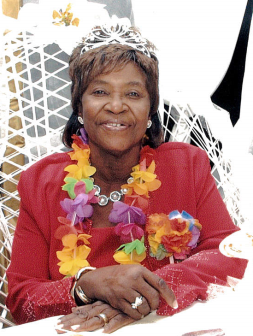 She is survived by her sons: Morlan M. O'Bryan and Adrian A. "Sonny" Miranda; honorary son, Dr. Anthony Ricketts; daughters: Yvette Miranda-Venzen and Monica St. Remy; grandchildren: Aswad Petersen, Akilah Petersen, Kendra Petersen, Marion O'Bryan, Nicole O'Bryan, Karimah O'Bryan, Kemba O'Bryan, Marlon O'Byran Jr., Shayeeda Venzen, Shakil Venzen, Shalique Venzen, Unica Walcott and Fatima St. Remy; and great-grandchildren: Jahmir Lockhart, Levon Richardson, Aswald Jr., Alana, Aamyah, Adana, Jaymalyse, X'hjaleah, C'sia, Keijhenae Petersen, Zayden R. Johnson, Nalanie and Naomi Gayle, Nathaniel Allen, Zion, Sarah, Thomas, Creation and King Singleton, Shaheeb Walcott-Bones, Adrian Hezekiah and Ayanna Walcott, and Shakil Venzen Jr.
She is also survived by sisters: Corlina Collins, Thelma Springer and Muriel Stevens; brother, Alexander Petersen; nieces: Janice, Louise and LaVern Springer, Dari-Lee and Loretta Barnes, Corleen Petersen-Bates, Afelle, Letha, Karla and Rondelle Petersen, Koreen Stout, and Senichi Nana Vanterpool; nephews: Antonio, Irvin Jr. and Kenneth Springer, Ricky Hernandez, Coy Superville, Dean Petersen, Neal, Calvin, Sylvin and Kevin Stevens, Paul Wayne, Alexander, Carlos and Robert Petersen, and Jamaal Asaad; daughter-in-law, Loudalia O'Bryan; son-in-law, Lawrence Maynard; and adopted children: Veronique Richardson, Stephen Holley, Colette George, Emerald and Debbie, Jean Collins, Valerie Heywood-Stevens and Nichelle L. Armstrong.
Other survivors include adopted grandchildren: Shari Nicholas, D'andre, Dyannah and Danika Sweeney, McKayla and Edwin Collins; godchildren: Rueben and Wayne Gookool, and Marion Dompiere; sisters-in-law: Emelda Thomas and Evelyn Miranda; cousins: the Henry and Seales families, Reverend Florence C. Petersen and family, Cecilia Williams and family, Arthur, Ulrick, Victor and Ricky Petersen, Cheryl Petersen and Antonio Petersen; as well as other relatives and friends too numerous to mention.
There will be a viewing at 9 a.m. followed by a funeral service at 10 a.m. on Thursday, April 7, at Holy Trinity Lutheran Church. Interment will be at Frederiksted Cemetery. All arrangements are by James Memorial Funeral Home Inc.