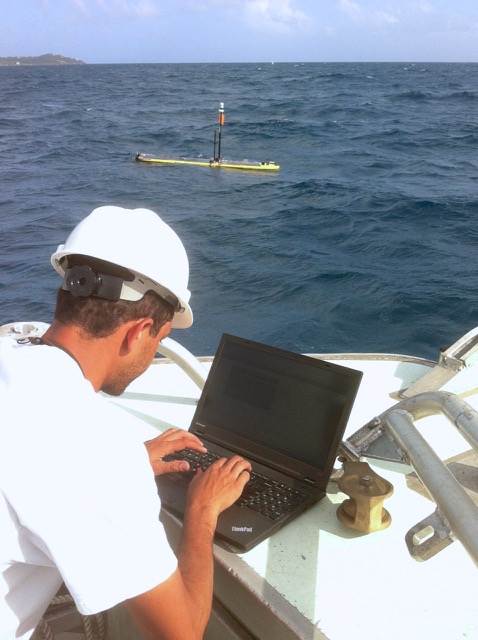 "Nice to meet you groupers," ocean scientist Laurent Cherubin says to test the recording device that is listening for grouper spawning in the waters south of St. Thomas for the next week.
The microphone Cherubin is speaking into is attached to a solar-powered, autonomous ocean robot called a Wave Glider. According to the company Liquid Robotics that constructs the gliders, it's the first readily available ocean drone of its kind, making data collection easier and less costly than ever before.
A team from the Harbor Branch Oceanographic Institute is collaborating with Rick Nemeth, research professor at University of the Virgin Islands' Center for Marine and Environmental Studies, to use the glider to collect data about where groupers spawn. Overfishing of spawning sites can decimate grouper populations, so the team hopes their findings can inform where to implement protection measures.
Though Liquid Robotics constructed the main components of the glider, a 6-person, Florida Atlantic University-based team retrofitted it for grouper research with an underwater listening device and created special software to detect the distinct noises that groupers make.
Cherubin, who's a research associate professor at the Harbor Branch Oceanographic Institute at Florida Atlantic University, and his colleagues from the institute's Glider Research and Operations Center (GROC), designed the scientific concept of the project. GROC has been working with Wave Gliders since 2010.
Mario Miranda, an ocean systems engineer, executed the design of the listening device and used 3-D printing for some of the components.
During the week or so the glider spends at sea in the territory, Cherubin and Miranda will follow it in a boat, but the ocean robot will be roving alone at night.
"I can remotely control the vessel with my cell phone and do persistent monitoring to see what it's coming in contact with. If a boat is coming near it, I get a text," Miranda said.
Similar gliders have been used to detect underwater oil spills, illegal fishing boat trafficking, and severe weather, as well as by the navy for underwater surveillance. They can also be used to retrieve data from remote devices on the ocean floor that would otherwise have to be picked up from their site and visited by a boat to get their data.
"Gliders are cheaper to operate, more efficient and more productive," Miranda said.
Though operating an unmanned ocean robot has its cost-saving benefits, there's still a chance for things to go wrong. If the computers stop working and the glider loses power, the scientists won't be able to track it with GPS. Pirates could steal it too.
The surface float, which is about the size of a standup paddleboard at 10 feet long, has a solar panel, cell phone antennae, GPS satellite and weather station that monitors atmospheric conditions like wind speed, humidity and temperature.
That float is attached to a slated underwater glider that propels the system from about 12 feet below. A 20-foot cable connects the submerged glider to a hydrodynamic torpedo-like "tow fish" that holds the underwater microphone called a hydrophone.
According to Miranda, the glider can record sounds within a 1,000-meter distance if the right sea conditions exists. Because the glider is solar-powered, its operation doesn't make much sound, making it minimally invasive to fish.
Miranda said the territory's unique grouper spawning areas and the variety of grouper species are what encouraged his team to bring the glider here. For about the next week, the glider will be cruising around the ocean shelf that's south of St. Thomas, since this time of year is grouper spawning season.
The glider's listening device helps measure grouper populations by recording their sounds with an underwater microphone. Each grouper species is identified through the unique noises their swim bladders, an organ that aids in buoyancy, make.
"Think of their swim bladders noises like the pangs a drum makes when you tap on it. Sometimes the fish make them to be territorial during mating," Cherubin said.
Using software that was specially developed for this project by PhD student at Florida Atlantic University, Ali Ibrahim, the technology can detect five different types of grouper. In the Virgin Islands, it'll likely hear Yellowfin, Red Hind and Nassau, but it can also detect Black groupers. The fifth type it can hear is everything that's not the other four groupers, but soon it will be able to detect Goliath groupers.
Besides recording grouper noises during this mission, the device is picking up other ocean noises like reef fish, whales and boat traffic. The scientists are in discussion with UVI about sharing the additional data, since much can be learned about other marine life from it.
Next year the glider will be deployed in the territory again and for the first time in Puerto Rico. Prior to its use in the Virgin Islands, it was tested in Florida on day trips. Miranda said the device performed well in those places.
Getting the glider here was no easy feat, since mail carriers won't ship packages to the Virgin Islands that are over 116 inches long. Miranda was able to ship the 118-inch long glider to Puerto Rico, which was then brought to St. Thomas by boat.
The funding for the glider and its additional scientific components was funded through the Harbor Branch Oceanographic Institute Foundation. The National Oceanic and Atmospheric Administration is funding the field missions, and further developments in light detection and ranging sensor technology for persistent monitoring of water quality with Wave Gliders.
"Only about 25 percent of the sounds of the ocean's organisms are known. Once we have a library of these different calls, we can use this type of technology to monitor the ocean's health and biodiversity," Cherubin said. This grouper-listening glider is a good start.
Editor's Note: The Source updated this story to include UVI's contribution to the project. It corrected that different grouper species, not subspecies, are what the project is tracking.