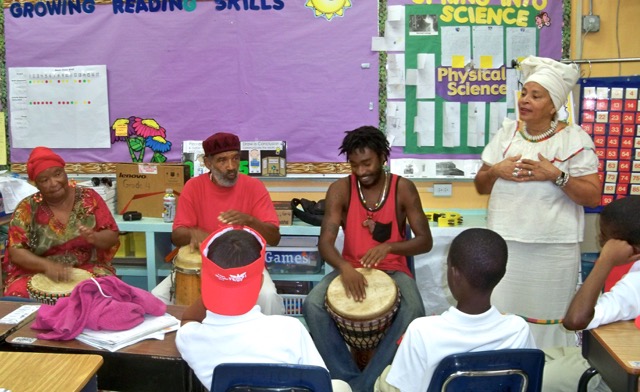 Ricardo Richards Elementary School students found they could learn culture and history with interactive fun at the Culture, History & Tradition Fair on Tuesday.
Students got a slice of Virgin Islands history with fun, hands-on activities throughout March in celebration of Virgin Islands History Month.
Sixth-grader Taliyah Mars said, "It was fun making things and learning about our food – and even jumbies. It's fun learning history this way." She completed a workshop where she made a madras sugar mill brooch.
Paulette Edwards, committee chairwoman of the Virgin Islands History Month, said the students learn from what they are experiencing during the month.
"They have to know who they are to know where they're going," Edwards said. "The students need to know how rich of a culture they have. The students stand on the shoulders of those who went before them and to pass on the culture."
Edwards said they are instilling Virgin Islands pride in the youngsters.
She said they expanded this year inviting other schools to take part. Joining the celebration Tuesday was Lew Muckle Elementary School Steel Pan Orchestra.
Culture bearers brought a portion of Virgin Islands history to life with fun activities for the students, making food, baskets, jewelry, replicas of sugar mills and more.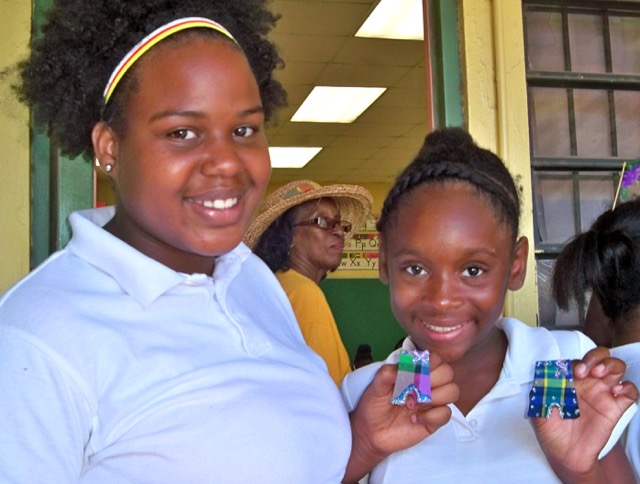 Eileen Higgins showed students how to weave hand baskets. She passed around traditional Crucian market baskets for students to get a feel for the baskets made of reed. And she told about the many uses of baskets.
Through songs and drums, Cedelle Christopher told old-time stories of freedom and emancipation. Fifth- and sixth-graders were gently swaying side to side in time with the drum beat of the Cariso Drummers who accompanied Christopher.
Judy Charles fired up an old-fashioned coal pot to heat grease for deep fried Johnny cakes. While Charles made the treats, she talked about the chemical reactions with baking powder.
Stephanie Nelson made and gave samples of a delicious benyé, and Xawntoia Franklin, art teacher, helped students make bracelets out of tan tan seed pods.
Andrea Christian told traditional folk tales and Zahra O'Reilly had the youngest students color bricks on a foam cup to make a sugar mill. And there was a moko jumbie in yellow satin stilt dancing for the students' enjoyment.
Benito Vegas from the National Park Service gave a presentation on Salt River. Lauren Larsen and Gerard Emmanuel also spoke to the students about Virgin Islands history.
The month kicked off with Quelbe Day with Stanley and the Ten Sleepless Knights performing for students and invited guests. Students dressed in black and white and wore gingham sashes. The staff was treated to bush tea, sweet treats and corn meal pop.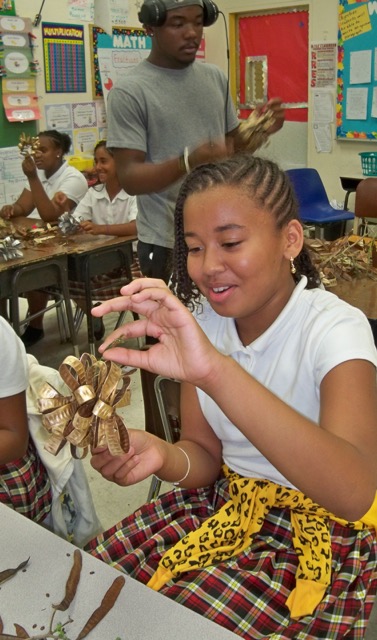 Activities like Sunday Market Day and the Ricardo's Sweets & Treats/Festival on the Green were also held during March.
Students wore their "Sunday best" dress whites or their school uniform to the Sunday Market Day where St. Croix farmers displayed livestock and produce. Farmers sold their produce – including sweet peppers, tomatoes, cucumbers, limes, greens, bush tea, seasoning, sugar apple and sour sop – to students, staff, parents and the community.
The Bee Man was on campus with honey for sale and folks from Sejah Farms sold fresh local eggs. Coconut water and sugar cane were sold.
There was kite flying with parents during lunch and, on Gingham Day, students, faculty and staff wore gingham attire of their choice. There was also a Madras Day with everyone wearing the bright Caribbean plaid.
We Deh Yah Cultural Dancers performed quadrille and students had the opportunity to play traditional games like hopscotch and marbles.
On Wednesday, the children are taking field trips all across St. Croix highlighting the history and culture of the island.