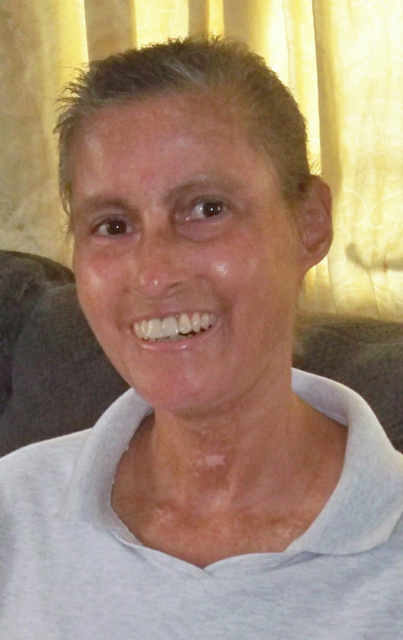 Carmen Ramos Navarro struggles with medical conditions and issues associated with having the chronic autoimmune disorder scleroderma – yet she carries on with smiles and laughter.
Scleroderma literally means hard skin. Scleroderma is not contagious, infectious, cancerous or malignant.
According to the Johns Hopkins Scleroderma Center web page, scleroderma is an autoimmune, rheumatic, and chronic disease that affects the body by hardening connective tissue. Connective tissue adds strength to organs and other parts of the body. Connective tissue is made of many kinds of proteins – one of which is collagen.
Scleroderma is classified as an autoimmune disease, which means a person's immune system works against itself. The normal immune system protects the body by fighting off foreign invaders such as viruses and infections. In an autoimmune disease, the immune system mistakes a person's own tissues as foreign invaders and sets up a protective attack that backfires, causing problems. In scleroderma, cells start making collagen as if there were an injury that needs repairing. The cells do not turn off as they should and end up making too much collagen. The extra collagen in the tissues can prevent the body's organs from functioning normally.
Navarro, 48-years-old, giggled and pointed to the corners of her eyes and said she has so much collagen her skin isn't getting wrinkled. Her skin feels hard and stiff, as the Source found recently when Navarro allowed a reporter to touch her forearm. Laughing and puckering up in a kiss, she added she could kiss again since her stem cell transplant six months ago.
Navarro was a healthy and vibrant wife and mother of one son, busy working as an administrative assistant at the National Park Service in Christiansted. She enjoyed her job, doing a wide array of work in the park offices with computer software systems, human resources, billing and purchasing. She had to give up her job in 2013.
Navarro said her health was normal up until 2006, when she began to have pain in her wrists. Her physician at the time sent her for X-rays to rule out fractures. She started to have more joint pain and swollen fingers. She had some discoloration on her forehead and her dermatologist said something wasn't right. The dermatologist told her to go to a rheumatologist, but there isn't one on St. Croix, so she sought the opinion of a local internist.
She continued to have pains, ringing in her ears and itchy tight skin. Then her hands and feet began to turn cold and purple and it was determined she had what is called Raynaud phenomenon, a condition in which some areas of the body feel numb and cool.
Navarro was finally diagnosed with scleroderma when she was 39-years-old, by local physician Dr. Charles Perez, who she spoke highly of.
Navarro said most people with her disease live only 10 years past diagnosis.
She has suffered with acid reflux, weakness, fatigue, insomnia and the feeling of pins and needles on her skin when she is in the sun. She has had back pain, ringing in her ears, anxiety and depression. Her lungs were affected and she eventually developed a cough that she just couldn't shake. She went to a pulmonologist in Puerto Rico who put her on oxygen and thought the best course of action was for Navarro to have a stem cell transplant.
Navarro had the stem cell transplant October 2015 in Chicago at Northwestern Memorial Hospital. She was told she could die from the procedure – there was a risk with her heart – but that didn't faze her.
"Nobody knows our expiration date but God," Navarro said.
Her doctor in Chicago ran a battery of tests and she had intensive chemotherapy before the transplant of her own blood cells. She said she is feeling better and her skin seems looser since the transplant.
She had a six-month checkup scheduled in Chicago in April with flight reservations confirmed, but the doctor canceled, leaving her with the added cost of changing reservations.
That incident is just one of the many challenges faced by people with a chronic disease Navarro said.
Navarro said not having proper medical care in the Virgin Islands is an issue and burden for locals who have to leave island for treatment. A major issue for people is the fact that St. Croix doesn't have a rheumatologist specializing in diagnosis of autoimmune diseases and treatment. Researchers have identified at least 100 autoimmune diseases.
Navarro said they get good doctors on St. Croix, but in her experience, they leave just as you get to know them. She currently has a hole in her foot that won't heal, so she has to see a cardiologist because the problem may be due to her circulation.
She has to deal with the aggravation and of paying for treatment and doing business with three different insurance carriers and which one covers what procedures. She added it is a challenge to go out since she is on oxygen and has to take it where ever she goes. Flying with oxygen is a problem.
Born on St. Croix, Navarro said the cause is not known, but she reflected on the possibility that her affliction was an environmental problem. She lived on Vieques while the U.S. Navy did test bombing. "And I ate a lot of Chef Boyardee products growing up," Navarro said. She added her sister had breast cancer and died from bone cancer at 48 years of age. Her mother is living with Alzheimer's disease.
With a smile and the sound of love in her voice, Navarro said Ruben Navarro, her husband, has been her rock and biggest supporter through her ordeals.
She starts her day with prayers that get her through the day. And at the end of her day she reflects on how good her life is and thanks the Lord for everything she has been blessed with.
"He gives me strength to get by, Navarro said. "I pray all the time. Praying takes my mind off things I have to deal with."
Information on support offered locally is available by calling the Virgin Islands Autoimmune Disease Organization, at 340-227-4046.