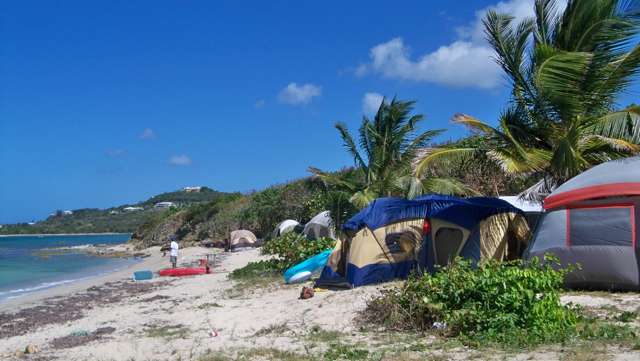 While many Virgin Islanders returned to work Monday, some of the residents who took part in the annual Easter camping tradition made it just another day for splashing in the ocean, talking with friends on the beach and enjoying campfire food.
By afternoon, most of the tents and sleeping bags had been packed up by Monday afternoon, but many people hung on, extending their time at the beach for a few extra hours. In the Lagoon Park, where tents had lined the shoreline Saturday, not a tent remained on Monday.
There was, however, still a lot of drinking and eating activity in the park.
About eight tents were still standing Monday at Salt River Bay at Columbus Landing, as people enjoyed the coolness of the sea or food in the shade of sea grape trees.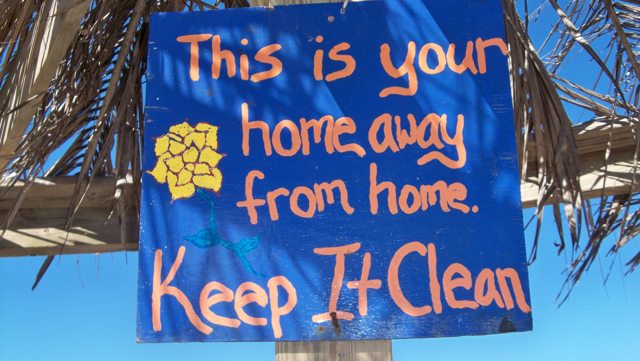 It was 10 years ago that the Source ran the headline "Overnight Easter Camping at Salt River Allowed for Last Time." Being the Virgin Islands, things don't always go the way the planners plan.
Then Planning and Natural Resources Commissioner Dean Plaskett made that announcement at a public meeting in 2006, citing the need to protect the area that had been inhabited by the Taino Indians when Columbus arrived. DPNR now requires permits for campers at Salt River. Permits are not required at the other beaches.
When permits are picked up at DPNR, guidelines concerning camping activities are also handed out.
Another area where campers find rules concerning camping is the Southgate area owned by the St. Croix Environmental Association. However, this year no campers were noted in that area. Potential campers might not have known that the road going back to the beach, which was almost impassable a couple months ago, has recently been repaired by SEA.
Campers 10 years ago were the focus of complaints about how much trash was left on the beaches. Over the years, campers seemed to have gotten the message and complaints subsided. Someone left a broken grill and tires in the bush at Salt River, but in general the beaches the Source visited Monday did not have much litter.