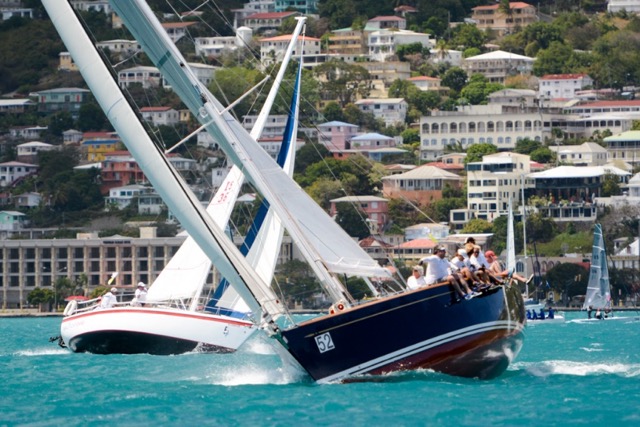 The first day racing in the St. Thomas International Regatta turned into a sprint for some and a splash for others Friday, with winds gusting to nearly 30 knots.
According to organizers of Charlotte Amalie's signature race, most of the 67-boat fleet, divided into eight classes ranging from 16-foot beach cats to 60-foot Gunboats, braved the conditions that saw sailors race 16 nautical miles to the historic harbor and back again to the host St. Thomas Yacht Club.
"It was pretty windy and we had some big puffs," said St. Thomas's Chris Curreri, who helmed the IC24, Bill T, which is leading the 13-boat one-design IC24 Class after three races, according to preliminary scores.
"In fact, right as we got to the finish in the harbor on the race down it was blowing 30 knots – a survival finish," he said.
The weather was a challenge for the 12-boat, one-design VX Ones. Class rules for regattas call for no starts when the median wind speed exceeds 22 knots. St. Croix native Tim Pitts, who is class vice-president, called for an increase in that limit to 27 knots. As a result, all but one of the class raced.
Most of the boats reveled in the big breeze, but not all. Florida skipper George Gamble's My Sharona and Massachusetts' Paulo Milko's Milkoway capsized while racing.
"I think as the class grows and matures it's possible to race at a higher wind limit," said Pitts, who now lives in Newport, R.I. He is leading the class with three first place finishes.
"We had a great start in the first race when we popped our kite and shot out 10 seconds after the gun," Pitts said. "We ripped our head sail and finished up that race without a spinnaker. In the last race upwind, it was Chris Poole on Don Winston's Szforzando and I match racing to the finish and we won. That's pretty incredible. Not only the close racing, but also beating Chris, because he's a world-ranked match racer."
The windy weather only added to the tight racing excitement in the CSA Spinnaker Racing 3 Class. After two races, St. Thomas's Lawrence Aqui's Dufour 40, Wild T'ing, is in first since he won the last race, while Puerto Rico's Jonathan Lipuscek on his J/105 Dark Star is second. However, both boats are tied with 3.0 points apiece.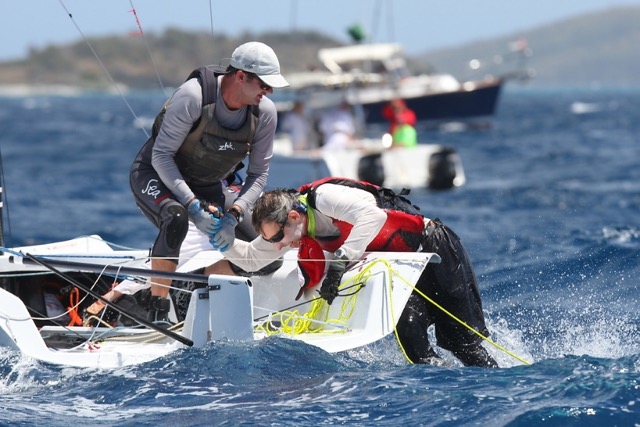 "This wind isn't unusual for us," said Dark Star tactician Rafael "Rafi" Martinez. "The first day of racing in the St. Maarten Heineken Regatta earlier this month it was blowing this hard, so we're used to it. On the way down, it was Pipedream that was our closest competitor until they broke a steering cable and we passed them. On the way back up, we traded places for the lead several times with Wild T'ing, until they beat us by less than a minute."
There were no complaints about conditions aboard Team Magnitude-El Ocaso, which is leading the CSA Spinnaker Racing 2 Class with two firsts. The Southern California crew headed by Doug Baker, who chartered the J/122, had some local knowledge onboard with the BVI's Mark Plaxton. It was certainly helpful, as while the crew has sailed together many times, they were all new to the boat.
"We finished ahead of Corr's Lite by less than a minute into the harbor even though we dropped our chute early," said Plaxton, a podium finisher in previous STIR's aboard his Melges 32 and IC24 boats, both named INTAC. "On the way up, we had the boat going nearly 8 knots upwind, or about a 15 to 20 percent improvement in boat speed over the first race of the day, which is pretty impressive. We just keep getting better the longer we sail the boat."
Florida-based husband-and-wife team of Annie Gardner and Eric Witte hold first place in the Beach Cat class.
Entrants in the Gunboat and CSA Spinnaker Racing 1 classes were also pleased with the breeze. Fault Tolerant, the Gunboat 60 of New Yorker Robert Alexander, won both of his races. So did Steve Benjamin of Norwalk, Conn., driving his TP 52, Spookie. It was the second of two good days of racing as Benjamin, 2015 Rolex Yachtsman of the Year, not only won his class, but Spookie's name on the new perpetual trophy for best elapsed time at 2 hours 22 minutes and 36 seconds in the inaugural Round the Rocks Race on Thursday.
The Wing & Prayer trophy is named after former St. Thomas resident, Ken Bragg, the architect who designed the STYC in the early 1960s and whose heroic rescue while piloting a B-17 bomber in World War II is the subject of the famous song, "Coming in on a Wing and a Prayer."
Finally St. Croix's Stan Joines and his teenage crew racing Joines' J/30, Paladin, ultimately wished for calmer weather when the boat was dismasted in the first race.
"We were booking it, up with the Swans, as we headed into the harbor. Then there was a 'ping' as a line snapped. We dropped the main and tried to sail in on a jib since the boat doesn't have an engine, but it was too much and the mast gave out. It broke in more than one place," said Joines.
Where to Watch, Where to Party
Competition continues Saturday with racing off the northeast and southeast shores of St. Thomas. Music with Lourdes & Flip Switch starts at 2:30 p.m. on the beach at STYC. Spectrum Band plays live at 7 p.m. at Yacht Haven Grande.
Racing concludes Sunday with the awards ceremony starting at 6:30 p.m. on the beach at STYC. The Final Fling Party starts right after with Ah We Band.
More information is available by contacting regatta director Chuck Pessler at 340-642-3204 or sending email to stycisv@gmail.com.
Race information including results, photos, social schedule and more are online at www.stthomasinternationalregatta.com.