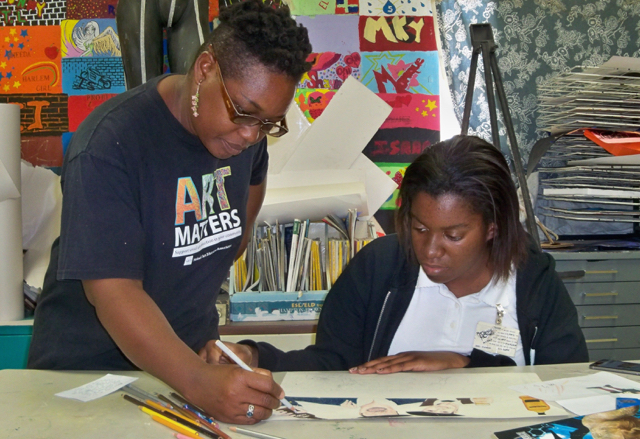 Public and private school students are showcasing their works of art at Sunshine Mall to get the public and stakeholders to understand the beauty of what they created and the value of the arts.
They are celebrating Youth Art Month, an annual observance held each March, to emphasize the value of art education for students in kindergarten through 12th grade. Also it gives the public an opportunity to encourage the young artists and show support.
The show, on display on the upper level of Sunshine Mall, is open for public viewing into April. Students from St. Croix Educational Complex High School, St. Croix Central High School, Alfredo Andrews Elementary School, and Good Hope Country Day School have art on display.
The students used all types of media, including water colors, acrylics, oils, pastels, charcoal and colored pencils.
"It's important to show what we do in art classes," said Niarus Walker, chairwoman of Youth Art Month and St. Croix Central High School art teacher.
The community in general doesn't get to see the fine level of art the students create, she said. The show allows everyone to see what students learn in art class.
One of the main purposes of the show is to increase community, business and governmental support for art education. Another purpose is to direct attention to the value of art education which develops divergent and critical thinking, multicultural awareness, technical communication and expressive skills.
Some parents give a lot of support and encouragement to their children, she said, while others think it isn't a career where people can make a lot of money, and if not, why put much effort and stock in art?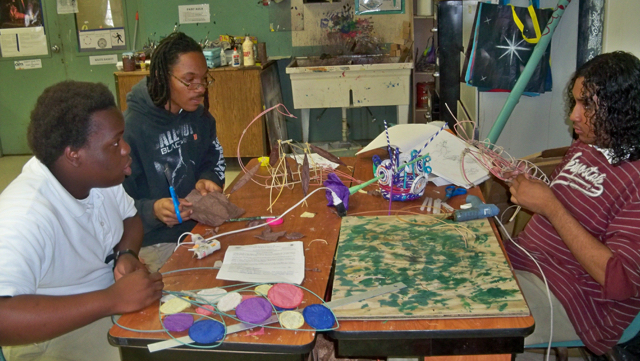 Throughout March the students also paint murals, create sidewalk art and go on field trips to local galleries. Guest artists give presentations in art class.
Kiana Alexander, a senior at Central and president of the school's National Art Honor Society, said today's young people don't really appreciate art. The show lets them see what they can learn in art class. She added it's a good feeling to let the public see her artwork.
"The show is a good way to let the public see how good we are at art," said Orrian Browne, a junior at Central and NAHS vice president.
According to Walker art education develops self esteem, self expression, critical thinking and decision making skills. And it develops an appreciation for work of others and cooperation with others.
In 2007 Walker organized the first local show that is a program developed by the National Art Education Association. She said organizing everything for the show can be a challenge at times. In the past as many as a dozen schools have taken part in the show. Walker does grant writing to finance the shows, which have also been held at Fort Frederik and the Caribbean Museum Center for the Arts.
Walker has a bachelor's of fine arts in fashion design and painting from Moore College of Art and Design in Philadelphia, and a masters in art education from Florida State University. Her work has appeared in "The Caribbean Writer," "Island Art and Soul," and "St. Croix This Week."
Walker has been an art teacher in the public schools for 20 years. She also teaches drawing and painting at the University of the Virgin Islands. She recently had a show of her work at The Top Hat studio on Company Street in Christiansted, and it's on display at Crucian Gold and Sweet Magnolia clothing store.
"I love to promote the kid's art work more than mine," Walker said. "They work hard in class putting in physical, emotional and mental energy."
She added the show is the best way to reach the community.
Anyone seeking more information or who wants to make a donation can contact Walker by sending an email to niarus_art@yahoo.com.