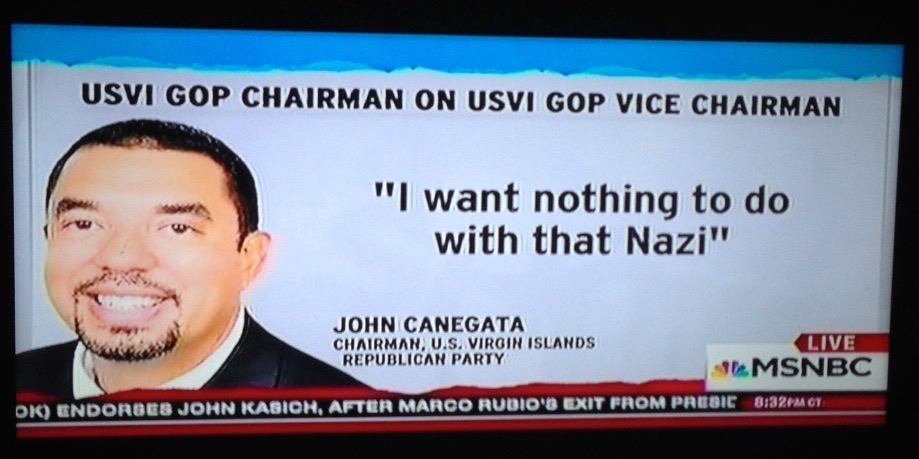 Bitter animosity between V.I. GOP Chairman John Canegata and Vice Chairman Herb Schoenbohm played out in the national news Wednesday evening on The Rachel Maddow show on MSNBC, with Canegata referring to Schoenbohm as a "convict" and "Nazi sympathizer," among other things.
The segment was largely about the role of uncommitted delegates in a potential divided Republican National Convention later this year in Cleveland, Ohio, and about the ongoing court drama concerning voting eligibility for GOP consultant John Yob and other GOPers who just moved to the territory and won slots as V.I. delegates to the convention. (See: Contested New V.I. GOPers Win Three National Convention Slots in Related Links below)
But when Maddow's show's staff called up Schoenbohm and Canegata, things got dicey.
"It has opened a friendly little window into the most unexpectedly vicious intraparty warfare we have seen in some time," Maddow told viewers. (See: Political sorcerers battle in the dark art of GOP delegate math in Related Links below)
Maddow said Schoenbohm told them he had voted for Yob and that Yob's experience and expertise is needed at the convention.
Then when they called Canegata, he told them Schoenbohm was a convicted felon, a moron, a compulsive liar and "a Nazi sympathizer." He allegedly said, "I want nothing to do with that Nazi."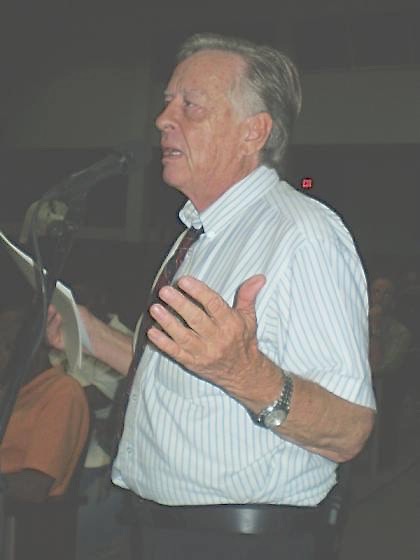 Asked about it, Schoenbohm told the Maddow show it was true he is a felon on account of long distance phone service fraud in the 1990s. "He's right. I'm a convict," they quote Schoenbohm saying, in print, in the background, during the segment. But Schoenbohm told them the Nazi charge is "rubbish."
Reached by phone for comment, Canegata confirmed he made those charges.
"Yes, I did say that," Canegata said. "I wish this stuff would go away but we have to hold people accountable." He said Schoenbohm is "a compulsive liar" and that Schoenbohm has "somehow convinced individuals … that I am doing something wrong by raising money."
Canegata also stood by the Nazi-sympathizing accusation. He alleged Schoenbohm had a history of making disparaging and insulting comments with racial undertones, saying, "He made an insulting remark to Chairman Steele," regarding former RNC Chairman Michael Steele using a limousine.
Much of it the animus seemed to be personal, however.
Canegata said, "He referred to me as a "turd," a "piece of s***," "dishonest" and "unintelligent. No one in my lineage is a turd or unintelligent," he said.
Canegata said Schoenbohm "has made more than one racially charged comment about myself," and that Schoenbohm had publicly claimed St. Croix resident Robert Moorhead's grandfather had sold slaves during an interview on AM 970.
Canegata also cited Schoenbohm's German ancestry and said he had Caribbean Sephardic Jews in his own ancestry.
When reached by phone, Schoenbohm largely declined to comment, saying he would only speak off the record, citing the court case over the delegates, in which is he testifying Tuesday, as the reason.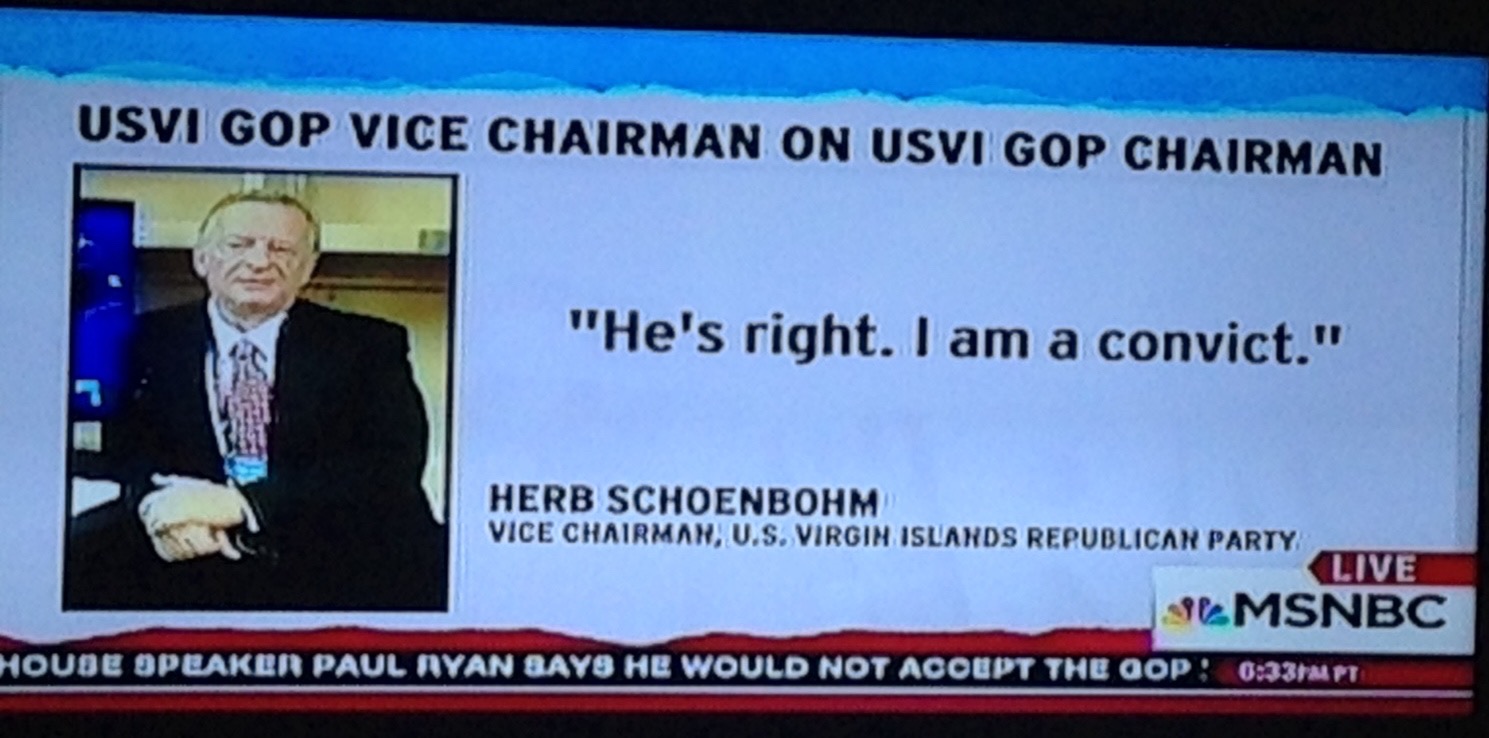 Pressed on the personal claims, Schoenbohm did say, on the record, that he "never said Moorhead's grandfather sold slaves." Schoenbohm said that he was arguing against those who object to commemorating Alexander Hamilton's time on St. Croix because the store he worked at dealt with slavers.
According to Schoenbohm, he was only saying that all the stores, including the one owned by Moorhead's ancestors, sold goods to slavers, so Hamilton should not be castigated for working in a store.
On the question of V.I. delegates to the GOP National Convention, Canegata said the results bothered him and he attributed them in part to work behind the scenes by Schoenbohm on St. Croix.
"In theory, not one local gets to go to the convention as a delegate," he said. "I don't blame John Yob. I blame lukewarm Republicans," he added.
Maddow's segment was largely on intra-GOP scheming at the convention, in case there was no obvious majority candidate.
Of Yob, she said, "The guy who literally wrote the book on how to use the delegate process and chaos to game the Republican National Convention this year to your own advantage, he just moved to these little islands in the deep Caribbean and took over their slate of delegates to Cleveland as an uncommitted delegate."
Yob wrote a book, published in February, titled "Chaos: The Outsider's Guide to a Contested Republican Convention." It makes a case that what happens in the U.S. territories, including the USVI, may make the difference between "chaos" and "catastrophe" for the GOP at the national convention. (See: New GOP Arrivals Removed from Voter Lists over Residency)
"This year we are four months out from Cleveland and frontrunner Donald Trump today promised riots at the Cleveland convention if he doesn't get the nomination," Maddow said.
"And the remaining candidates have all hired slates of these sorcerers who are supposed to be skilled at delegate deceit and trickery and hiding as double agents, and at least one of those kinds of operatives has taken over one territory's slate of delegates," Maddow said, "as that party itself melts down back at home amid allegations of who's a Nazi and whose a felon and whether it is OK to be one but not both and still be running that party."
"We have seen chaos at conventions before. This year's chaos is well planned it turns out, in advance," Maddow said.
Reached for comment, Yob said, "My approach to the national media is to encourage people to visit paradise and consider the Virgin Islands as their choice to live, work, create jobs and raise a family. I encourage all Republicans in the Virgin Islands to work together and move forward as a unified party."
Asked what he wanted to accomplish as a delegate and who he supported, Yob said, "I am uncommitted to any candidate and will work with the other uncommitted delegates to determine which candidate we think is in the best interests of the voters who selected us at the caucus."