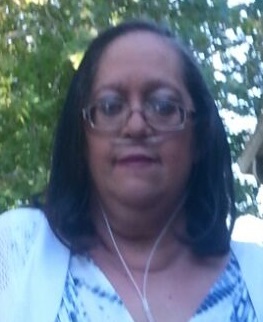 Lydia Estell Figueroa, also known as "Lippy," of Estate Rattan transitioned into eternal life on March 7. She was 63 years old.
She was preceded in death by her mother, Marcella Cotto Figueroa; and her nephew, Marcos J. Ayala.
She leaves behind to cherish her memories her father, Pedro Figueroa Sr.; stepmother, Jenny Concepcion Figueroa; daughters: Lisandra Bonano Jimenez, Yajaira Bonano, Vanessa Bonano Dublin and Dorca Ventura; grandchildren: Damian Lang Jr., Tomas Huertas Jr., Bertram J. Sands, Kie I. Sands, Marcos Huertas, Miyah Bonano, Jahmari A. O'Neale, Jahwee A. O'Neale, Jahlyla L. O'Neale, Jahdaesia A. O'Neale, Jahdeadra E. O'Neale and Victor Ramos; sister, Nancy F. Perez; and brothers: Pedro Figueroa Jr. and Mitchell Figueroa.
She is also survived by nieces: Yara Figueroa Brooks, Deyshandra Figueroa, Karla Rivera Garcia, Yesett Coralis Velaquez and Yanetcha Velasquez; nephews: Pedro Figueroa III, Anthony Figueroa, Randy Figueroa and Yasel Velasquez; sons-in-law: Sergio N. Jimenez and Lafayette Howard Dublin; brother-in-law, Fernando Perez; sisters-in-law: Loretta J. Figueroa, Yaznaira Miranda, Elba Figueroa and Carmen Cruz; and special friends: Nelly Munoz, Janise James, Suzette Bough James, Lisa Bough, Wanda Vialet, Ingrid Quinones, Freda Lewis, Ricardo Richards Elementary School retirees and co-workers.
Other survivors include cousins and other relatives: Luz Delia Ramos, Gabriela Garcia, Esmeralda Barron, Pricilla Diaz, Gonzalo Rivera, Isabel Abino, Maria Saldana, Andrea Vega, Olga Cotto, Carmen M. Cotto, Mercedes Cruz, Brunilda Nieves, Ana Cotto, Juana Davis, Nerieida Nieves, Andrea Rivera, Neida Lewis, Maria E. Ortiz, Nitza Lugo, Itzamar Singh, Wanda Daniel, Ruth N. Charles, Andres Ramos Jr., Xiomara Diaz, Ashley Garcia and Mari Garcia; as well as other relatives and friends too numerous to mention.
The family requests that those in attendance wear yellow, which was Lydia's favorite color.
The viewing will take place at 10 a.m. followed by the funeral service at 11 a.m. on Saturday, March 19, at Iglesia Alpha and Omega, Strawberry Hill. Interment will be at Kingshill Cemetery.
All arrangements are by James Memorial Funeral Home Inc.