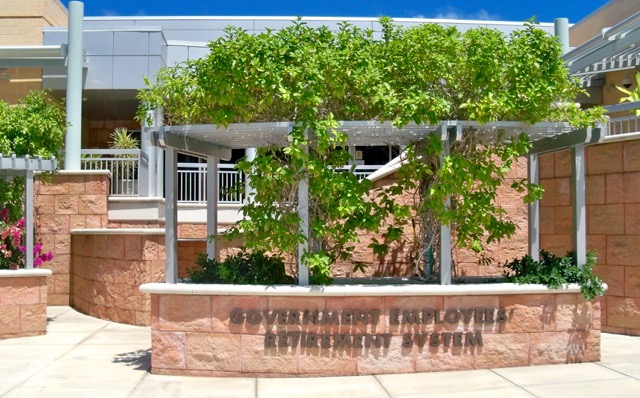 V.I. government employees and retirees started off the Government Employees' Retirement System board of trustees meeting Thursday with concerns about GERS reports, a recent audit and untimely payment of annuities.
Retiree Phylis Nehlsen had the strongest words as she said, "This is really quite terrible what is happening to people," referring to how long retirees have to wait for annuity payments. She said retirees were not able to pay their bills and one had even lost her home because of the late payments by GERS.
GERS Board Chairman Wilbur Callendar, who was on St. Thomas, responded through video to Nehlsen, who was in the conference room on St. Croix. He said that of the 264 employees who retired in 2015, 119 had received their initial checks. He added later, "I wish it was 100 percent."
He explained that the burden for the late payments did not lie completely on GERS. He said agencies such as the Department of Education were late in supplying necessary documents and also employer and/or employee contributions to GERS were missing.
Callendar said GERS was mandated to have all contributions in before making payments.
Nehlsen suggested some method where estimated payments were allowed to be made to those retirees when long delays were anticipated.
Not being able to find out information about her personal retirement contributions, years of relevant service and what she could expect to collect was Patricia Oliver's complaint. She said she had been trying to get that information for more than a decade.
Many stateside retirement systems send out yearly updates to members with that information.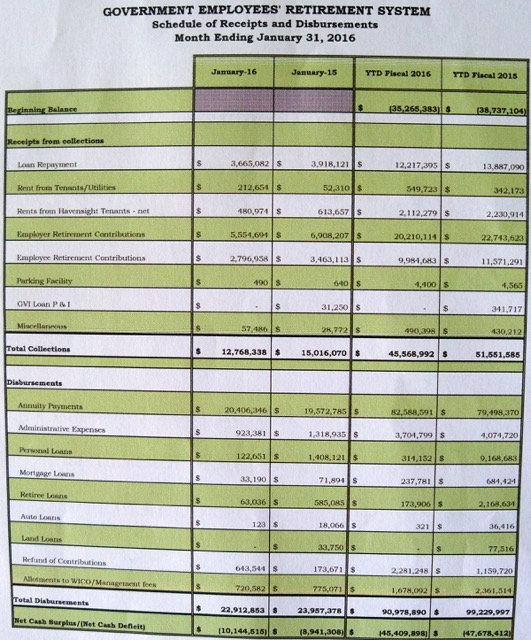 Euman Fahie expressed concern about how GERS Administrator Austin Nibbs did or did not respond to journalists concerning the recent critical audit by V.I. Inspector General Steven van Beverhoudt.
"You do not respond or rebut his statements. It has gone viral. It makes us look bad," Fahie said.
The audit said GERS has too much money in nontraditional ventures, entered into without proper diligence or management. The audit also faults GERS for several decades of investments, from the 1993 purchase of Havensight Mall to a 2014 loan for a St. Thomas grocery store.
Nibbs, in his report to the board, said that he had been in contact with Finest Foods representatives who had received the loan at which criticism has been leveled. He said that a grand opening for the store is planned around July 4.
The board also discussed several upcoming bills relating to GERS in the Senate. One bill would reinstate the loan program for members. No one spoke in favor of the bill. It was pointed out that if the money was not out in loans it increased the liquidity of GERS assets.
The liquidity of assets was a problem cited by GERS investment officer Bruce Thomas when he gave his report. Thomas said that because of the lack of liquid assets GERS was sometimes forced to sell holdings when the market was low.
One asset that is not liquid is Carambola Resorts. The trustees were asked to approve payment of a bill of $65,000 for the installation of solar lights at the north shore St. Croix resort.
Trustee Edgar Ross said that since Carambola Northwest is now running the resort and running it profitably, GERS may want to step back from the part of the agreement that said the GERS board must approve all expenditures over $50,000. He said, "We don't want to manage the minutiae."
Besides the problem of liquidity, Thomas reported to the board that holdings were performing well, better than set benchmarks.
The treasurer's report was, however, a different story. Employee and employer contributions are going down and payments to retirees are going up. For Fiscal Year 2016, total collection was $46 million and total disbursement was $91 million, meaning a loss of $45 million so far.