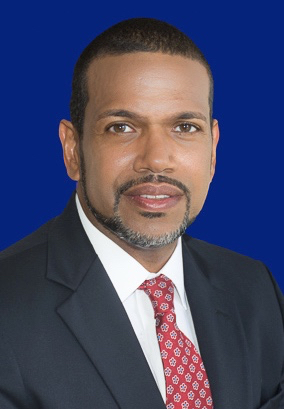 Troy de Chabert-Schuster has a deep love for mankind, in particular the elderly in his community. His caring and concern for senior citizens has led him to be of service to them as a volunteer with the local AARP, American Association of Retired Persons.
De Chabert-Schuster believes the most significant way in which he can help others is by creating stronger, healthier and more livable communities.
"With that in mind and considering that the population is aging, because of medical technologies I find it most beneficial and fulfilling to assist the older population," de Chabert-Schuster said, "by creating an environment and awareness which are more friendly toward the needs and challenges faced by our elderly, and finding ways to help older persons discover and create real possibilities."
De Chabert-Schuster, involved in AARP for almost a year, is the vice president of the local board of directors for the St. Croix Chapter 3167. He also is the AARP Community Outreach coordinator. In that position he assists the state office with outreach and activities such as working at the AARP information tent at the Agriculture Fair and helping organize flu vaccine clinics. He also helps with the Mentor Up program, where high school students do activities with and assist senior citizens.
As a result of volunteering with AARP, the 45-year-old de Chabert-Schuster said, he hopes to raise awareness among his peers that AARP and volunteering in general isn't just for people older than 60.
"I've come to know that most people aren't aware that they can become members at 45," de Chabert-Schuster said. "Consequently, I encourage my peers to become members of the local and national organization of AARP to experience the many benefits and to partner with us to create more livable communities."
AARP isn't the only organization de Chabert-Schuster volunteers for. Since the fall of 2014 he has been in a volunteer position on the governing board of the Juan F. Luis Hospital.
"I was very excited when former Gov. (John) deJongh called and asked me to serve on the board," de Chabert-Schuster said.
Being a member of the governing board of JFLH is a significant responsibility because health care is one of the most fundamental needs of any community, he said.
"Because JFLH is the only hospital on St. Croix, we are responsible for the health care of every resident and visitor on the island," de Chabert-Schuster explained. "We have a grave duty to provide excellence service and be prepared to do so at every moment. It's a burden but it brings great joy to me."
De Chabert-Schuster said his mother, Rita de Chabert-Schuster, was a big influence on his decisions to help his community. He said as a youngster he often helped her with fundraising and volunteering for civic organizations she was involved with.
"Being an obedient child, I had to help her," de Chabert-Schuster said. "Later I began to enjoy volunteering."
De Chabert-Schuster, a former priest, said he is a perpetual student and he is currently working on his doctorate in leadership and change in health care at Antioch University in Ohio. He has a bachelor's degree in accounting from Xavier University and a master's of divinity from Mount St. Mary's Seminary and University, and a master's in theological studies from Pontifical John Paul II Institute for Studies in Rome and Washington,D.C.
He was the owner of The Medicine Shoppe and Bougainvillea Perfumeria in Sunny Isle shopping Center for nine years and is currently in transition with his career. He hopes to eventually teach ethics to nursing students and consulting.
"I look forward to continued service and hope to continue driving excellence in health care on St. Croix," de Chabert-Schuster said.