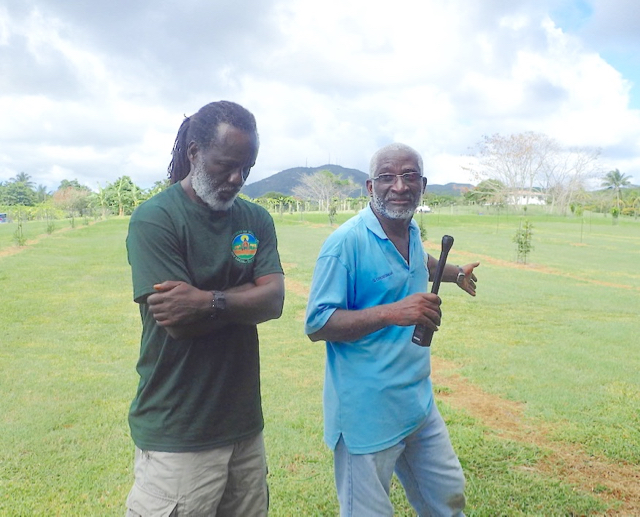 Errol Chichester, assistant commissioner of V.I. Agriculture, led a farm tour Saturday to demonstrate to potential specialty crop grant applicants "how a farm is actually supposed to be" and talk about grant money available for fruit trees, irrigation and water containment.
"We're encouraging local fruit production. We're encouraging fruit consumption. And we're encouraging fruit production in the territory for value-added products," Chichester said.
Crossman used a specialty crop grant over the last two years to develop his Estate Glynn farm, demonstrating what Chichester called the best layout and drip irrigation system.
Crossman grows avocados, citrus fruit, mammy apples, guava, pomegranate, breadfruit, guavaberry, jackfruit, eggfruit, Surinam cherries and 40 varieties of mangos. The orchard is laid out in a square, with trees in straight rows and irrigation feeding each plant. The young trees are enclosed in wire to discourage deer and horses.
Water and deer have been major challenges to successful farming, Crossman said. During last year's drought, he hand-carried water to each plant, but there weren't as many deer feeding on the saplings.
"If we had normal rainfall, this project would have been much easier," he said. "The block grant moved me along from where I would be."
Now that there is more rain, deer are the biggest problem and he plans to keep the trees surrounded with wire to save the trunks as well as leaves. The deer especially like avocado plants.
"All the plants are nicely trimmed" by the deer, he joked.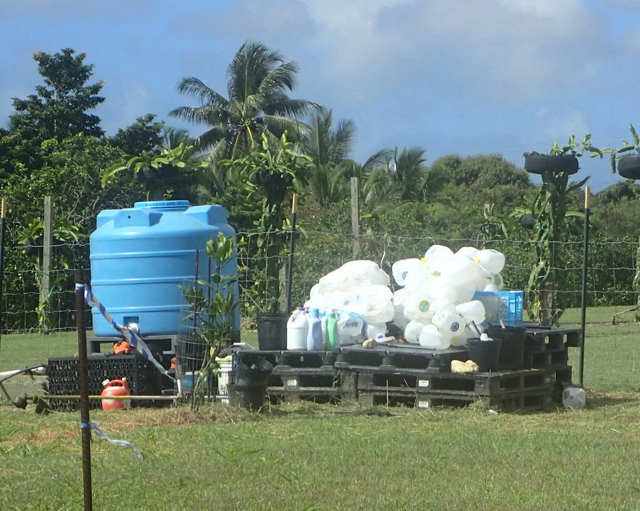 After establishing the farm, Crossman modified his crops to test new varieties and eventually hopes to make grafted plants from successful varieties available to other farmers.
He works alone and spends only one day a week at the farm.
According to Chichester, the DOA recently received about $187,000 from the U.S. Department of Agriculture. A portion of the grant will be used by the University of the Virgin Islands to study downy mildew on cucumbers and the UVI Agricultural Experimental Station will receive funds to conduct research on sweet potato production. Another chunk of the grant will be directed to apiculture – bee keeping – in the territory.
The remainder of the USDA grant will be awarded to specialty crop farmers. Chichester said most fruit and vegetables grown in the territory qualify as specialty crops, except grain.
Farms as small as one acre, and half acre for pineapple and papaya, will be eligible for $1,000 to $5,000 grants, he said.
Rommel Obando toured Crossman's farm and said he plans to apply for a grant for his one-acre farm. The drought wiped out his 200 plantains and banana plants last year, so he hopes to install irrigation to preserve his jackfruit, avocado and mangos.
Likewise, Leonard Sweeney also took Saturday's tour and plans to apply for DOA funding. He grows sour sop, sugar apple, coconut, pineapple, tania and grapes on two and a half acres. Since his land is on a hillside, Sweeney carries water to his plants in buckets. He wants to buy more trees and grow bananas and plantains, as well. He said the time at Crossman's farm was helpful because he learned about farm layout and plants spacing.
Chichester said grant application packets are available at the Department of Agriculture and must be submitted by April 15. Applicants are required to write a proposal regarding the use of the funds and a panel of three experts will decide the winners.
According to a press release from the DOA, preference will be given to individual farmers, non-profit organization, corporations, businesses, universities and government agencies planning to establish orchards, plant community gardens and urban agriculture projects and train beekeepers.
Grant funds also will be prioritized towards projects that can be used as models or pilot programs.
Half of the grant money will be allocated up front. The remainder will be given out and the recipient reports on its use, to complete the project. Chichester hopes to hold a workshop at UVI in the near future to help farmers apply.