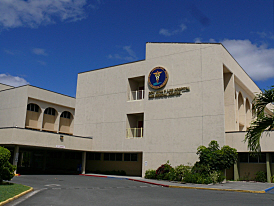 On Thursday, Gov. Juan F. Luis Hospital maintenance crewmembers and contractors began replacing two massive air conditioning chillers and the work will affect parking for a few days, according to the hospital.
The new 300-ton variable speed drive rotary screw compressor air-cooled chillers arrived in late January. The installation will affect the access routes closest to the parking lot used by JFL physicians, according to a statement from the hospital.
When the new units are in position, the air supply in the hospital will need to be turned off for three to four hours during the late afternoon to evening time when it's cooler for the system switch. Everyone affected is asked to respect all construction barricades and all safety and detour signs posted.
Work is expected to continue from 7 a.m. to 8:30 p.m. through March 20.