p>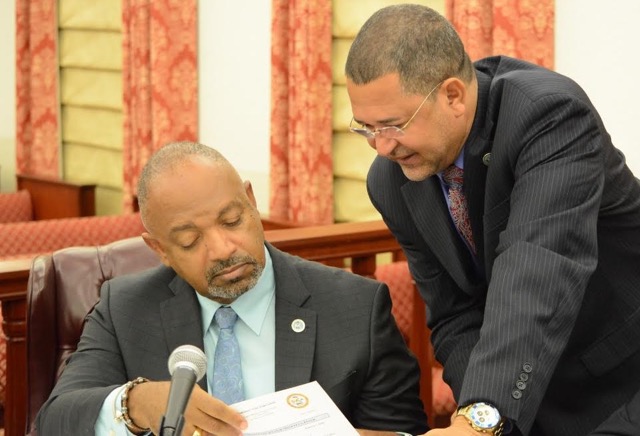 The V.I. Legislature approved increasing the local minimum wage to $10.50 per hour by the end of 2018.
With amendments made during Thursday's session, the bill [Bill 31-0236] sponsored by Sen. Jean Forde would increase local minimum wage from the federal minimum of $7.25 an hour to $8.35 an hour 90 days after the bill is enacted. Subsequently, the minimum wage will increase to $9.50 an hour on June 1, 2017, and to $10.50 an hour on June 1, 2018.
The legislation also urges Gov. Kenneth Mapp to appoint nominees to revive the V.I. Wage Board, which has been defunct since the 1990s.
"There are individuals making certainly way, way below a living wage," Forde said during session. He went on to distinguish a minimum wage, the lowest wage one can legally pay, from a living wage, what it takes to actually get by.
Forde said that while some businesses are concerned about bearing the cost, "and we were very, very sensitive to their issues," economic studies show that small increases to minimum wage do not harm business or reduce employment.
Others agreed it was time for an increase.
Sen. Justin Harrigan said, "This has been a big issue in the territory. No one wants to pay more than they have to. But people have to understand there are many, many people being paid $7.25. That is in no way enough to support a family." Harrigan praised Lisa Hamilton of the V.I. Hotel an Tourism association, who spoke at the hearing for the St. Croix Hotel and Tourism Association, for supporting the measure when it was heard in committee.
Senate President Neville James agreed an increase was a good thing but said he was concerned about the territory's economy in light of recent committee testimony saying tax collections were down. James said he would like to see an amendment to require an analysis of the state of the economy after the change goes in effect. James voted in favor of the increase.
While the new minimum is still hardly a good living in the USVI, Forde noted that the territory's lowest paid workers will experience a 48 percent increase in pay.
"This is a tremendous victory for working people, as the plain fact is that the minimum wage of $7.25 is simply not enough to live on," Forde said. "It is heartbreaking to see people going out and working hard every day, only to find that their paychecks cannot meet even their most basic needs."
The bill was approved with 14 senators voting yes. Sen. Marvin Blyden was absent.