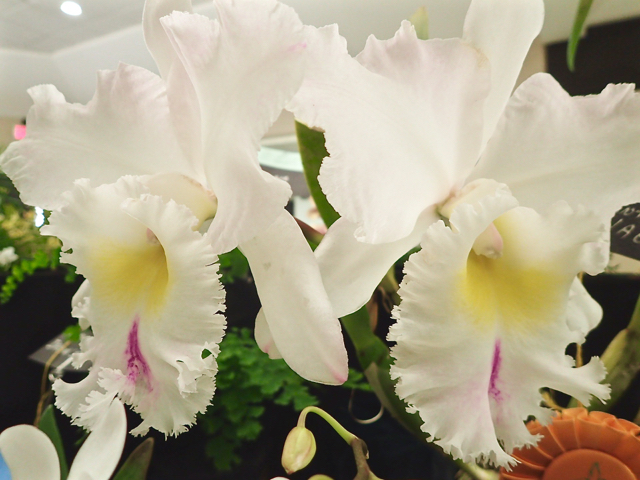 Hundreds of people flock every year to the orchid show hosted by the St. Croix Orchid Society, and this year the award-winning, stunning specimens filled the Great Hall of the University of the Virgin Island in an arrangement themed the Crucian Orchid Symphony.
"Once a year, we put the show on for the enjoyment of the public to view and admire orchids. We try to encourage interest in participating in the society, learning to exhibit and grow orchids," said Pearline Claxton, president of the Orchid Society.
Claxton said the turnout on Saturday was good considering the rainy weather.
A handful of cut arrangements joined more than 30 exhibits of growing plants – virtual rain forests of orchids artfully surrounded by greenery and wood. The exhibits run from one to two eight foot tables to Michelle Thurland Martinez's 2,500 square foot garden.
Because there are more than 100 different classes of orchids, prize ribbons and plaques from the St. Croix Orchid Society and the American Orchid Society adorned every exhibit.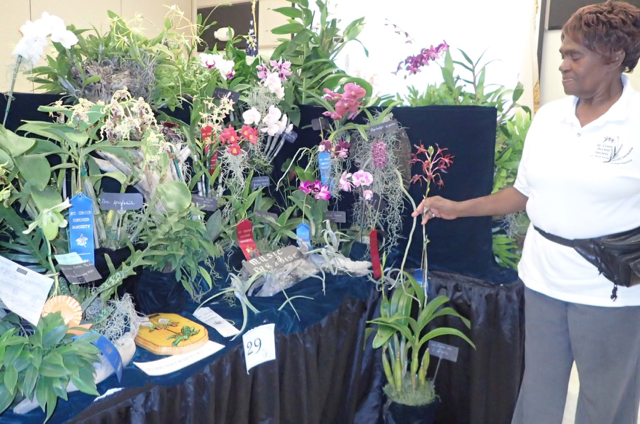 The American Orchid Society Show trophy was won by Anne Marie Andrews, who also won an AOS ribbon for a prize-winning dendrobruim. According to AOS judge Carlos Fighetti, the ribbon indicates her orchid was judged against dendrobruims at any of the 350 annual orchid shows across the nation as is "as good or better than any other."
Rosemary Walcott's white, double Mt. Hood cattleya bloom was named the AOS Grand Champion.
The AOS gave a record five ribbons this year, including one to Luther Edwards for his large epidendrum ciliare orchid cluster – a native species. Edwards has between 600-700 orchids, and won nine first place awards as well as second and third place ribbons. This was his "best year ever."
Pearline Claxton, president of the St. Croix Orchid Society, also won an AOS ribbon – for her Crucian Gold Cross hybrid. The Crucian Gold orchid was named by the an AOS judge, son of a former St. Croix resident – Marisette Brin. He said the flower reminded him of Crucian gold rum.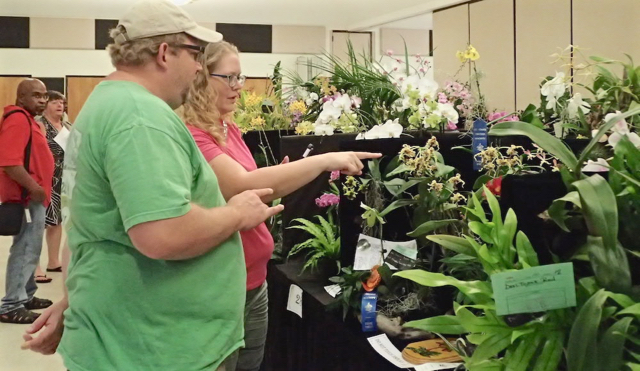 According to Fighetti and Irma Saldana, another AOS judge, the same standards are applied at all shows around the world. Awards are given in three categories: for culture, flowers and horticulture. The winners are measured, photographed, described in detail and stored in a database to compare with the next winner. Five hundred AOS judges hand out 2,000 awards a year, Fighetti said.
"You get to know people. You get to see the best plants – the cream of the crop. And, you get to learn," he said about the perks of being a judge.
Saldana is a photographer for the AOS as well as a judge. She raises 3,000 orchids in her back yard in San Juan. She said orchids come in all sizes and colors and some species thrive in temperatures as low as 40 degrees.
"There are a flowers you need a magnifying glass to see and some are 10 inches across," she said.
An exhibit at the show was dedicated to the memory of David Hamada, former director of the St. George Village Botanical Garden and orchid grower, who died last year.
St. Croix residents John and Amanda Foltz visited the exhibition for the first time Saturday. They studied the exhibits and commented about the flowers and arrangements, occasionally snapping photos.
"I'm blown away. I'm jealous actually," John Foltz said.
Amanda said she has one orchid at home but needs to "hang out with the Orchid Society" members to learn how to raise them successfully.
Fighetti, who has about 2,000 orchids, had some advice for brown-thumbed orchid growers.
"Benign neglect is the best advice I can give people. When you think it needs water, give it one more day," he said.
The show ran through Sunday.