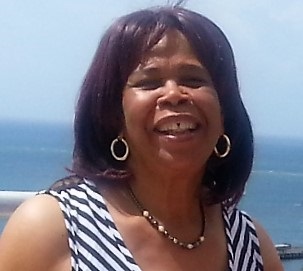 Faith Laurent of Hannah's Rest, devoted wife of 41 years to Sylvester Laurent, loving mother and friend, died on Feb. 5.
She is survived by her daughters: Lorna Laurent and Leah Laurent Green; son, Hank Laurent; mother-in-law, Melanie Laurent; son-in-law, Julius Green; grandchildren: Nathan Knight, Chantel Knight, Gabriella Knight, Lanaya Laurent, Jaydn Green and Juliya Green; granddaughter-in-law, Sarah Knight; sisters: Olive Paul, Eulima Jean and Felina Laurent; brothers: Arlington Paul, Fedino Paul and Garfield Paul; and sisters-in-law: Evelyn Paul, Claron Paul, Daisy Pacquette, Agnes Laurent, Seraphine Laurent, Juliette Laurent and Lucy Michaels; brothers-in-law: Homid Peter Laurent, Ivan Jean, Errol Laurent, Rene Laurent and Paul Laurent.
She is also survived by nieces: Josette Jacques, Lee Vidal, Eunice Laurent, Joycelyn Paul, Pamela Paul, Cassandra Forbes, Sherlyn Paul, Saphire Paul and Donna Paul; nephews: Desmond Prentice, Dennis Paul, Larry Laurent, Oral Laurent, Danny Laurent, Jason Prosper, Dave Jean, Gary Jean, Nigel Paul, Bert Paul, Brent Paul, Cleave Paul, Ronald Paul, Glen Jacques and Al Paul; special friends: Mathias and Naomi George and family, Patrick and Elta George and family, Maggie Peterson, Florence Peter, Albert Ince, Gloria Skerrit, Frankie and Eurica Tousssaint, Lucyanna Pauleon, Dominic and Cathrine Durand, Calvary Baptist Church members and Frederiksted Baptist Church members; as well as cousins, in-laws, and many more too numerous to mention.
Tributes will take place at 10 a.m. and a funeral service at 10:30 a.m. on Saturday, Feb. 20, at Calvary Baptist Church. A private interment will follow.