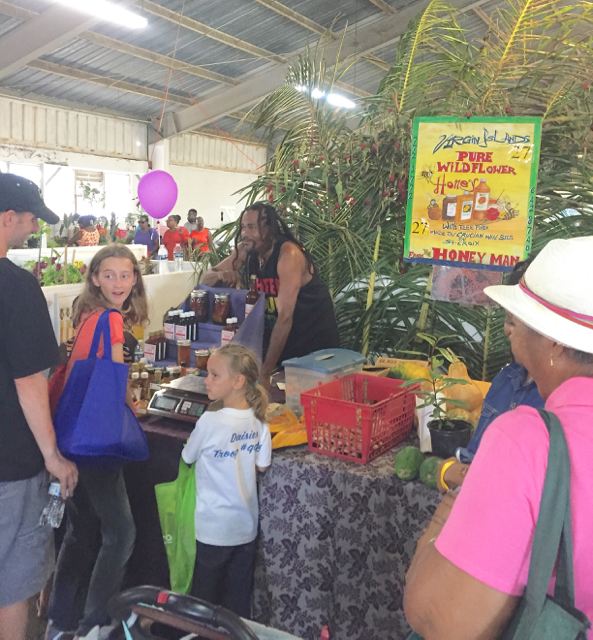 Growing plants, cultivating crops and raising livestock present a unique set of challenges to all gardeners and farmers in the Virgin Islands, regardless of their skill level.
Some issues, such as last year's drought, are being caused in part by environmental factors that are likely linked to climate change. Others are the result of economic forces that make producing on small islands less financially feasible even though there's a year-round growing season.
To examine issues such as drought, climate change, economics and other issues facing the local agriculture community, the Source is launching a new feature series called 'Growing Pains.' The first installment gives an overview of some of the obstacles all local growers are up against.
Despite the issues growers face, events like St. Croix's Agrifest and the Bordeaux Farmer's Rastafari Agricultural and Cultural Vegan Food Fair are reminders of how deep-rooted agriculture is on the islands: There are many dedicated people growing crops, fruit trees, ornamental plants and livestock animals no matter what the drawbacks are.
What's more is that the territory's economy and culture are dependent on growing in ways that aren't always obvious. Local farms provide less than two percent of food to the territory, but that amount still supports hundreds of small farmers, who are often devoted to growing traditional Caribbean fruits and vegetables that otherwise might fade away.
Plant nurseries help keep the island looking well-maintained, supplying residents, hotels and other businesses with lush vegetation. Tropical gardens attract tourists and destination weddings, which bring in a significant amount of money.
Climate Change and Water Scarcity
Water and its distribution have concerned growers throughout the territory for many years, but last year's drought brought the issue to a head. The lack of water not only impacted the health of pasture and cropland, but weakened soil health.
As climate change is expected to decrease precipitation throughout the Caribbean region and make rainfall events heavier but more sporadic, growers will need to adapt. That might mean investing in improved catchment systems such as putting in extra cisterns.
According to Errol Chichester, deputy commissioner of the V.I. Department of Agriculture, most of the farms in the territory depend on rain, since there aren't rivers and lakes here. When drought conditions persist, growers who don't have wells or ponds must purchase costly water, as well as buy feed instead of allowing livestock to graze.
"The majority of time we're speaking about issues, it's about water, but not just about enough water. It's also about being able to distribute it," said Benita Martin, a member of the St. Thomas-located farming collective We Grow Food Inc.
Martin explained that her farming community can collect and store water, but doesn't always have ample systems in place to transport it where it's needed. Her fellow farmers have even pushed their planting season back, since the rainy season is coming later and they need moisture for the plants to sprout.
Many beekeepers reported major decreases in the size of their colonies during the drought, which can greatly reduce pollination rates and in turn hurt crop yields.
Nurseries and tropical gardens also suffer when they don't have enough water. No one wants to buy a limp plant or visit a tropical garden that doesn't have flowers blooming.
Patsy Breunlin of Phantasea Tropical Botanical Garden on St. Thomas said that even though the drought didn't kill her plants that most of her flowers wouldn't bloom and many trees dropped their leaves.
Dry conditions can keep some pest issues at bay, but land that's been overgrazed is more prone to invasive, weedy plant species and caterpillar infestations – a phenomenon that's been seen this winter.
"What we do is interconnected with nature, so everything in nature effects us. Pest outbreaks for species that don't face a winter freeze, droughts, floods, hurricanes, Sahara dust clouds – we have our share of things to deal with," Nate Olive, farm director of the Reef to Ridge Farm on St. Croix, said.
Soil Erosion and Topography
Due to the steep terrain in many of the territory's farming areas, with parts of St. Croix being an exception, growers spend considerable time and money on terracing and creating level planting surfaces to reduce erosion.
Keeping nutrient-rich topsoil in place is key, which is why Reef to Ridge Farm's Olive says he plants strategically along the contours of the land to prevent soil runoff, and builds drainage ditches to divert water where he wants it to go.
"By working with the forces of nature rather than against them, we try to do our best to maintain a healthy soil profile. It doesn't always work, but organic farming is about diversity, so if there are failures, you have something else to back it up," Olive said.
Building level terraces is hard work and most farmers here don't have access to farm equipment.
Martin said the We Grow Food Inc. farming community really can't bring in machines, since the topography there is too steep and rugged. As a result, farmers end up shelling out a lot of money for labor if they don't have family to help them.
"Once soil becomes too degraded from overuse or from nutrients being washed away, growers have to buy fertilizers, which are generally expensive, since they're imported," Chichester said.
Support and Funding
Because of their small size and the competition with cheaper, imported foods and plants, the territory's farms are almost always at an economic disadvantage.
Workshops and education services teach farmers how to overcome some of these obstacles, but it's difficult for the Department of Agriculture to get the word out, since most older farmers don't use the Internet. Many farmers don't know about the block grants and low-interest loans that are available to them.
According to Julie Wright, outreach coordinator at the St. Croix field office for the U.S. Department of Agriculture's Natural Resource Conservation Service, a general lack of awareness about these aid programs and the importance of record keeping prevents growers from receiving financial support. To get funding, farmers must keep records.
Community support is also vital to the survival of small farms, botanical gardens and nurseries alike. People need to know they exist before they can buy from or visit them.
For Reef to Ridge Farm and others in the territory, community supported agriculture programs are what help them stay in business, since members pay all at once for a weekly produce box. Having that money upfront helps the farm cover labor and other costs.
"We need support from the local community, schools, and other organizations to visit the garden on a regular basis. We need references from the local hotels to promote the local attractions. We need support from the tourism department to help with cruise ship contacts," Breunlin of Phantasea Tropical Botanical Garden said.
As the "Growing Pains" series goes forward, it will look in depth on many of these wide-ranging issues that local growers face on a regular basis.