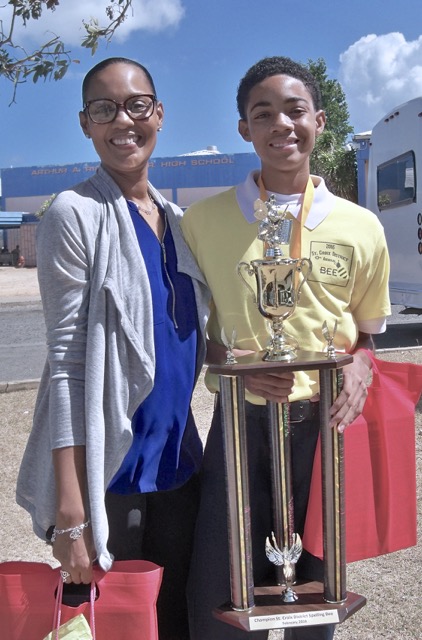 Khaien Donawa has proven he has command of the English language winning first place in the St. Croix District Spelling Bee spelling "commandeer" correctly Friday. The eighth-grade student at Arthur A. Richards Junior High School has had command for a while. He also took first place last year, represented St. Croix in the territorial competition and has been in the spelling bee four years.
Makayla Todman from John H. Woodson Junior High School came in second in the 43rd annual Spelling Bee. She spelled "tenement" incorrectly in the eighth round of competition. Todman represented the Virgin Islands last year in Washington, D.C., in national competition.
Eva Wilson, Donawa's mother and a coach, said she was ecstatic that he won the district competition again. She said she doesn't push him and make it stressful – they make practice fun.
"He decided at the last minute to take part again this year," Wilson said. "He came to me with the practice words and was committed to doing well."
Donawa said because it's the last year he can compete, he decided to go for it and make an effort to go to Washington.
He showed little emotion other than a smile when he won and after said he was nervous up until he spelled the first word given to him.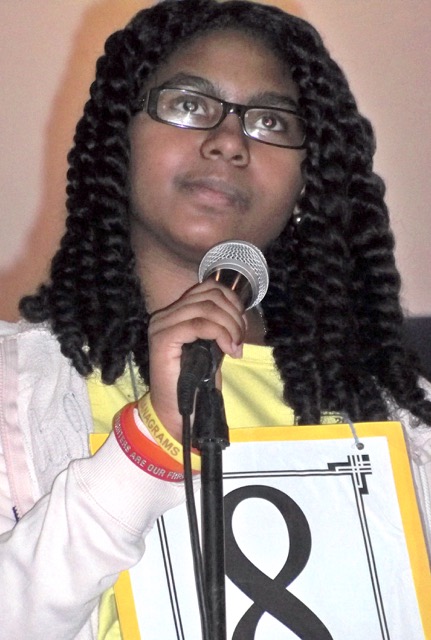 "It's a nerve-wracking experience," Donawa said. "After my first word, I calm down. And I'm happy the competition was finished so quickly." He won in the ninth round of competition.
Donawa's coach Jamelia Thurland said he is a diligent student, a real scholar, is in the Junior National Honor Society and is taking pre-advanced placement classes.
There were 17 students who took part in the competition. Finalists Rashawn Phillip, Cehara Briscoe, Makayla Todman, Carmindy Pickering and Jacinda Dubois will travel to the territory competition on St. Thomas on March 11.
Lenore Chciuk, a pronouncer and representative of Scholastic Books, donated books that were given to all of the competitors. The children got medals and top winners got trophies and electronic tablets.
Sponsors of the spelling bee were the Department of Education, V.I. Daily News, Houghton Mifflin Harcourt, Queen B's Service Station, Titan Blocks, Tropical Plastics Brow Soda and Quickserve A & H Service Station.