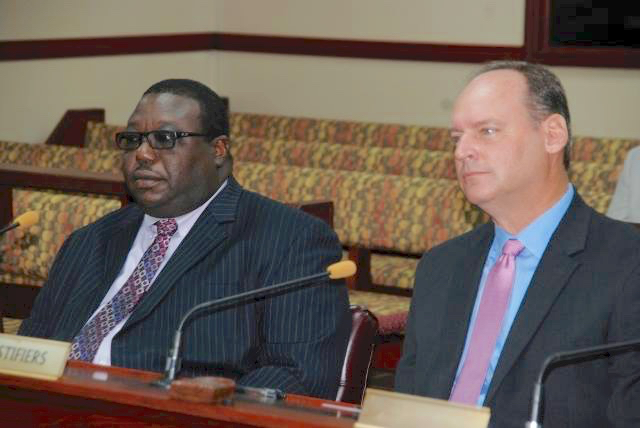 Raymond Williams, a member of the St. Croix Board of Elections and former chief of staff to Lt. Gov. Greg Francis, got the nod for a spot on the V.I. Public Services Commission Tuesday during a hearing of the Senate Rules and Judiciary Committee.
The committee also approved corporate merger and acquisitions specialist and investment manager David Hughes of Frederiksted for the PSC. Both would represent St. Croix on the board.
Sen. Janette Millin Young asked whether the Legislature should change the PSC into a full-time, paid body, to help it deal with the work load and technical research of regulating utilities from the publicly-owned V.I. Waste Management Authority and Water and Power Authority to the private cable and ferry companies it oversees. Both Williams and Hughes endorsed at least making part of the board full time, saying the amount of reading and technical information is high and so full time membership would be more effective.
But Williams said the idea was not new and that the territory had been considering it for "at least 30 of the board's 50 years." He said he recalled legislation being considered when he was much younger. Williams suggested "at least three members" be full time.
Young asked if having some full time and some volunteer members would create an institutional advantage for the paid members. Hughes said it might and Williams agreed. Hughes also said he personally would not have agreed to serve full-time and that others in a similar, semi-retired position but with some relevant expertise, might feel the same.
But some full-time or paid members would help create a commitment and provide those members the opportunity to do the in-depth research needed, he said.
Sen. Kenneth Gittens, who chaired the Rules and Judiciary Committee hearing, said he leaned toward "that mixture" of full-time and part time members.
Asked by Sen. Jean Forde, Hughes also endorsed the PSC acting to allow the V.I. Waste Management Authority to charge tipping fees for dumping commercial and bulk trash.
"Tipping fees are typical" in U.S. jurisdictions, he said. "I was very surprised that we did not have one. That is a method that is very easy to control and a transparent funding source. If you want to have a healthy institution running your landfill, they have to be able to make a profit," Hughes said.
Senate President Neville James asked if monopolies were good and urged the two nominees to look into "the longstanding relationship of the PSC with Georgetown Consulting," and see if the PSC could start looking at several competing firms.
"Don't you think it would be better to have more than one consultant?" James said.
Williams served on the volunteer PSC before stepping down in 2007 to serve as Francis' chief of staff. A native of St. Croix, he is an alumnus of St. Croix Central High. Williams received a bachelor's in industrial technology and management from the Cheyney University of Pennsylvania in 1986. He worked as Francis' chief of staff from 2007 through January of 2015.
Before that, Williams was assistant director of business and administrative services at the Department of Planning and Natural Resources from 2005 to 2007. He was chief of staff to Sen. Emmet Hansen II from Jan. 2003 to December 2005. Williams also worked for Charlie's Diamond Ready Mix Concrete at Hovensa oil refinery as an operations and industrial safety and environmental health manager.
He has been a member of the St. Croix board of Elections for a number of years and serves currently.
Hughes moved to St. Croix from New York with his family in 2010.
"We have built our new home here in Frederiksted, and made substantial investment as well on St. John. My two sons have both been educated here in preparation for college," Hughes said.
He received a bachelor's degree in electrical engineering from Vanderbilt University. His corporate career began as a design engineer at the Eastman Kodak Company, where his primary responsibilities included managing relationships with international technology partners to Kodak in Europe and Asia. He left Kodak to work for information systems provider Andersen Consulting, working as a manufacturing productivity consultant on the design of large physical manufacturing facilities for companies that included Delta Airlines and United Parcel Service.
Later, according to his testimony, he began working in corporate finance, first with investment banking firm HJ Meyers. During this time, he also sat on the board of directors of many of his client firms and became a specialist in small to midsize corporate mergers and acquisitions. In 1998, he left consulting to become chief financial officer and executive vice president of Atlanta-based Clear Communications Group, a wireless telecommunications infrastructure company which became the largest designer and builder of telecom and satellite transmission towers.
In 2003, he bought one of the subsidiaries of his former company and became chairman and CEO of TWR Lighting of Houston, Texas. This company makes aviation obstruction lighting such as you see on towers, wind turbines, mountaintops and buildings.
"That company provided most of the lights you view at night on the site of the former Hovensa refinery, and virtually all of the lights that protect the various radio towers of the territory," Hughes said.
He retired from formal corporate activity in 2007 and now manages several investment partnerships, which he said only occupy a few days of work a year, leaving him time to devote to the PSC.
The committee sent both nominees on for final Senate approval without opposition. Voting to send the two one were: Forde, Gittens, James, Young, Sens. Justin Harridan and Noelle Francis. Sen. Nereida "Nellie" Rivera-O'Reilly was absent.