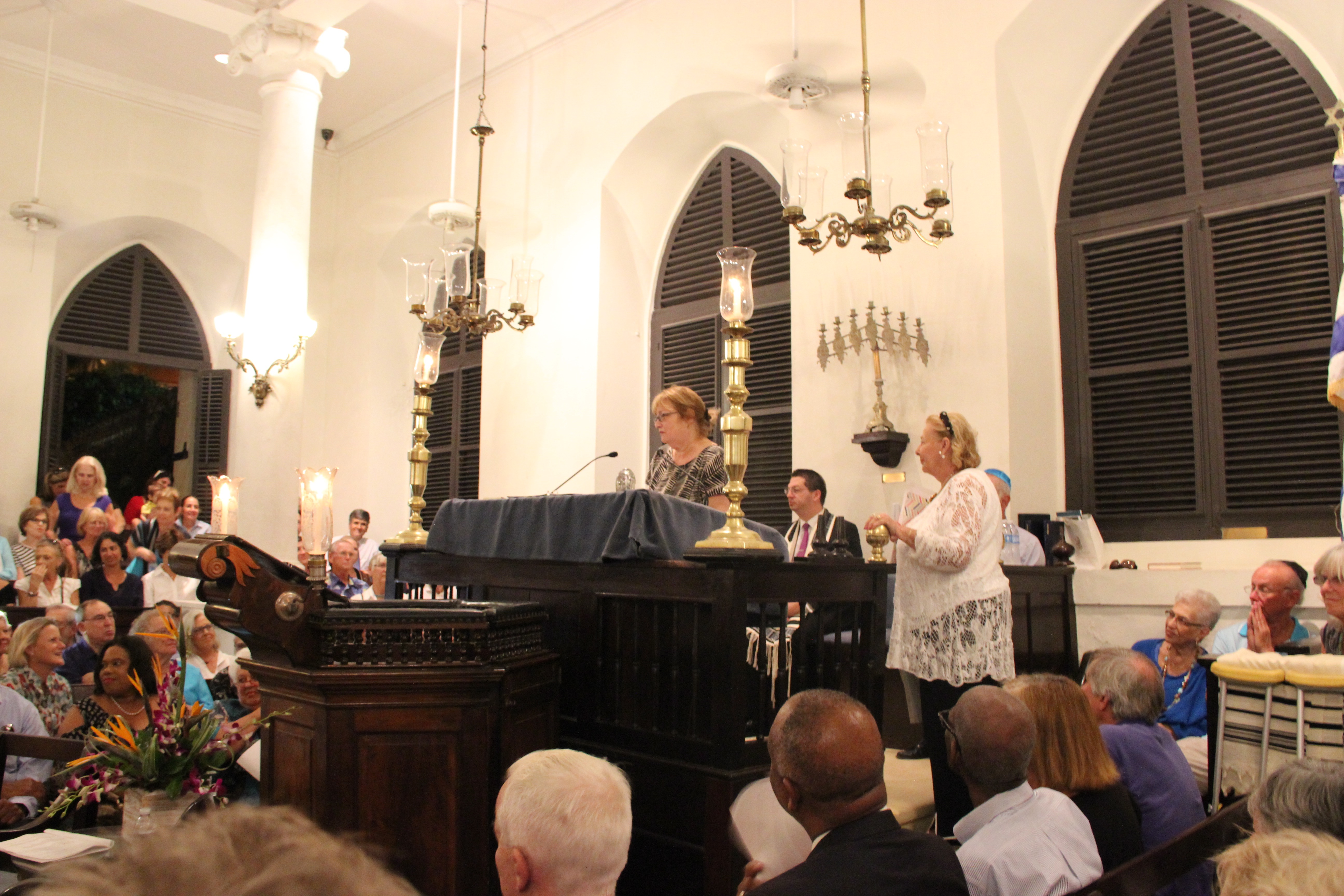 An evening full of art, history and literature drew hundreds of people to the Hebrew Congregation of St. Thomas' historic synagogue in downtown Charlotte Amalie on Friday evening.
People crowded into the synagogue and stood shoulder-to-shoulder in its courtyard to hear author Alice Hoffman discuss her latest novel, "The Marriage of Opposites," which explores the life of Rachel Pomié, the mother of the St. Thomas-born impressionist artist Camille Pissarro.
Several dozen people from book clubs and the Jewish community on St. John, as well as a few people from St. Croix, ventured to St. Thomas for the talk and art exhibit of locally owned Pissarro pieces that followed the special Shabbat prayer service.
Many of the audience members had already read the book that published in the fall of 2015, their curiosity peaked by its partial setting in 19th century St. Thomas where Pomié was born. Though the artist Pissarro plays a role in the novel, his mother Rachel and her disgraced marriage to his father are at the core of the narrative.
The Hebrew Congregation invited Boston-based Hoffman to speak at the service when Jacqueline Silverberg contacted her publisher after reading a brief clip about the book in a travelogue. The event was held in honor of Silverberg's husband Jerry's 92nd birthday.
"Her lyrical writing style has the same evocative depth as Camille's paintings and her words are a pleasure to read. There is magic within the pages of the book and we the readers must decide where myth starts and magic begins," Silverberg said while introducing Hoffman.
Hoffman said she felt like she joined the congregation when she started writing the novel and she fell in love with Rachel's character along the way.
"She was brave, she was daring, she was willing to do anything for love…She did things at that time that women didn't do…He [Pissarro] did exactly what she did – he married for love," Hoffman said.
Like the character Hoffman builds for Rachel through historical research and inferences, the author was too an escapist reader as a child. Hoffman often read stories to transport her to faraway places as a way to see the larger world.
"I think it's very important that the history of St. Thomas and that the history of the synagogue goes forward into the world and that people don't forget what happened here and what happened in Spain and they don't forget women like Rachel Pissarro who was so brave and so daring" Hoffman said.
Audience members were curious to know how Hoffman was able to write so skillfully about 19th century St. Thomas having never visited the island before this trip. Hoffman explained that she did extensive historical research and opted not to visit the island while writing the book, since she didn't want modern St. Thomas to influence her impression.
"I was very inspired by your island and your people when I began to write "The Marriage of Opposites" and I'm inspired by you now,' Hoffman concluded.
After the Shabbat service ended, attendees walked over to the Hebrew Congregation of St. Thomas' Lilienfeld House for a one-night only art exhibition. Collectors from St. John and St. Thomas loaned sketches and drawing from their private collections for the event.
In less than a month, St. Thomas-based curator Priscilla Hintz Rivera de Knight planned the exhibit after being contacted by Silverberg, who was impressed with the curator's previous shows. For Hintz Rivera de Knight, curating this event brought her career full circle.
"Twenty years ago I was a docent for an exhibit of Pissarro's work in this same room based on pieces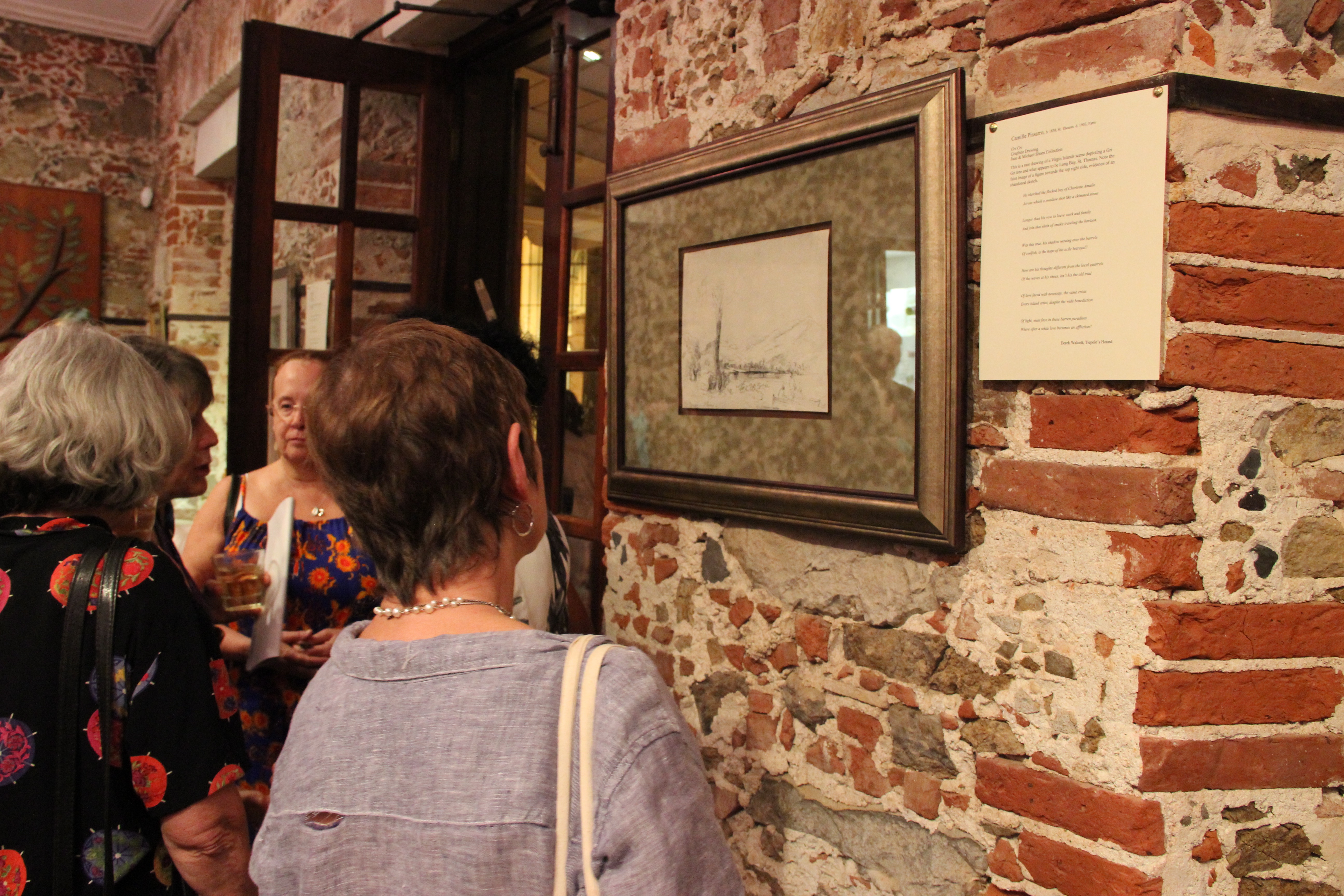 that were found in storage in New York and that's really what inspired me to become a curator," Hintz Rivera de Knight said.
Since the pieces on display Friday night ranged in technique from drawings to sketches and etchings, and depicted so many different places, including Haiti, Venezuela and France, Hintz Rivera de Knight said it was difficult to weave them all together.
She turned to poetry to help make the connection. Quotes from St. Lucian poet Derek Walcott's book-length poem "Tiepolo's Hound," which explores the life of Pissarro, were placed next to each piece as a way to tie them to the artist's beginnings in the Virgin Islands.
"Pissarro was one of the most prolific sketchers of the impressionist painting movement," Hintz Rivera de Knight said, noting that he often sketched his works multiple times before creating a final print.
One of the most notable pieces on display was a probable sketch of Long Bay Harbor in Charlotte Amalie long before there were any buildings or yachts there.
"Pissarro drawings of the Virgin Islands are really hard to find and even identify, but this appears to be the silhouette of the mountains above the bay," Hintz Rivera de Knight said.
Philip Sturm, who loaned pieces for the exhibit, said he was surprised by the large turnout and hopes that this level of interest will help spark future cultural events. Sturm leases the Camille Pissarro Building on Main Street, which was the artist's childhood home and now serves as an art gallery and historical landmark.
Lonnie and Albert Willis, who've been collecting Pissarro's drawings for 15 years, shared pieces from their extensive private collection on St. John.
"When I read about Pissarro, I just found him so interesting. His whole history is fascinating considering he left home as a young man who probably felt very stifled here," Albert Willis said.
Willis added that even though the sketches are technically works in progress they speak to him, since they allow him to see the thought process Pissarro went through when drawing them years ago.
"The community of people who know about Pissarro is growing and this congregation has something to do with it. The interest in the culture of the Virgin Islands is blossoming as we approach our 100 year anniversary, so this turnout wasn't unexpected for me," Sen. Tregenza Roach said.