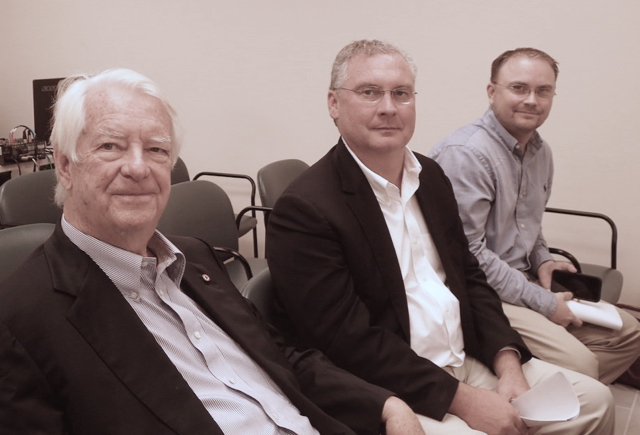 On Friday, for just the second time in it's 20-year existence, the V.I. Casino Control Commission approved a license to operate a casino on St. Croix, extending a one-year certificate to operate slot machines in the Hotel Caravelle in Christiansted.
On Wednesday, three Casino Control commissioners, several senators and dozens of interested parties heard the backstory and plans for a casino with 50 to 75 slot machines to be added to the hotel that anchors Caravelle arcade on Christiansted Harbor.
Lance Griffith and Andrew Dubuque, speaking for VIGL Operations LLC, CRG Holdings LLC, and Casino Holdings LLC, described renovations completed at the Hotel Caravelle to qualify for a Class Four license.
A drawing for a planned 48-room hotel with a convention center adjacent to the seaplane port in the next few years also was displayed.
"We are not an all-inclusive resort. We're an amenity," Griffith said.
So far, fewer than half of the required 75 rooms have been remodeled or completed. The gaming license was approved with the stipulation that the remaining rooms be built within 30 months.
Work began on Hotel Caravelle last June, but due to unforeseen structural damage, construction also included replacing plumbing, electricity and steel support beams. The restaurant, Rum Runners, also was renovated. So far the companies have spent more than $3.5 million, Griffith said.
"We've done all this before we asked for a license," Dubuque said.
The other requirements of a Class Four licensee include providing a banquet room for 400 people, a 2,000 square-foot casino and a 60 percent reinvestment of the net cash flow in 10 years. In granting the license, the commissioners stipulated that drawn plans for the finished project be supplied by the end of April.
No mention was made about the location of a banquet room and the commissioners did not ask.
Once open, the casino will employ 50 to 70 people, according to Griffith, and another 20 in the hotel. Job descriptions have been filed with the V.I. Labor Department and a job fair will be held locally, he said.
Griffith and Dubuque also addressed the need for added security and parking through off-duty police officers and valet parking at the government parking lot. There is additional parking to the west if needed.
Additional lighting is needed on the boardwalk but no one suggested a solution.
Marketing the property will consist of posters in 60 travel-center casinos run by the companies in Illinois and Louisiana that host 3,500 visitors a day, according to Griffith. The poster on 55-inch monitors will advertise a contest for three-day trip to St. Croix and $500 cash.
Hotel Caravelle already serves a large number of Danish and European visitors. Griffith said U.S. travelers will be targeted with ads and V.I. residents will be reached through a player rewards program.
A video was played with endorsements from more than a dozen downtown business and restaurant owners. Several mentioned they looked forward to additional security in the area.
One complaint was submitted by Grapetree Shores, doing business as Divi Carina Bay Casino. Their attorney, Todd Newman, read the letter that alleged the public does not want a casino in town and that not enough is known about the proposed Caravelle owner/operators. They questioned whether the casino is the required 2,500 square feet and asked about the banquet room. The letter also pointed out that Divi's hotel rooms were built before they obtained a license and the same requirement should be applied to Caravelle.
Andrew Simpson, VICCC attorney, pointed out the law allows construction to be completed after the license has been issued and the commissioners agreed.
During the Friday meeting, the board approved licenses for casino, hotel, and security employees as well as vendors who provide services.